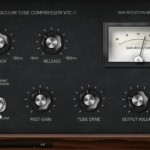 VTC-1 is special analog modeled virtual VST compressor with warm analog, fat pumping and transparent sound.
Compared to modern compressors PENTODE AUDIO VTC-1 has different inner structure and principle of work: VTC-1 don't have threshold knob, so you set amount of compression by increasing or decreasing input level same like with old analog tube compressors. Compression amount knob is similar to ratio knob at modern compressors. You can select two curves of compression with switch: significant compression or smooth curve. If you prefer fat/massive sound you can boost input signal of vacuum tubes by turning tube drive knob.
If you want some real sounding analog color to your digital records and characteristic yet transparent compression feel free to try demo version of VTC-1.
TOP FEATURES:
– compression amount knob
– standard attack and release knobs with analog modeled behavior
– input knob that control amount of compression / level of compression
– compression amount knob (similar to ratio selector)
– switch: significant compression (hard curve) or smooth curve (soft curve)
– tube drive knob for real sounding analog warmth and saturation
– post-gain knob
– bypass knob and gain reduction meter
DEMO DOWNLOAD LINK: http://www.123creative.com/attachment.php?id_attachment=369