Today we are checking out the new Epic SoundLab instrument called Octamorph (FE Edition). FE edition stands for the "Forge Edition", Epic SoundLabs' previous instrument. Is it something that you should be looking for or something you should pass? Let us have a look.
Content
The Octamorph comes in a small downloadable package weighing in around 1 GB. It is pretty light on the content but that in reality doesn't matter because Octamorph wasn`t designed with that in mind. As for the provided content, Octamorph has a few categories, six to be exact, to get you started. Bear in mind that Octamorph is a product that wants to be explored and then explored again.
Once loaded into your Kontakt, you are hit with this black beauty that resembles something from a science fiction movie. But we will get to that in a bit. The Octamorph is as the name suggest a morphing tool which morphs between eight different sounds. The sounds are provided for you or you can use some from your own samples.
Sound
The sound of Octamorph is great, however it has a specific tone. It is a mainly a drone making machine or sci-fi sound generator. The provided content is of the Forge which we reviewed recently and you can refer to that about the quality of the samples. In short, the samples mostly consist of a batch of previously designed samples which means you get less or no organic recordings. You can nevertheless import your own organic sounds to make the drones or effects more interesting.
That brings me to another point. Although I am having fun with Octamorph and it can produce some wonderful results I feel like something is missing. Let me explain myself.
If you imagine Octamorph being a food, it would be something ordinary that you like to eat and of course enjoy. It is fun at times and you eventually get a full stomach but somehow you know something is missing. You are not sure what it is but you just know it's not there.
Since taste is very subjective, the latter might only apply to me. I feel the Octamorph might have the same symptom and I don't mean that in a bad way. When I pressed the key on my keyboard my initial thought was "that sounds like fun" but at the same time I knew something was missing. Perhaps the lack of organic sounds which by default make the instrument more interesting.
That aside, I think that Octamorph is a great instrument without a hint of hesitation. What makes the Octamorph great is its simple graphic interface.
Graphic interface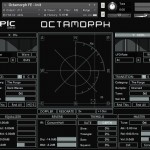 The real gem is the graphic interface. The graphic interface of the Octamorph can be split into three individual parts. The side, the mid and the bottom, each representing a set of parameters that you can tweak. The side panels are divided into sound sources and the LFO parameters. The LFO consists of nine different waveforms, a rate at which these waveforms oscillate, a retrigger button and a bias. The latter is an offset button that sort of moves through the LFO waveform.
The two LFOs (one on each panel) are independent from each other. Next we have the sound source parameters. This sound module consists of 8 sound sources that you can choose via category or via individual sample. Not much can be tweaked here besides tune, mute and solo and random buttons (there are two, one for the group and one for the individual sample).
In the middle of the screen is a large display of how your samples are played or how the LFO oscillates. Since you can pick the manual mode which means the LFO is off, you can move the position of the crosshair manually via X and Y sliders at the top. Below the main display are the four buttons which set the Doppler Effect, the resonance, the rate and a pitch shift for the mix.
Finally at the bottom you get three effects (EQ, Tremolo and a Reverb) plus the master bus to make everything nice and dandy. Each of these is pretty self explanatory so I won't go into details of how they work. The master bus also has an option to "Scramble" or "Init" the instrument. Scramble is actually a random button and it is quite handy when you are searching for some quick sounds.
All in all I really like Octamorph's graphic interface but I do wish that I had a delay effect to play with.
Ease of use
Octamorph is pretty easy to use once your eyes adjust to the way it looks. It is quite different from what I am used to work on. Other than that, I don't have anything bad to say on the ease of use side, it works just fine.
Price/Value
Another great feature of the product is its price. For a mere 55€ or $59 US you get a nice instrument full of potential and a decent amount of samples to play with but with one caveat… you will need the full retail version of Kontakt 5 in order to run it.
Conclusion
Octamorph is a great product, full of potential and at a great price. There are some drawbacks which depend on your taste, mainly which particular sound you are after. If you love making drone sounds, then this is definitely something you should check out.
Read our interview with founder of Epic SoundLab
here
. Don`t forget to rate the product yourself if you bought it in the "Reader rating" tab below!
You can also consider the following sample libraries
– Aurora (Fluffy Audio)
– Celestia (Impact Soundworks)
– Omnisphere 1&2 – coming soon (Spectrasonics)
– Xosphere (Sample Logic)
– Native Instruments Reaktor
Octamorph (Epic SoundLab ) review
Content
Sound Quality
Graphic interface
VALUE FOR MONEY