Today we will be looking at a new PSE (Pro Sound Effects) SFX pack called NYC Ambisonics. Let us see if this is something you should be getting right away or not.
Content
NYC Ambisonics is a B-format and stereo SFX library weighing in around 45 GB of pristine New York ambiences. Unlike the late 60s and early 70s, the Ambisonics B-format has a wider fan base now and is in more need than ever before considering that the technology for B-format was developed over thirty years ago. For more on history of Ambisonics I suggest you read Sound on Sound article here.
Getting back to NYC Ambisonics, the library comes in two formats; the mentioned B-format and stereo files. There are around 53 multichannel files and Surround Zone 2 software (VST) which is necessary if you want to decode the B-format recordings.
Surround Zone 2 represents the ambisonics pattern and you can move the virtual microphone position in any direction you want. It also features tilt, zoom, width and few other functions depending on the format you are using. Speaking of formats, you can use surround type formats (5.1, 2.1 etc.), stereo format and an A-format or B-format. Overall the software worked without any hiccups.
One thing to note and that it bugged me quite a bit is the download process. Since the library 45 GB the files are split into multiple zip files which make the download process pretty tedious. There is an option to download all files but for some reason it didn't work properly as I still had to download many files separately.
Metadata is also available for all recordings, embedded and in a separate file so you shouldn't have any issues finding it if you have a big library already. See images below.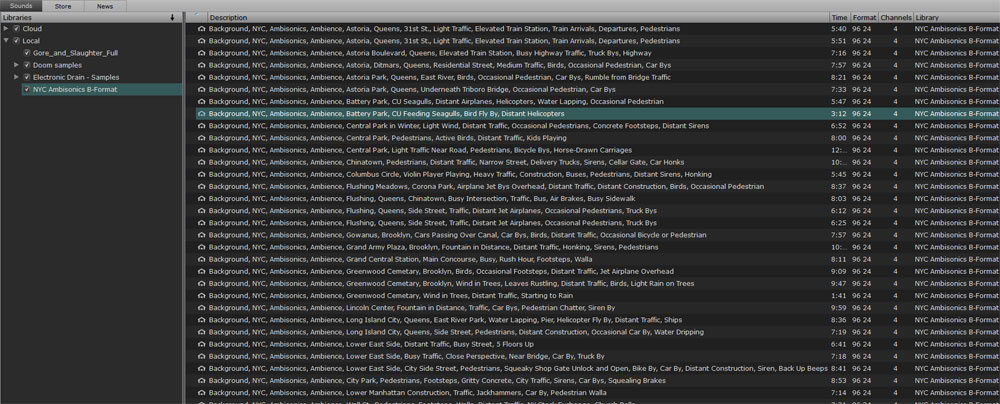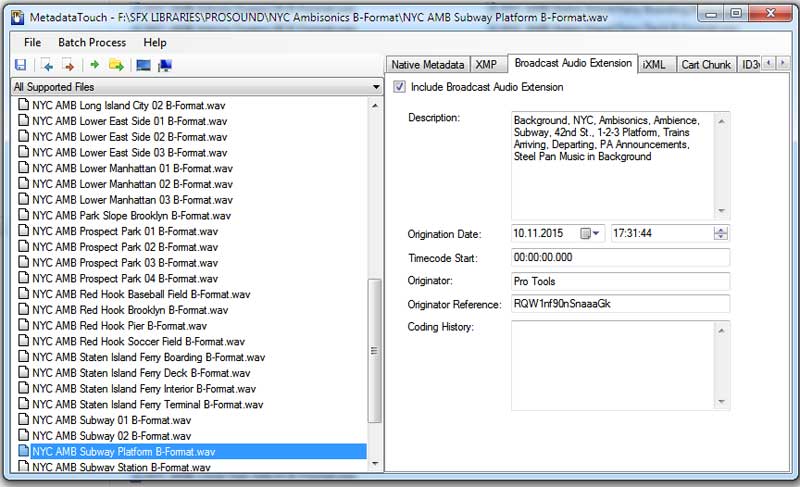 Sound quality
The sound of NYC Ambisonics is fantastic in terms of being an ambiance library. You really do get a pristine sound of New York. Recordings feature subway rides, central park, Times Square and other famous landmarks which make this library perfect to use if you happen to work on a American movie. The whole library was recorded at 96 KHz and 24 bit which is great.
Conclusion
The NYC Ambisonics is a great library for a $119 price tag but due to its nature it is not suitable for everyone. You can also try the library for free before purchasing it which I strongly recommend if you are in need of fine New York ambiences.
NYC Ambisonics review
Content
Sound quality
Value for money
Metadata