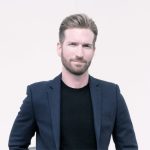 Find more about Evan Wise @
Official website
Twitter
Soundcloud

Brief list of credits
Ratchet and Clank Moviem, Flying Wild Alaska (Additional Music), The Voice (Additional Music), Diggers (Additional Music), Ice Cold Gold (Additional Music)
Hi Evan, thank you for taking time to do this interview. Let us start with the basic questions first. Tell us a little bit about yourself and how did you get your start as a composer?
My pleasure, thank you for having me. I started taking piano lessons when I was sixteen and quickly realized it was what I wanted to study in college. That didn't leave me with a lot of preparation time but I found a university that would work with the skill level I had acquired.
While in college I gravitated to studying orchestral scores and orchestration. I found myself in the library checking out scores and spending a lot of time figuring out balances of ensembles and reading about harmonic approaches of the symphonic masters. At this time I was considering a career as a symphony conductor but I started writing my own pieces and decided to pursue a career as a composer instead. I still have a love for conducting and hope to incorporate that more into my work soon.
I also have a deep love for film so it became a natural gravitation that I would pursue a career as a film composer.
How did you get involved with the film Ratchet & Clank?
I was working as an in-house composer for a publisher who secured the contract to hire the composer on the Ratchet and Clank Movie. Since my background was in orchestral composition and I had experience scoring animation I wrote a demo for the producers and they liked what I had brought to the table. I was vetted a bit and scored a test scene and then hired as the composer for the film.
How did you prepare to score Ratchet & Clank being it is your first featured film?
I had scored a lot of television and shorts including a short animated series so I had the logistical knowledge of what it was going to take to score the film. However, I was preparing for the marathon that is scoring a feature compared to the 5K race that is scoring a short or writing for television with other composers. I found it is important to have your musical knowledge at a high level when starting a project as intense as a feature animated film. I leaned a lot about my writing and style development during the process but I went in with a clear vision of what was going to be accomplished and with the confidence I could handle the creative challenges. It is also important to have a good relationship with the director. The smoother that relationship is the better the communication and understanding of each others point of view will be heard.
Did the video game influence the music of the film?
Not really, I listened to the games music, but there's been a couple of different composers with a few different styles. The objective with the film was to reset the story and have it stand on its own. I thought this was a good chance to bring in new themes and put the musical landscape in the realm of other family animated films.
What would you say was the hardest part of scoring the film?
The most difficult part of scoring the film was when I would work on a scene for a day or two and then there would be edits to that scene the next day. Animation is one of the most difficult genres to score due to the amount of hit points and tone changes. So when a scene would ad or lose a few frames it could throw off hours of work. But I feel those changes were always in the best interest of the film and the final version of the film is the best version I have seen.
What was one most memorable moment for you while scoring Ratchet & Clank?
One good memory I had was coming up with the music during Ratchet's Lament, which is on the soundtrack. It's this intimate moment that needed a subtle yet interesting warm feeling. There's a lot of complexity when writing subtle music and the attempt to keep it interesting as apposed to boring. So I was quite excited when adding the textural layers orchestrally to that scene and it created a nice memory while working on the score.
You have also worked on numerous TV series and reality shows. How did you get involved with these projects and do you have any favorite stories you could share with us?
I started my career out wanting to be a feature film composer but I felt at the time a lot of composers were scoring shorts and features that were't taking their careers anywhere or making them a living doing so. I took the approach to my career as wanting to work on projects people would be aware of and that would give me an income. There is always the chance you can get pigeonholed as one type of composer and since you can't start out scoring multimillion dollar features you always risk getting put in a certain category. I was lucky enough to start working for some contractors that hired composers for discovery channel shows and was able to build a resume up. I have worked in almost every facet of music for media Film/TV/Ads/Trailers/Internet and with the Ratchet and Clank Movie
score being in the new game I suppose I have music in games now too!
What are you working on right now and can you tell us more about that project?
I am working with my agent to secure a new film. Hopefully I'll have more information on this soon.
This one is for the gearheads. What tools and technology are you currently using and why?
I use a mac based platform with a two screen setup. I compose and create my mockups in Logic. I have various sound libraries and use an apogee audio interface. I view myself more as a composer than a producers so I don't have a massive rig as most of my work is hopefully produced on the recording stage.
Any hints, tips or motivational speeches for the readers?
If you are an upcoming composer be very honest with yourself and your abilities. If you think you are ready to start working then understand this career is not 9 to 5 and there will be progress and setbacks. I also find the composers that try to do all genres are the ones that aren't so great at one particular genre, so I recommend developing you own sound and having a signature ability. Having a signature ability will grow your chances of being sought for work. If you stick with it long enough you will get a break and you want to be certain you are ready for it when you get your chance.