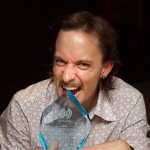 Find Mick @
Official website
Soundcloud
Facebook
Twitter
Tell us a little about yourself and what you do for a living?
My name is Mick Gordon and I'm a freelance composer, sound designer and audio director (I made noises basically) and I work mainly in the wonderful world of video games. I've made noises for companies such as Electronic Arts, Zenimax, Ubisoft, Microsoft, THQ, Warner Bros, Marvel, Nickelodeon, Paramount Pictures and 20th Century Fox to name a few. This year I've worked on Shootmania Storm, Routine, two Need for Speeds, an unannounced FPS, two unannounced fighting games, an unannounced adventure game, sounds for the Vancouver Canucks, trailers for Dead Space 3, Crysis 3, Medal of Honor: Warfighter, A Good Day to Die Hard, Most Wanted and Real Racing 3, advertising for Lenovo, Toyota, plus a whole stack of other things that don't quite fit into this paragraph!
What is your niche or speciality, that makes you stand out from rest of the audio professionals?
I have no idea. I feel like a fraud most of the time, but I think most of us do. Essentially I turn sounds into other sounds, and I put these sounds over some sort of other media (gameplay, film, even live sports matches). What I like to do is offer something a little different. I like strong melodies, tight mixes, clear styles, energy and finding the right "voice" for each project. I put strong emphasis on recording, original sounds and new ideas and I try to give each one of my clients something special that fits their vision and compliments the experience.
Can you give us a brief summary of the equipment you use regularly?
I love all my tactile sound-making objects! I have quite a large instrument collection, and I recently added a custom built Mayones Regius KLR 8 from Poland. With 8 strings, it will tear your head off. I also have a '98 Strat, a MusicMan JP7, a Brian Moore iGuitar, an Australian Maton Acoustic, and a bunch of other guitars that my incredibly talented father made, including a hollow aluminium body 7 string. I also have Mandolins, an Oud, a Chinese Pipa, a Cello, a Violin and a bunch of ethnic winds and percussion. I also love my analog synths, tube amps and effects and a whole stack of other toys (even a Theremin!). My new favourite tool is a QuNeo, which is this awesome XYZ midi controller that allows me to "feel" digital sounds that I'm making!
What are your go-to plug-ins and software? (virtual instruments, audio processing etc.)
FL Studio and Adobe Audition are the current centre of my digital setup, and I use them both concurrently. I make sounds and sequence music in FL Studio, and bounce everything out to Audition for mixing/tweaking/etc. I'm completely addicted to plugins, and some of my current favourites are from WaveArts, Waves, iZotope, Sound Toys, TC Electronics, and the native FL Studio stuff is amazing (Parametric EQ 2 gets used more than anything!). Other frequently used software would be batch renamers, silence removers, granular things, etc. They're essentially just tools to get the job done!
When do you find you are most creative?
It's a funny thing creativity, because in our world it's not just being creative, it's about discovering the perfect solution. To me, the music, or the sound, is already there, but it's hiding and I have to go looking for it. Sometimes it appears without too much effort, other times it takes many weeks of sleepless nights. Sometimes it tricks me by throwing me a diversion, other times its hiding in plain sight!
What is your usual process for creating audio content for games, films etc.?
It usually starts with an email that pops up in my inbox called "music", or "pitch for a project" written by someone on the team who is incredibly enthusiastic and excited, since they're finally able to share some information about what they've been working so hard on. It's so easy to absorb their enthusiasm and all I want to do at this point is impress the heck outta them. From here we go through the standard procedure of NDAs, lunches, dinners, phone calls, meetings whilst bouncing ideas off each other. It's so easy to talk about producing awesome stuff that fits the project, but I'm always so nervous when showing them my work for the first time. It's easy to hide behind words, but when I show them their music for the first time…it's like I'm totally naked. All I can do is let the work tell the client what I'm thinking. Each project always comes with a big list of stuff to do, and a date as to when it needs to be done by, but how that all gets achieved is always different and interesting.
Are there any particular secrets to your creativity?
I believe true creativity comes from letting go of habits and preconceptions. Creativity is a journey. In order to find something new and interesting, you need to allow time and space to explore ideas and see where they lead. It's important not to dismiss any idea, no matter how crazy or ridiculous it may seem, because if you never travel down that path you'll never reach its possible designation, and that destination may even lead to another destination, and so on.
To be creative, you need two things. Space, and Time.
You need to find a distraction-free space to allow your creative mind to wander. Open-plan offices with everyone looking, typing, chatting, moving, coughing, and making noise are the most uninspiring places to be. It's no coincidence that your best ideas come when your go to the restroom – that's the moment when you finally have no distractions and your mind has a chance to work! I turn off my phone, turn off my email, close my doors and ignore any other pressing matters and clutter that life may bring. I also try to spend as little time in front of the computer as possible. The human body is made for tactile stimulation – you're built to walk, run, climb, fold, stretch, jump and play, not to sit in front of a computer for hours on end. Even paper and a pencil is more inspiring that a keyboard and mouse. Try it!
You also need time to allow your creative mind to wander, explore ideas, experiment, relax and to concentrate. I set blocks of time throughout the day (and often well into the night!) where I become absorbed in whatever the creative challenge may be. During this time I focus solely on what I'm doing – there's no emailing, social networking, browsing, chatting, or anything else. I use the time to explore. This is the chance to be bold and let your habits and preconceptions go. Experiment outside the box, see where it leads, but it's important to allow yourself time to do so.
Lock yourself in a space, and declare that you're not to be disturbed for the next five hours, and see what happens!
Do you have any audio creation techniques that resulted in something interesting?
Oh there's so many. Explore! Just today I attached a contact mic these big metal panels on my desk, and I plugged that into a Rockblock, then a Blackstar Echo, then a Blackstar Reverb, and then into a Danelectro Hodad. I then bowed the metal panels with a Cello bow and made some super creepy ambient sounds that would be impossible to replicate with plugins.
Another tip is to automate your plugin parameters. It's always a great way for happy accidents and cool sounds. I like to grab a stack of sounds and then run them through a chain with dopplers, choppers, flangers,…whatever…and attach different parameters of these plugins to my QuNeo. Then, you simply play the sounds and push the QuNeo around to "perform" cool sounds – too easy!
Any specific "lessons learned" on a project that you could share?
Each projects tests and teaches me in different ways. I've learned that it's more important to define and overall "voice" for a project, rather than simply overloading it with music and sound. The first few weeks are always hard because I drive people crazy with experiments, but it's important to nail that "voice" from the beginning. If you do that, the rest of the project will flow quite easily.
Any tips, hints or motivational speeches for the readers?
There's only two chances you get in life to do something – when you should have done it, and right now.