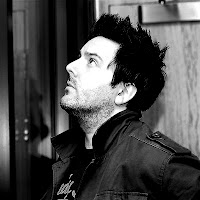 Find Matt Bowdler @
Official website
Matt @ SoundCloud
Matt @ YouTube

Tell us a little about yourself and what you do for a living?
I'm Matt Bowdler (also known as The Unfinished). I am a composer, producer and sound designer. Currently I'm mostly working on short films, games and designing sounds for synths. I'm also establishing a collection of ethnic instruments I can't play!
What is your niche or speciality, that makes you stand out from rest of the audio professionals?
I think this is an ongoing process, of finding the sound that defines you as an artist. I suspect it may also be one that never has a conclusion! If I look at what people approach me for, to work with me, it appears to be my high quality percussion programming and my atmospheric sound design. I believe my ability to draw upon a lot of influences and styles and make them work together as a coherent and organic whole, that is (hopefully) sometimes a little bit different to what else is out there, is perhaps my USP.
Can you give us a brief summary of the equipment you use regularly?
Well, at the heart of my studio is a PC running Windows 7, with 12gb RAM and Cubase 6.5 as my DAW. All this is controlled by my Roland controller keyboard and my Focusrite Saffire box. I'll get panned for this, but I'm still only monitoring with my Sennheiser headphones, whilst I save up for decent monitors! Add to that my Shure mic and several external hard drives. Then there's also all those instruments I can't play. But I'll get there.
What are your go-to plug-ins and software? (virtual instruments, audio processing etc.)
Kontakt. I have so many libraries, big and small, that run through Kontakt. My go-to libraries are LA Scoring Strings, Spitfire Albion, Heavyocity Evolve, plus the very many varied wonders that Sonokinetic produce. Also, I often find myself using more obscure libraries from the likes of SonicCouture, Precision Sound, Imperfect Samples etc. Odd little instruments and noises that add an extra dimension to tracks. I love synths. Omnisphere and Alchemy get a lot of abuse. Massive is an absolute joy which I use all the time and love designing sounds on. For processing, Reverberate is a fantastic convolution reverb and I use some Nomad factory plugs for mixing and mastering. However, I love Bootsy's free plug-ins. I use them on absolutely everything.
When do you find you are most creative?
When I only have music to think about. I work best when I have the space, mentally, to focus on what I'm doing. This is more often than not in the morning, before anything else can try and grab my attention. But I'm also prone to those late night bouts of inspiration when my mind is racing… and my body is desperate for sleep! I also have an annoying habit of coming up with ideas in the shower, which is unhelpful.
What is your usual process for creating audio content for games, films etc.?
I think it's really important to quickly develop a relationship with your client whereby you know them well enough to understand what they're asking for. I work with people all round the world, so you need to work beyond language to get that understanding of what you're both trying to achieve. Because it's important to understand that you're working together, not just as master and monkey butler on the piano! The key aspect of starting any project for me is to develop a sonic palette. I will spend a few days really thinking hard about the sounds and techniques I want to employ to achieve the best results. If I go into a project not having decided what instruments I'm using it will result in a messy and unfocused output.
Are there any particular secrets to your creativity?
Limits. I guess this is connected to what I said about having a sonic palette. Create some limits for your project. Only use certain things, focus on them, get the best out of them. I think this can apply on a broader scale as well. Whilst it's fun to collect endless libraries and plug-ins (god knows I have enough of them!), make sure you have a bit of a spring clean occasionally and quarantine the things you hardly ever use. But don't forget them.
Do you have any audio creation techniques that resulted in something interesting?
Some of my best ideas aren't my ideas at all, they're accidents. When I'm doing sound design I allow myself to wander off from my intended destination all the time, it's exciting. In trying to design one sound, if you let yourself wander into unknown territory you may end up with three or four new and exciting sounds. Accidents are great. But you need to learn from them, otherwise they're a wasted opportunity.
Any specific "lessons learned" on a project that you could share?
Don't take it personally. In artistic endeavours there always disagreements, different perspectives and interpretations. Don't take rejection as a comment on your ability, but as a subjective decision made specific to the demands of a single project. Rejection is rarely a good/bad thing – every great writer has had their music turned down at some point, every great engineer has been told a mix they've done doesn't work. Learn from it, take it in your stride, embrace it even. Be cool about it and you may well work with the person who rejected you in the future on something that's perfect for you.
Any tips, hints or motivational speeches for the readers?
Bloody enjoy it. Don't worry about what's hot and what other people are doing. Write music because you enjoy writing music and hopefully the rewards you deserve will come your way. If they don't, you still have your music. And that's a gift no-one can take away from you.