Are you like me, you know when you're hearing something made by Heavyocity? They have that distinctive thunder-like impact as if Zeus himself were playing the drums with his lightning bolt. Because of this, I couldn't wait to find out if Master Sessions: Ensemble Drums Collection would deliver to the same high standard as usual.
Spoiler: It delivers.
First impressions: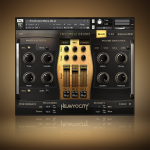 I actually started my experience negatively when I realised I had to go through the fiddly process of using the Files view of Kontakt for this instrument. I have a few instruments like this already and you have to be super organised to make this system work for you (I'm not). That aside, the download and installation was smooth and I was able to quickly jump into the fun part of trying it out. I quickly realized I had no choice but to turn it up LOUD and just experience it for a while.
After a little of that I got serious again and went back to trying out a good portion of the loops and kit patches (there are 470+ total, I believe) and they were incredibly diverse and all ready to go. I don't often feel like writing epic music but Ensemble Drums gave me that urge.
Quality, diversity, usability:
This product lives up to the standards Heavyocity set themselves over and over again, you can be reassured of that, the samples are clear, powerful and easy to manipulate. Remember that I'm reviewing the Collections bundle here which includes both "Kits" and "Loops".
There are 470+ patches which offer a very diverse set of sounds be it individual hits from the Kits, such as a snare or some low toms, or from the large number of loops conveniently laid out in the "menus" and then broken down individually later on. You can quite easily use more than one loop at a time; perhaps one fills in the high frequencies with high impact hits and the other is more of an atmospheric one, low and grumbling. Throw in your own hits from the kits (sorry, unavoidable rime there) and you have endless options. Diverse indeed.
In terms of usability, my only complaint is that it doesn't sit comfortably in my Library view in Kontakt 5 which is a shame considering the rest of the package excels. It comes with its own mixing tools and effects which are quite nice – the distortion especially sounds great here. The reverb is ok too but I can imagine wanting to use my own tried and tested reverb for this since it would offer more options. On the up side, this percussion sounds great out of the box. You will need to do the usual mixing etc, but the processing you would normally need to make a great sound is done for you. It sounds exceedingly professional.
My favourite features:
"Punish": You probably saw this one coming, it's kind of Heavyocity's trademark and it really does take this virtual instrument to the next level. It's that shiny yellow button in the middle of the screen you can twist that turns the already high-impact percussion into a Godzilla-like roaring, earth-shattering overkill of a drum sound. When used sparingly (or to hell with it, turn it up to 11!) it not only gives you a whole new way to experience this plugin but also gives you so many options – this really cuts through a mix.
"Staging": When using the "kits" (as opposed to the loops) you can place them wherever you like on the virtual stage, panning different drums individually, placing some further back or closer, all kinds of things to edit the depth, timbre and placement of the percussion. This is a really powerful tool for creating a detailed soundscape with your drums.
"Hi-gain" VS "Organic": Each of the kits is available as-is with its original sound preserved, or tweaked to make it sound grittier and punchier. This is great for two reasons, firstly because it gives you more options, but also because it means you can mix and match on the go.
"Mutator": You can really mess around with the loops using this built in arpeggiator/randomiser/insanity train. If you feel like the loops aren't quite cutting it in terms of diversity and sound, you can throw it all out the window when you engage this baby.
Price/Value and Comparisons: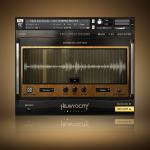 Master Sessions: Ensemble Drums costs £82 as of this moment, writing this review, but it's set to go up to its normal soon, which stands at £129 or €149 (Europeans get it a little cheaper!). I can say without a doubt in my mind that for £82 it's a bargain. Seriously, if you want epic percussion but don't know what to get you can't really go wrong with this at that price. Once it goes up to its normal price we need to start comparing it with other products out there.
I own Evolve Mutations 1&2 and, although it's dated, it has a lot more varied content compared to Ensemble Drums. On the other hand it lacks many of the features including all four I mentioned earlier. Of course there's also Evolve. So if what you want is purely percussion and percussive kits, Ensemble Drums is what you need and it delivers in spades. If on the other hand you just want a few loops and also some pretty inspirational sounds (especially of the darker, more twisted kind) then you may be better off with Evolve.
Conclusion:
Having said all that, is it worth the price? Well I can genuinely say that I think it is if this is what you're looking for. It fills the niche quite comfortably.
Check out our interview with Heavyocity here. Don`t forget to rate the product yourself if you bought it in the "Reader rating" tab below!
You can also check out the following percussion libraries
Heavyocity Damage
Apocalypse Percussion Ensemble (Sound Iron)
Hans Zimmer Percussion (Spitfire Audio)
Epic Taiko Percussion (8dio)
Drums of War (Cinesamples)

Master Sessions: Ensemble Drums Collection review
Well I can genuinely say that I think it is if this is what you're looking for. It fills the niche quite comfortably.
Usability
Sound quality
Content/Variety
Value for Money
Pros
Very high impact, modern sound.
Out-of-the-box production ready.
Very diverse.
Cons
Quite a niche product, but it is a big niche.