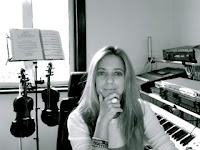 Find Marie-Anne Fischer @
Official website
SoundCloud
Tell us a little about yourself and what you do for a living?
My name is Marie-Anne Fischer, and I am a film and television composer. I grew up in a house where music was always present. I took solfège, music theory and piano lessons as a child and started my composing career in South Africa writing music for television. I moved around a lot and soon after settling in England, I completed a Diploma in Media composition. Having played piano for most of my life, I took up playing the violin 5 years ago to help with my composing.
What is your niche or speciality, that makes you stand out from rest of the audio professionals?
I have been told that my speciality is in being able to write unique and original music and hybrid sound design that evokes an emotional response; of tension, horror, fear, sentimentality, romance or simply a super feel-good factor. This ability gives me both range and flexibility to score almost any film which requires the music to enhance audience emotional response, in a way that the footage alone cannot do.
Can you give us a brief summary of the equipment you use regularly?
I work on a Mac Pro with OS X and 16GB memory. My main keyboard is the Akai MPK88. Alesis studio reference monitor 1, Alesis RA-100 amplifier. I work in Logic Pro with a host of sound libraries and soft-synths and, of course, my piano and violin. I also have a Sennheiser microphone and use Duet, two-channel Firewire audio interface by Apogee.
What are your go-to plug-ins and software? (virtual instruments, audio processing etc.)
Kontakt 5, Cinematic Strings, EW Symphonic Orchestra Platinum Complete, EW Quantum Leap Gypsy, Spitfire Albion, Spitfire Solo Strings, Spitfire LABS Dulcimer: Felt piano, Soft Vibes, Toy Piano. Omnisphere, CineBrass, CineOrch, SoundIron: Apocalypse Percussion Ensemble, Emotional Piano, Requiem Light, Twine Bass. Tonehammer: Bamboo, Beez, Cathedral of Junk, Circle Bells, Whaledrum. 8Dio: Glass Marimba. Vienna Woodwinds, Sonokinetic: Aliye, Fe, Haka, HIPP, Hurdy Gurdy, Maasai, Rojin, Shahrazad, Sultan Strings, Tutti, Yemenite, Project Infinity, Vivace, Nevel. I use Sibelius 6 for notation.
When do you find you are most creative?
I am mostly creative early in the morning and when under pressure. Also being challenged to write something out of my comfort zone often brings out the best in me.
What is your usual process for creating audio content for games, films etc.?
I cut individual clips of the footage I need to score and import them into Logic. I watch a clip a couple of times to find its natural rhythm and mood. I play along with the footage on the piano and improvise to help get a feel for it. I mostly like writing my first ideas in piano and, once I have a rough melody line, I start choosing other instruments. I often use pre-organised templates but generally I prefer adding the instruments I need as I write.
Are there any particular secrets to your creativity?
There is no particular secret, often just a single sound can spark my creativity or a long walk in nature. Listening to other composer's work inspires me, as does attending masterclasses where continuous learning inspires me to keep exploring new avenues of growth. Using other art forms brings about creative flow, like sculpture. Touching and molding clay, creating shapes and forms, often bounces back at me in the form of music in an almost synesthesic way.
Do you have any audio creation techniques that resulted in something interesting?
When I work with synthesized based instruments, I like experimenting with plug-ins, adding distortion and the most fun I've had is with the orb by Omnisphere where you can change the sound and have many variations. this can burn time and is not something I entertain when working to meet a deadline.
Any specific "lessons learned" on a project that you could share?
Be organised, keep your tips and notes in a book and keep it handy. Save your project regularly whilst working. Plan your time in such a way that you front-load the workload don't end up in a rush at the end. Make your work-space like your treasure throve so you want to be there and feel comfortable.
Any tips, hints or motivational speeches for the readers?
If you are passionate about being a composer for the media and you think that you have what it takes:
Always continue to believe in yourself and learn to be patient;
Define success by having a crystal clear picture of what your perfect success looks like, and keep reminding yourself of it;
Find your own niche and look carefully to see where your music would work best in achieving your definition of success;
Listen to as much music as you can in active and different ways;
Share your work and get as much feedback as you can to build on;
Don't take criticism personally;
Remember, always, that music is Art and not everybody will always like it.
This is a very competitive industry and it is important to maintain your own sound and protect your own identity. It is equally important that you be careful who you share you network contacts with. Your hard work at relationship building is very attractive to those who are hungry and without ethics. If music is your life-breath; breathe in, breathe out. Breathe Deeply. Breathe Often. Breathe every day.