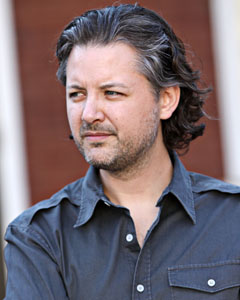 Find Mark @
Official website
Soundcloud
Youtube
Check out some of Marc`s singles over at bandcamp.
Tell us a little about yourself and what you do for a living?
I live in the city of Atlanta, GA, US, which ironically is now being called the "Hollywood of the South". By day, I am an IT software developer. By night, I score films and also play gigs around town as a performing songwriter. I also have three sons who I am very proud of.
What is your niche or speciality, that makes you stand out from rest of the audio professionals?
I think that I have a knack for writing good melodies. That's about it. I am still learning everything else!
Can you give us a brief summary of the equipment you use regularly?
I have an iMac running Logic 9 Pro and a handful of top-tier sample libraries. I also have ProTools, but don't use it too much as most of my work is done with MIDI.
What are your go-to plug-ins and software? (virtual instruments, audio processing etc.)
I just upgraded my studio and purchased a whole new set of orchestral libraries – Cinematic Strings 2.0, Cinebrass, VSL Woodwinds and ProjectSAM True Strike. I am very excited to be using these VI's.
When do you find you are most creative?
When I am not trying. The best ideas come at unexpected times – while driving, in the shower, at the gym – places like that. The challenge is capturing the idea before it escapes you!
What is your usual process for creating audio content for games, films etc.?
After a spotting session, I like to start creating thematic material first. I write using the piano and Finale to sketch out melody and chords. I might create mockups if time allows. Once the main themes are approved by the director / producer, it's just a matter of writing cues using those building blocks.
Are there any particular secrets to your creativity?
I try not to force the creative process. The best ideas come naturally.
Do you have any audio creation techniques that resulted in something interesting?
I don't really consider myself much of a sound designer. I have created my own custom synth patches and stuff like that, but my main focus is composition and orchestration.
Any specific "lessons learned" on a project that you could share?
Communication is KEY. First with the director (your client), and then with any of the other post production team members you are working with. Otherwise, your work will not be appreciated or even make it into the picture correctly!
Any tips, hints or motivational speeches for the readers?
I find that the composer and sound design community is one of the most supportive I have seen in the music world. Get engaged in that community and you will find everything you need.