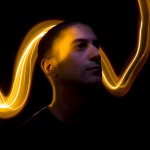 Find Luca Capozzi @
Audiority
Epic SoundLab

Brief list of credits
The Forge, Driving force, more at Audiority
Tell us a little about yourself and what you do for a living?
I'm a full time sound designer and programmer, working hard on creating soundbanks, sample libraries and bespoke scripting. I love to see the world as a goldmine and it's up to me to find "the good vein" to mine new ore. Oh, and I'm a Beatlemaniac too! I run Audiority (mainly for soundbanks) and Epic SoundLab.
What is your niche or speciality, that makes you stand out from rest of the audio professionals?
I focus on sound design and synthesizer programming. I love to sculpt a sound starting from scratch (if I'm programming a synth) or from unexpected sound sources. I'm always looking for "sound opportunities" to catch and mangle.
Can you give us a brief summary of the equipment you use regularly?
To record I use a Sound Devices 702, usually with a Sennheiser MHK-416 or a couple of old and beloved Røde NT5. For quick recordings I rely on a Sony D50 and sometimes a Røde iXY. All the recordings will be processed in Pro Tools, Logic or Ableton Live. Lately I'm digging into the powerful Symbolic Sounds Pacarana and its KymaX software. It's a very impressive audio programming environment with a steep learning curve, but you can get some really unique sounds out of it.
What are your go-to plug-ins and software? (virtual instruments, audio processing etc.)
In terms of plug-ins often use Native Instruments Reaktor, u-He Zebra, 2C Audio Aether and B2 and almost every crazy distortion plugs I can find. I love to create dark and nasty sounds, so dealing with distortion is mandatory and sometimes it's difficult to get that "perfect grit" you have in your mind. As dynamic processors I love to use FET style compressors to increase punchiness and Elysia Alpha for very subtle yet effective M/S compression.
When do you find you are most creative?
There's not a specific time of the day, but I found myself to be more creative when it's quiet and I can focus on surrounding noises that often triggers new ideas into my mind.
What projects have you been working on recently?
I've just launched a new brand, Epic SoundLab, focused on sample libraries and tools for Film, TV, Games and Media composers. The first library, The Forge, is aimed at modern hybrid scoring and took over a year of development and tons of recordings.
What is your usual process for creating audio content for sample libraries?
I begin with the concept and then I write down all the main features I want for the sample library. For my latest project (Epic SoundLab – The Forge) I've been challenged by trying to get powerful sounds out of field and object recordings and then processing them using all the techniques I learned in the years.
Are there any particular secrets to your creativity?
Don't stop listen to everything. We often ignore a lot of sounds that are around us, but if you focus for a moment, you'll find a huge amount of inspiring raw sound ready to be captured and tortured!
Do you have any audio creation techniques that resulted in something interesting?
Lately I'm so in love with spectral processing and feature extraction. In this way I can use some acoustic traits of a sound on another totally unrelated sound. As instance, I can extract the amplitude envelope of an impact (or a percussion) via Hilbert Transform and apply this curve to a regular white noise. Then I further model the new timbre with a 31-band EQ, dynamic processors and short reverbs to create something totally new. This is the process I used to create the samples for the "Big Smash" preset you'll find into The Forge.
Any specific "lessons learned" on a project that you could share?
Don't trash anything. Every mistake, every imperfection could be a useful source for a totally unexpected new sound.
How can a composer approach you to become a demo writer for your sample library? (Do you accept demo reels from composers?)
I'm always looking for new talented composers and the best way to approach is to send a demo reel of their best tracks. A great bonus would be tracks that match the style for the sample library they want to write demos.
What are your plans for the future?
Sounds, sounds and more sounds! There are some new soundbanks I'm working on for my Audiority line, new content for Epic SounLab The Forge and, under the same brand, I'll working on a set of tools and effects for composers.
Any tips, hints or motivational speeches for the readers?
Treat your job as a jealous partner! You have to care and spend a lot of time on making this relationship working at its best. Most importantly, don't stop to have fun with it.