Sommaire de l'émission
Bienvenue dans ce tout premier épisode de notre émission, vous trouverez ci-dessous toutes les informations liées à nos rubriques, à commencer par le sommaire :
Introduction
Rubrique 1 – Par où commencer
Rubrique 2 – Le monde de la composition
Tutoriel Vidéo – Créer un template orchestral de base
Test d'un VST – Soaring Strings
Mails et News
Exercice
Conclusion
RUBRIQUE 1 : Par où commencer
Introduction au domaine de la Composition pour les novices, on vous liste le matériel et les programmes à avoir pour bien commencer.
Cette longue rubrique est unique, nous la faisons pour introduire de manière correcte ce dont on parlera tout au long de l'émission.
Matériel
Ordinateur puissant, configuration minimale:
– Intel i7 de maximum 3 ans (2700k min)
– Disques en SSD de préférence
– Assez d'espace de stockage pour les banques de sons
– Minimum 8Go de ram, 16 pour pouvoir lancer des sessions complexes, 32 en optimal.
Carte Son disposant de préréglages simples au minimum avec entrées micro et instruments:
– Focusrite Scarlett 2i2
– M-Audio MTrack Plus
– MOTU Ultralite MK3 Hybrid
– RME Fireface UFX
– M-Audio MBOX Mini / Mtrack Plus
– Mackie Onyx Blackbird
– Alesis i02 Express
Les séquenceurs
Outil indispensable, un séquenceur est un programme qui va permettre  de lire les partitions sous forme chromatique ou non et de "piloter" ainsi les instruments virtuels qui y sont liés. On pourra normalement y relier des plugins d'effets et de traitement du son, d'autres entrées audio telles qu'un micro ou un instrument réel enregistré et des pistes de son.
Cette liste est un aperçu, comme nous le disons dans l'émission, il vaut mieux choisir soit un séquenceur bon marché pour débuter de zéro, soit s'attacher à un bon séquenceur un peu plus onéreux afin d'évoluer sur le même espace pendant un moment.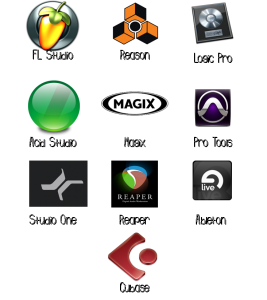 Jean-Gabriel utilise Cubase, et Cédric utilise Pro Tools.
1. Sony Media Software Acid
2. Steinberg Cubase
3. MOTU Digital Performer
4. Image-Line FL Studio
5. Apple GarageBand
6. Ableton Live
7. Apple Logic Pro
8. Cakewalk Music Creator Touch
9. Magix Music Maker
10. Avid Pro Tools
11. Cockos Reaper
12. Propellerhead Reason
13. Magix Samplitude
14. Magix Samplitude Music Studio
15. Steinberg Sequel
16. Cakewalk Sonar
17. Presonus Studio One
Les casques
Coup de coeur conseil : Beyer Dynamics DT770 Pro 250 Ohm / DT880 Pro
– Sennheiser HD280 Pro
– Sony MDR 7506
– FOCAL Spirit Pro
– Shure SRH 1540
– AKG K701
– Samson SR 850
– Sennheiser HD 800
Source alternative : http://ehomerecordingstudio.com/best-audio-interfaces/
Lecteur de samples
Kontakt (5) de Native Instruments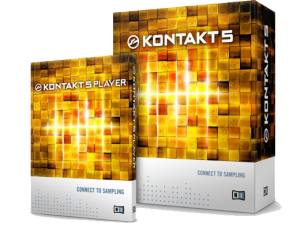 Les VST (Banques de sons) et Plugins
– East West
– Cinesamples
– Spitfire Audio
– 8Dio
– Strezov Sampling
– Eduardo Tarilonte
– Musical Sampling
– Orchestral Tools
– Native Instruments
– Soundiron
– Heavyocity
– Xfer Records
– Garritan Personal Orchestra
– Arturia
– Steinberg
– VSL – Vienna Ensemble
Vidéo du Mockup réalisé par Jean-Gabriel sur le thème principal de Star Wars :

Banques de sons Gratuites (Freebies): https://theaudiospotlight.com/sound-libraries/free-libraries/
https://theaudiospotlight.com/database/?free=Free
Liens
Kontakt: http://www.native-instruments.com/en/products/komplete/samplers/kontakt-5/
Reason de Propellerhead: https://www.propellerheads.se/reason
Garritan Personal Orchestra: http://www.garritan.com/products/personal-orchestra-4/
Cubase: http://www.steinberg.net/en/products/cubase/start.html
Pro Tools: http://www.avid.com/US/products/family/Pro-Tools
FL Studio: https://www.image-line.com/flstudio/
Logic Pro: http://www.apple.com/chfr/logic-pro/
RUBRIQUE 2 – Le Monde de la composition
Nous évoquons les évolutions du domaine comparées aux évolutions des domaines du Dessin, de la Photo et de la Vidéo.
Actuellement l'outil Internet permet un Boom du nombre de compositeurs ce qui occasionne également une saturation aux portes du professionnalisme.
Le gros fossé qui sépare un amateur confirmé et un professionnel est bien présent et nous vous expliquons pourquoi.
On vous décrit une journée de compositeur et la vie dans la peau d'un pro.
Nous vous faisons la liste des avantages et désavantages que l'on a à être professionnel dans ce domaine.
Christophe Heral: http://www.heral.net/
Neko Light Orchestra
Naheulband
Avantages:
Travail à la maison
Rencontres
Échanges Artistiques
Vivre de sa passion
L'impression d'être en vacances
Désavantages:
Revenus irréguliers
Petit salaire au début
Grosse charge de travail souvent d'un coup
De très courts délais
L'obligation d'être multi-casquettes
Travailler seul
Travailler VITE et bien
Travailler sur des projets peu inspirants
La Concurrence
Le salaire comprend un budget de travail
TUTORIEL VIDÉO
Dans ce premier tutoriel vidéo, Jean-Gabriel vous explique comment créer son template de base (orchestral).
Effectué sous cubase, il peut néanmoins être appliqué sur les autres séquenceurs en adaptant simplement les méthodes à votre outil.
On vous démontre rapidement qu'il faut débuter simplement pour avoir rapidement un son correct et un espace de composition adapté.
TEST DE BANQUE DE SON
Premier test vidéo d'une banque de son (VST) également.
Test et revue de du VST Soaring Strings sorti en Janvier 2016 par Musical Sampling.
Au fil de tests composés en mode "Out of the box" c'est-à-dire sans aucun entrainement ni traitement (EQ, reverbe etc) sur la banque de sons, je vous livre mes impressions ainsi que des exemples d'utilisation.
La banque est un très bon compromis avec un rapport qualité-prix correct (quoiqu'un peu cher pour le moment) et permet de rendre des parties de cordes de qualité assez facilement.
Aucune grosse programmation et equalisation ne sont requises.
Au final c'est un gros plus et je vous la recommande !
Musical Sampling : Soaring Strings
Toutes les musiques présentes ont été composées pour les besoins de l'émission.
EXERCICE
Pour cette première fois, nous avons tout de même reçu deux compositions / orchestrations de la part de Joris Pilier et Sylvain Brehaut.
Notre exercice était le suivant : récupérer le fichier MIDI de notre thème de générique et le réorchestrer de manière originale et personnalisée.
Nous livrons notre retour sur ces deux morceaux et remercions chaleureusement nos deux amis compositeurs pour leur participation, pour un retour plus complet, n'hésitez pas à nous contacter par e-mail !
Orchestration par Joris Pilier:

Orchestration par Sylvain Brehaut :
Voici enfin des exemples de l'évolutions de nos musiques en quelques années :