Dehumaniser II's sound engine has been completely redesigned, with improved algorithms and optimisation for DAWs. It also includes new effects like Flanger Chorus and Ring Modulators.Now, not only will your monsters and demons come to life in real-time, but aliens, robots, music tracks and sound effects are waiting for you too.
Now available as a VST / AU / AAX plugin
– Re-written from the ground up, with improved algorithms for all modules
– Dramatically improved performance
– Use Dehumaniser II in your sessions in industry-standard DAWs including Pro Tools, Logic, Reaper, Live, Cubase and Digital Performer
– Perform live directly in your session to HD video
– Run multiple instances of Dehumaniser II on different tracks or buses
– Automate hundreds of parameters for unprecedented control over your processing and workflow
– Midi control, assign and recall
Truly modular, node-based system
– This new system gives the user control and influence over the architecture of the signal-flow
– Create serial and parallel signal paths with a click of a button
– Design complex and dynamic inter-connecting systems of processing quickly and easily for unique sound design setups
– Recall these routings as presets
– Clearly see the layout, gain structure and architecture of complex, dynamic audio routings
– Switch between routing and mix view on the lower panel
– Use up to two instances of each node; use multiple pitch shifters, granular processors, spectral or convolution processes or more in complex serial or parallel signal paths
– Mute, Bypass and Solo per node
– Assign and create macros per module using our new collapsible 'drawer' system
– Create dynamic systems and settings which are truly performable; bring your sound design to life!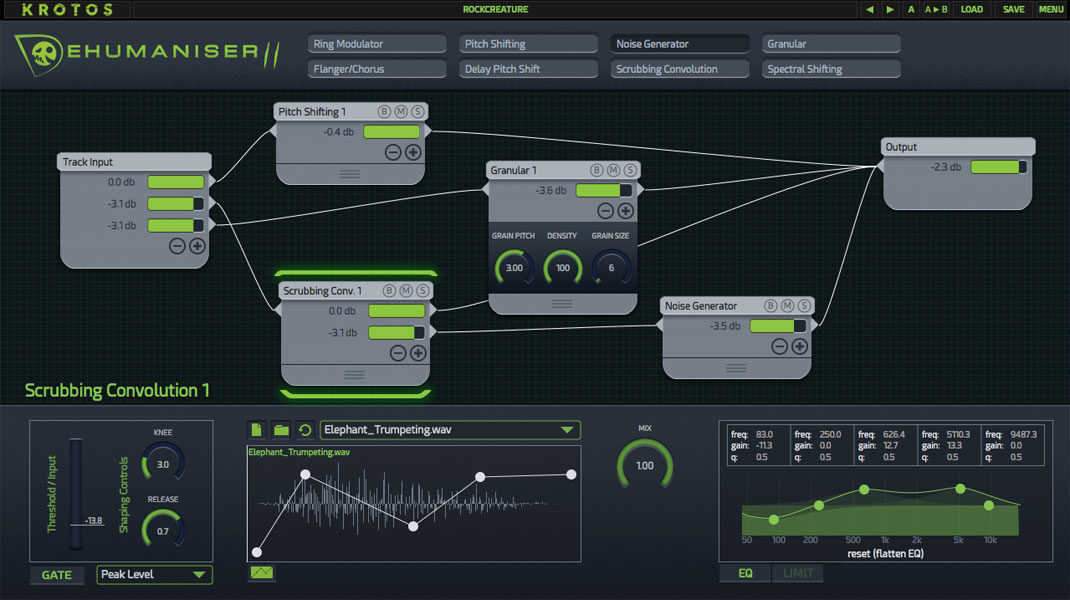 Fully iLok compatible
– Activate and manage your license online with an iLok account or with a dongle
– Move your copy of Dehumaniser II between studios and sessions with ease
– An internet connection is required at the time of activation
Packed with inspiring presets
– Our factory library ships with a range of monstrous presets for quick setups and to inspire your own design
– Jump straight into creature design or use these to inspire your own settings
– Custom libraries tailored for creatures, music, ambiences, percussion and more
Expanded custom sound library
– Includes over 100 high-quality animal recordings to include in your setups
– Trigger these samples based on amplitude, pitch or from a range of audio descriptors
– Rare and unusual animals like Bengal Tiger and Panther, as recorded by our sound recordists in Thailand
– Recorded at 192khz, 24-bit
– Import your own sounds into the software
All new features
– New processing modules, including Flanger Chorus and Ring Modulation.
– Gate per module
– Speech is also far more intelligible that in previous versions
– EQ and Limiters per module (including input and output)
– Custom 'drawer' macro system per node
– Envelope-follow based on pitch or noise content as well as amplitude, per module in your custom system!
– Use multiples of the same module to create complex settings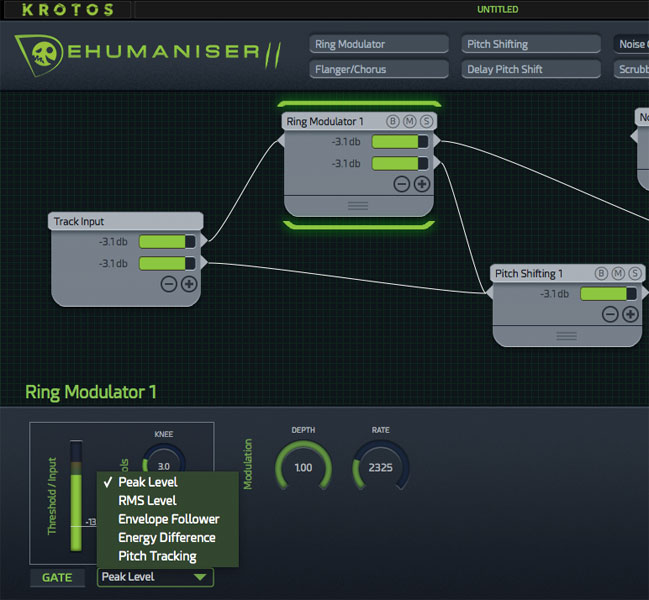 Included Modules
– Pitch Shifter
– Delay Pitch Shifting
– Granular
– Noise Generator
– Scrubbing Convolution
– Flanger / Chorus
– Ring Modulation
– Spectral Shifting
Specs
Plug-in formats (both 32 and 64-bit):
– AAX Native, AAX AudioSuite, VST, and Audio Units (AU)
Supported sample rates:
– Minimum: 44.1 kHz, Maximum: 192 kHz
System requirements:
– Mac: this software requires a Mac Intel computer with a minimum of 2.4 GHz Intel Dual Core Processor, 4 GB of RAM and the operating system OS X 10.8, or later
– Windows: this software requires a computer with a minimum of 2.4 GHz Intel Dual Core Processor, 4 GB of RAM, and the operating system Windows 7 or above
– An internet connection is required at the time of activation
– Dehumaniser II requires a screen resolution of 1280×1024 or higher
– An iLok account is required to activate and use both the demo and full version of the software
Supported host applications:
– Pro Tools (10.3.5 or later), Logic Pro X, Nuendo, Live, Cubase, Digital Performer, Reaper and other VST/AU supporting hosts