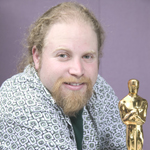 Find Jory Prum @
Official website
LinkedIn

BRIEF LIST OF CREDITS:
Walking Dead: The Game, Season 1, Jurassic Park: The Game, Sam & Max: The Devil's Playhouse, Law & Order: Legacies, Back to the Future: The Game
Tell us a little about yourself and what you do for a living?
I'm a recording engineer & sound designer. I work primarily on sound for games, with a focus on recording studio aspects, but have spent time in film sound and music recording/mixing too.
What is your niche or speciality, that makes you stand out from rest of the audio professionals?
Over the years I've come to realize that what I do that many others in game audio don't do is consider workflow and project management from the start of the project, building custom tools to help make each project more efficient. I do a lot of dialogue recording for games, and have implemented (in partnership with Julian Kwasneski of Bay Area Sound) all sorts of automated tools (many custom-built) to create a pipeline that allows the entire process to be managed from script to implementation in the game.
Can you give us a brief summary of the equipment you use regularly?
My signal chain for recording dialogue is quite simple: Blue Kiwi mic -> Millennia HV-3D pre -> Digidesign 192 I/O -> Pro Tools HD|Accel running PT 10. I have a selection of other mics and pre amps, too, but these are the ones I rely on for dialogue the most. I utilize the Waves plug-ins quite a bit, as well as the Massenburg MDW EQ. Monitoring is through a THX CC4 controller and 5.1 array of Genelec 1030As and an M&K sub (slightly overkill for voice work, I know, but mine is a full-service facility). We use iPads in production very heavily too, mainly for script display and note-taking. There are five in the studio all the time.
What are your go-to plug-ins and software? (virtual instruments, audio processing etc.)
Pro Tools HD 10, Waves Mercury & SSL v8, Peak, AudioFinder, Sample Manager, iZotope RX.
When do you find you are most creative?
I love being given a workflow challenge. Last year I was given the task of processing 635 lines of voiceover to sound like GLaDOS from the Portal franchise. The processing is done using Melodyne, making it a very manual process. I figured out a way to automate 80% of the process, reducing the job from 3 weeks of labor to 16 hours!
What is your usual process for creating audio content for games, films etc.?
I like to go out and field record quite a bit. I carry a Zoom H2 in my backpack whenever I'm traveling, so I capture sounds all over the world and put them into my personal SFX library. I also like to use some apps on the iPad to generate electronic SFX fodder. The touch interface really makes for some great new ways to generate material.
Are there any particular secrets to your creativity?
Unrealistic deadlines, perhaps? It's all about the custom tools! Shhhh! Don't tell anyone!
Do you have any audio creation techniques that resulted in something interesting?
I use a few tools on the iPad that I really love, but as much as I'd like to see that developer sell a ton of copies, I kinda see it as one of my secret tools and don't like to share much. ;-) Depending on the kind of sound design task at hand, I start differently. Organic sounds should start with organic, real objects. UI sounds (for me) often start with a synthesizer, such as an ARP 2600. But there's no right method; just the one that gets the results you envision.
Any specific "lessons learned" on a project that you could share?
Oh boy. Lots of lessons learned on many projects. Most recent one I can think of is to step lively when project schedules get compressed to 1/3rd of normal. All kinds of unexpected pipeline issues can break in places they never broke before.
Any tips, hints or motivational speeches for the readers?
I've always been a big advocate of knowing as much as you can about how your computer works. If we were chatting 30 years ago I'd have advocated for good baseline knowledge of basic electronics (still a usual set of skills today), but understanding how computers "think" and how you can take advantage of that is paramount to success in today's world. Learn UNIX! Learn a programming language! Practice problem solving! These are the abilities that can truly differentiate you from everyone else trying to get the same jobs.