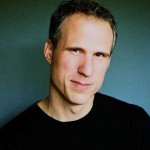 Find John Kaefer @
Official website
Twitter
Soundcloud
IMDB
Facebook

Brief list of credits
Quantum Break digital series, Sequestered, Silence Patton, A Polite Bribe
Tell us a little bit about yourself and how did you get your start as a composer?
Music has always been an important part of my life. I began music lessons in 3rd grade (piano and saxophone) and started composing almost immediately. I loved to tinker with sounds and textures. By the 5th grade I was steadily composing, producing new pieces every week, including a 45 minute musical in 6th grade. I continued my precollege studies in New York City at the Manhattan School Of Music and spent summers at The Aspen Music Festival. Through high school I was given tremendous opportunities to hear my music performed with fantastic players, from small chamber ensembles to full orchestras. I continued my studies in college and received degrees from The Eastman School Of Music (BM in composition/piano), Yale University School Of Music (MM in composition), and The Juilliard School (Doctoral Degree (DMA) in composition). Over the years my concert music has been performed throughout the world, including premieres at Carnegie Hall and Lincoln Center in New York, Wigmore Hall in London, and La Schola Cantorum in Paris.
Towards the end of my time at Juilliard (2004 or so), I began writing for film and television. For many years I had a strong interest in exploring this world – I felt I had something unique to say. So I purchased new equipment and immediately started writing and producing. The following year I won a BMI Pete Carpenter Fellowship and worked with legendary composer Mike Post. The experience changed my life and pointed me in the right direction. I've since worked on many rewarding projects, from documentaries to films to tv series and video games. I'm excited to be a composer at this time now, when music can have great depth and diversity. I love the freedom and inspiration that work in film/tv offers.
Besides music, I enjoy running (I've completed four marathons, 3:35 PR in NYC), skateboarding, and spending time with my wife and two boys.
You created the theme music for 20/20. How did you get involved with this show?
I was lucky to co-compose the thematic music for "20/20" with a friend from Juilliard. We also worked on the thematic music for "Good Morning America" and other ABC shows.
Can you describe your upcoming Quantum Break score in one sentence?
The live-action score for "Quantum Break" embraces a modern electronic/acoustic hybrid palette, incorporating elements of minimalism and sensitive cinematic writing, while supporting and enhancing the story and action onscreen.
What would you say your specialty or niche is?
I'd like to think my specialty is "John Kaefer". I attempt to create my own unique sound, something identifiable only to me. I really enjoy working with a hybrid electronic/acoustic palette, and blurring the lines between concert music and film/tv scoring. My music tends to have elements of minimalism and stillness (ambient), but can also be bombastic and aggressive. I have years of experience writing for the orchestra (concert music in particular) and I always try to think outside the box. Overall my goal is to approach all scoring with artfulness and a sense of honesty and truth – to write "John Kaefer".
What is your go to instrument when composing?
I'm a pianist, so the piano will always be my go-to instrument. However I also like to take out the saxophone every now and then. Sometimes guitar as well. As a composer of orchestral music, I'm comfortable writing for all instruments.
Do you use any plug-ins or programs? If so, which ones?
I work in Logic and use most of the current VI's. I'm a big fan of Spitfire (especially the strings). I also use Gravity and Output instruments quite a bit. There's many good options out there!
Whenever you have writer's block, what do you do to get through it?
I thrive on deadlines, so giving myself a strict schedule actually helps alleviate writers block. For me, Leonard Bernstein's quote is true: "to achieve great things, two things are needed: a plan, and not quite enough time." I also find doing something else outside the studio- running, taking a 30 minute coffee break, etc. – helps clear my mind.
What is the strangest instrument you have ever used?
One of my scores featured four brake drums (from a car!). I also love using bowed percussion (i.e. vibraphone) and prepared piano in unexpected ways. Exploring new instrument possibilities is a source of constant fascination.
What would be your dream project to score?
My dream project would allow me to incorporate all aspects of my musical life, from my concert music to film/tv scoring, within a truly collaborative and open environment – an authetnic hybrid of my world, embracing my voice as an artist. Working on a dramatic multi-season TV series would be thrill (i.e. I think of Jeff Beal's score for "House Of Cards" – fantastic!). I also have a strong desire to work on more feature film projects.
Any hints, tips or motivational speeches for the readers?
Always be curious! Love your craft and keep at it. Listen to as much music as possible. Study scores and stay current. But most importantly, be a good person. No one wants to work with a primadonna. The most successful composers have not only tremendous talent and drive, but a spirit of collaboration and openness. Embrace all elements of life – be an interesting person! All these ingredients will make you a better composer (and human!).