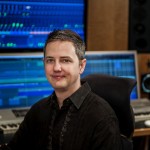 Find Jason @
Official website
Soundcloud
Facebook
Twitter

Brief credits
EVOLVE, Tomb Raider, Dead Space trilogy.
Tell us a little about yourself and what you do for a living?
My name is Jason Graves and I'm a composer. I've been writing music for video game music for a while now and also compose for film, trailers and advertising.
Can you give us a brief summary of the equipment, software and plug-ins you use regularly?
I recently moved into a new studio so a lot of my equipment is outboard. I have 32 channels of API for mixing plus a Manley Massive Passive and API 2500 that I pass everything through. There are also mics everywhere, always plugged in and ready to go. I think the current count is up to thirty microphones and paired preamps set up around the studio, dedicated to specific groups of instruments. I've found I will use live instruments a lot more if I don't have to keep resetting and adjusting levels. I literally just pick something up, record enable a few channels (I'm usually recording multiple mics at once) and everything else is already set. I've also grown very fond of ribbon and tube mics – they have such character and depth that really make mixing the live tracks quite simple.
Software I use includes Digital Performer and ProTools, plugins by Waves, FabFilter, Sound Toys and Izotope plus virtual instruments by Heavyocity, u-he and Native Instruments.
You composed the score to the supernatural detective thriller video game 'Murdered: Soul Suspect'. How and when did you become part of this project?
I was involved in the very early stages, more than three years before the game came out. I have fond memories of the initial phone call because it was a simple "Do you think you're interested and have time to work with us?" conversation. I believe I was their first choice, which is an obviously wonderful position to be in!
We had a few more phone calls but soon after that I was on the west coast and flew up to Seattle to visit them. This was a trip I initiated and paid for myself. I only mention this because I think it's important to meet the team and really get to know the project, no to mention face time with the audio team goes a long way when you're stuck with Skype calls for most of the project!
After this session with the developer did you have a general idea where you would like the music to go and how interactive it would be with the events that happen in the game?
The game actually changed directions a few times, so I was pivoting as quickly as possible to get the score a specific sound, depending, of course, on what the final gameplay would look and feel like. We both always agreed the music needed to sound ghostly and otherworldly. There were some back and forths as the game changed directions. In the beginning the score had a more film noir vibe, with full orchestra and big, cinematic percussion. That got simplified down to the final instruments, string quartet and percussion FX, as the game changed.
How was the actual composing process like for a game that has both the living and the ghost world (aka Dusk) implemented into it? How did you approach these worlds musically?
I was focused on the world of Dusk, since that's where the player spends almost all their time in the game. The general idea was, "What does it sound like to be a ghost?" So there was a lot of bowed, creepy sounds I recorded plus some experimental percussion and plenty of solo string effects.
You are also composing the score for 'Adrenaline', a feature film directed by Joseph Simpkins. Can you tell us more about this project and what are your plans for it music wise?
It's essentially a movie about stock car racing. It's got a very macho, grease and oil vibe to it, and the director already had a band that had written a few songs to be used in the film. I thought it would be interesting to score the film as if that band had simply been hired to write music for the underscore as well. Except the "band" would literally be just me in the studio, tracking and stacking each instrument one at a time.
It was a lot of fun because it was something I had never tried before, both from a playing perspective and especially from a recording and mixing perspective. I had about nine months to prepare, so plenty of practicing and production research was done.
I was curious what would happen with all the gear I bought for that score. Would all the guitar pedals and amps ever get used again? Would the drum set sit around and collect dust? Thankfully, none of that has happened. I used the guitar rig to re-amp many of the instruments in my score for a game called EVOLVE, which the drums were put to good use on as well. And they all continue to be sources of inspiration for new, original sounds in other project.
Are there any big differences in your workflow when you are composing music for films instead of video games?
No major differences, really, other than the way I ultimately deliver the music. Film is always stereo mixes. Games are mostly stems, combined in different ways depending on the needs of the interactive music system. But the general approach, the composition itself, is the same regardless of the final deliver method.
What aspects do you usually take into account when deciding the musical direction of a project?
Any major factors are determined by the project and its mood/story requirements. What's the overall emotional connection the player/viewer needs to feel? Boiling everything down to an emotional level makes it easy to speak a common language. Another major factor for me is what instruments I want to exclude from the score. Sometimes I think we, as composers, can get slightly overwhelmed by the sheer choice of sounds we have available to us today – quite literally at our fingertips! I find that eliminating as many sounds as possible not only makes me narrow my focus but also gives the score a more unique sound.
When do you find you are most creative and are there any particular secrets to your creativity?
It seems I'm the happiest when I'm really experimenting and trying new things. Lately I've been getting into recording live soloists, mostly myself, in the studio and experimenting with different microphones, preamps and external effects. I've also been running lots of things through my guitar pedal collection, which seems to be growing at an alarming rate! But they really are more than just for guitar. I pretty much run anything I can get my hands on through them.
Any specific "lessons learned" on a project that you could share? Any tips, hints or motivational speeches for the readers?
I'm currently focused on trying to create sounds that are as original as possible and not to write too many notes. That may not sound too hard, but simple, effective music is deceptively difficult to compose! I guess that's really more of a current goal, but it's really part of something I've come to realize over the years. People hire you because you have some kind of unique voice, but you really have to work through a lot of music before that voice starts to emerge.