Find more about Jake Monaco @
Official website
Facebook
Twitter
Soundcloud
IMDB

Brief list of credits
HOT PURSUIT (Additional music), GET HARD (Additional music), HOT TUB TIME MACHINE 2 (Additional music), LET'S BE COPS (Additional music), OUT TO KILL (composer)
Nice to meet you Jake, thank you for taking some time off your schedule, to do this interview with us!
Thanks for having me Martin!
Please tell us a bit about yourself, your work and how you got started in the industry.
I started taking guitar lessons when I was six, but after a year of not wanting to practice, my parents let up. Then my freshman year of high school, my family moved, which left me with a lot of free time. I started getting more into music in general at this point, so I found that same guitar from years prior and started teaching myself how to play. I began writing songs and eventually started playing in bands once I got to college. After six or so years of playing bars and other colleges, everyone wanted to get real jobs so I started looking into other career options, still wanting to be involved in music. After visiting USC's film scoring program, I applied and was fortunate enough to be accepted. Shortly before graduation, I started working for Christophe Beck as his assistant, slowly moving from menial tasks to writing additional music. We worked together for almost eight years until Dinotrux came along.
Your most recent project was scoring Fox's action comedy Keeping Up With the Joneses starring Jon Hamm, Gal Gadot, Isla Fisher, and Zach Galifianakis. Please tell us a bit about your involvement in the project and how you managed to reconcile different genres like action, espionage and comedy, musically.
I have always been a big fan of the James Bond and Mission Impossible franchises, so when I got the call about Joneses, I was ecstatic! My phone rang on a Thursday morning, I screened the film that afternoon and was on a red-eye to New York that night to spot the film at 10AM the next day. Combining comedy into any genre can be challenging; finding the right tone for the film is always the first step. Having the juxtaposition between the Gaffne's very light-hearted, indy/suburban sound, the Joneses' more exotic, mature musical language and the ability to infect one another over the course of the film was a key storytelling point.
Earlier this year, you composed music for the female buddy comedy Absolutely Fabulous: The Movie, an adaption of the BBC series Absolutely Fabulous. How did you get involved in this project?
Well, sweetie dah-ling, the film had been temped with a lot of music that I had been involved with, so when the conversation for a composer came up, my name was luckily on the list. Another instance where the phone rang one morning, only this time I was told I have 17 days and I'd better get started! Crazily enough, post production was all being done in the U.K., so it wasn't until the NYC premiere that I actually got to meet Mandie Fletcher, the film's director.
Over the last years, you contributed music to a lot of comedy blockbusters like The Hangover trilogy, The Muppets or Get Hard, starring Will Ferrell and Kevin Hart. What are the musical challenges, you face, when composing for the funny genre?
Similarly to Joneses, it's really about finding the tone for the film. R-rated adult comedies (like Hangover and Get Hard) lent themselves to a more contemporary, slightly aggressive sound, where as The Muppets had a much lighter orchestral palette. For the adult comedies, specifically the action-driven moments, finding the balance between serious and fun is always a big challenge; how can we raise the stakes musically while keeping in mind that the audience should be having a good time?
I suppose, there's always the danger of spoiling the joke with "over-scoring". How important is timing and a feeling for the situation in scoring comedies?
Crucial. In fact, timing is the single most important thing with comedies; how much do you build before you release for the joke…. Do you comment on the joke musically, or drop out entirely, etc. This being said, a lot also has to do with the film's editing. A great editor creates a natural rhythm to a scene and things seem to magically fall into place; I love when that happens!
You established quite a large portfolio of animated children's series and movies. To name a few, you scored Amazon's The Stinky and Dirty Show, Netflix' Dinotrux and Warner Bros. Animation's Be Cool Scooby Doo. How does composing for children's media differ from scoring for adult films and series?
It seems there are about four times as many notes to be written in animation :)
Honestly, all three of these shows have a pretty different way of being scored. Stinky and Dirty is a preschool show and Amazon has a very heavy focus on the education side of things by creating signature sounds that a very young audience can immediately associate with something that is happening in the story. For example, every time the main characters asks "What If…" there is a 'rach-a-ding' what became our short hand for it). Whereas, Dinotrux is the complete opposite end of the spectrum. When I was first hired on the show, I was told they wanted to make the series as if it were HBO for kids; the series should be treated very cinematically. So as opposed to writing 40 30second cues, the show is usually made up of 8-9 longer cues which really helps bridge story points and gives each episode a very satisfying musical arc.
"Mickey-Mousing" a technique used by composers to comment the action on screen musically, seems to be gone out of fashion for the most. Still, especially animated series live from the reaction of the music to the on-screen action. Taking Scooby Doo as an example, how would you approach the task of commenting on the characters' actions here?
My main goal is trying to retain a sense of musicality. So I'll look at the scene as a whole and pick out the most crucial points to acknowledge, then figure out a good tempo and meter that allows these points to land at musically pleasing moments :)
This is a little harder with Stinky and Dirty, as we are never in one moment for too long, so the music has to change just as quickly as the characters' emotions.
You're known for collecting and using quite unusual and self-made instruments in your scores. On a picture, I saw some strange looking, handcrafted string instruments, could you tell us a bit about those?
Haha! Well I love finding little gems at thrift stores or flee markets and seeing what can become of them! I was introduced to a guy name Rich Briggs (http://www.cigarboxguitarsbyrich.com/) who had a setup at a flee market down on Melrose, so I went to go check out what he had. I bought a small cigar box ukelele from him that day and asked if he did custom builds. He jumped at the opportunity and over a couple years, we went back and forth on a bunch of concepts. A few of my favorites are pictured below, including a red, fretted, steal string violin.
In terms of percussion, anything you bang on will make some sort of noise, so it just depends on how cool that noise is! From a bunch of kitchen pots, plastic measuring cups and woks to anything I can find in my two year old son's room, if there's anything missing in the house, it's probably in my studio under a microphone.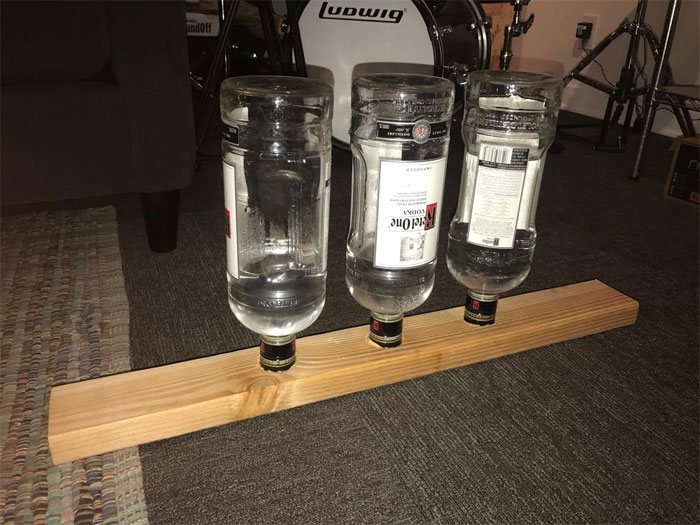 How important is it for you, to incorporate such unique, custom-build sounds into your compositions instead of reaching for off-the-shelf sample libraries?
I think it's one of the most important things to do when starting a project; what is going to set the score for this film or show apart from every other show? It's also nice while working on multiple projects to have a distinct palette for each.
Dinotrux, an animated children's series featuring characters that are part dinosaur and part construction vehicle would surely have been one of my absolute favorite shows when I was a kid, regarding the topic! Did you use any of your custom instruments for the score?
Ha! Agreed! One of my favorite things I put together are the "Ketel Bells" (picture and MP3 attached). Took me a few months to make them, as I really don't like to waste. There is a little bit of water in each to give a different pitch… pretty simple concept… but layering this multiple times, hitting them with different sticks or brushes, pitch shifted, etc… gives a neat, distinct texture that I used as the sound for the Bit Bugs in Dinotrux.
Would you mind, telling us a bit about your technical setup and the gear you're using?
Sure! My main sequencer is a "trashcan" MacPro which most of the time plays very nicely with two homemade PCs via VEPro. I monitor through a 2.1 Dynaudio system and a pair of Avatones (good for mixing for TV). The sample libraries have been accumulated over 10+ years. There are some old True Strike patches (that I just can't give up) and some of the newer things are from Spitfire and Sample Modeling. I use an Apollo 8p as my audio interface, so I have access to some UAD plugins, and I use a Kemper Profiling Amp for all my electric guitar stuff.
Last question: Do you have any tips for aspiring composers, on how to gain a foothold in the film music industry?
I know that assisting another composer can sometimes sound like a bummer, but honestly, no matter how much schooling you have and no matter how amazing your composition chops are, nothing beats sitting in the room and learning how to manage any number of situations that come up during a meeting, playback or recording session. This experience is priceless. So, I'd suggest reaching out to working composers to see if they need any help. You'll learn a lot about what to do… and sometimes even what not to do :)
Jake, thank you so much for taking the time and answering my questions! I wish you all the best for your future projects.
Thank you Martin! It was a pleasure!
More composer interviews here.