Mixing and mastering sound has always been the center of attention of any forum out there. Some claim it is easy and some share more sour thoughts on the subject. Either way, mixing and mastering is certainly a subject worth exploring. With years the tools for mixing and mastering has also become more accessible and so we will be looking at one today. Let's dig deeper.
With Ozone 6 you will get a set of tools that will help you with mastering your sound. In addition they recently released an ebook that explains basic principles and techniques on how to approach mixing and mastering sound.
Ozone 6 offers a lot of bang for the buck. You get few different effects that can be used independently (advanced version) or as an Ozone bundle. By that I mean that even if you buy full bundle you have the option to load each individual effect separately or you can use the full VST. In addition to that, you can, for the first time use Ozone 6 as a standalone app which is I am sure a great news for every mastering engineer.
iZotope Ozone 6 also comes in two variations (Ozone 6 and Ozone 6 Advanced) and the differences are obvious. For instance the "Advanced" version enables you to use each effect as a separate plugin which if always welcomed. In addition it offers better metering tools to ensure your audio is compliant with latest audio standard (BS.1770-1/2/3) . With advanced version you also get the new Dynamic EQ which we will cover in a bit. Having said that, the advanced version is also more expensive.
Tools of the trade
Both versions offer everything you will need to mix and master sound… well… not everything. Skills are not included but everything else is. With both versions you get Equalizer, Exciter, Imager, Dynamics and Maximizer. In advanced version you also get the new Dynamic EQ which as iZotope states lives and breathes with your music.
Dynamic EQ
Dynamic EQ offers a 4 band equalizer that works in stereo, mid/side, two analog modeled curve shapes (Digital and analog) with minimum phase response and with linear phase response. There are also five filter shapes: Baxandall Bass, band shelf, peak bell, proportional Q and Baxandall Treble each offering parameters (Q, Gain, Frequency and offset) that you can tweak. Dynamic EQ also compresses the desired frequency without having to use additional module. That certainly is a handy tool.
You also have the option to tweak the attack and the release of the compression and use the threshold at which the signal triggers the filters dynamically. On top of that you also have the ability to use the inverse mode which does as the name suggests. Inverse mode inverts the dynamic behavior so boosts and cuts are increased as the signal crosses the threshold.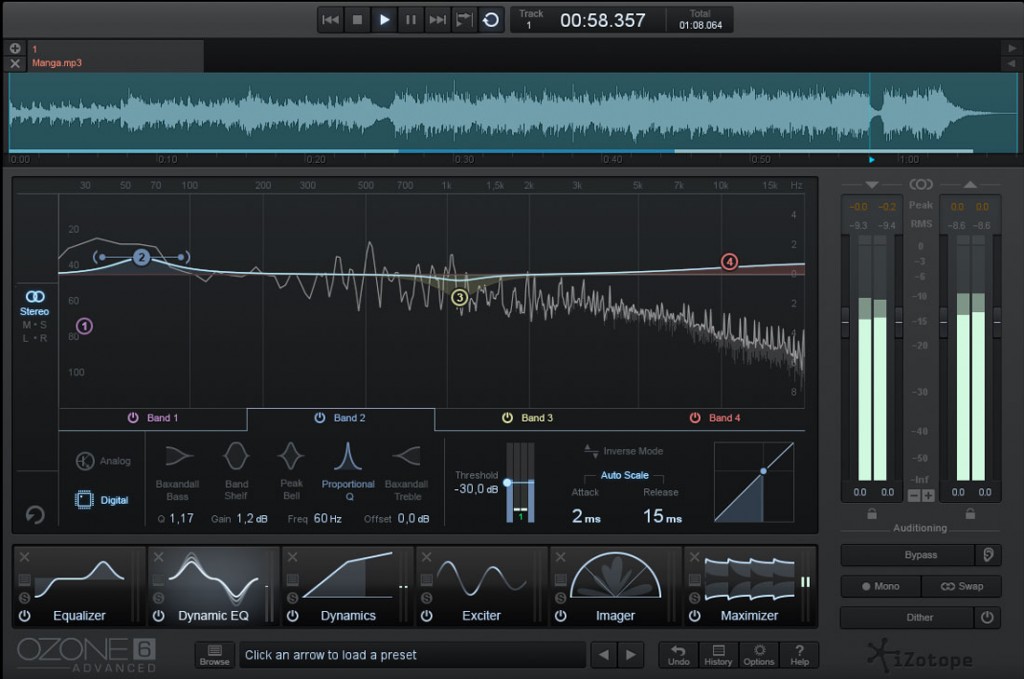 Equalizer and Post Equalizer
Both of these are practically the same, offering 8 bands for you to manipulate. Other features include "Matching", two analog modeled curve shapes (analog and digital) and phase alignment. Digital mode also enables the surgical mode which makes the curve shapes more precise.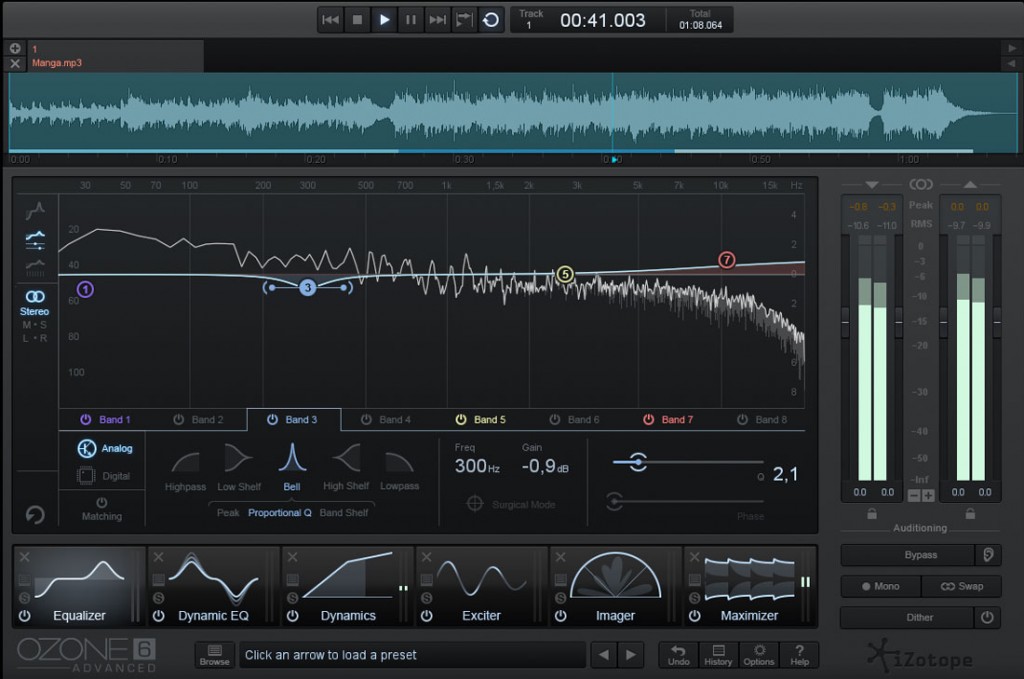 Exciter and Maximizer
Exciter offers six different ways for you to "excite" the sound. Warm which evens the harmonics, Retro which gives more transistor like harmonics, Tape saturation, Tube saturation and two circuit modeled exciters (Triode and Dual Triode). You can also select which part of the frequency to excite the sound using the sliders above. Of course you can tweak the amount and the mix of the excitation.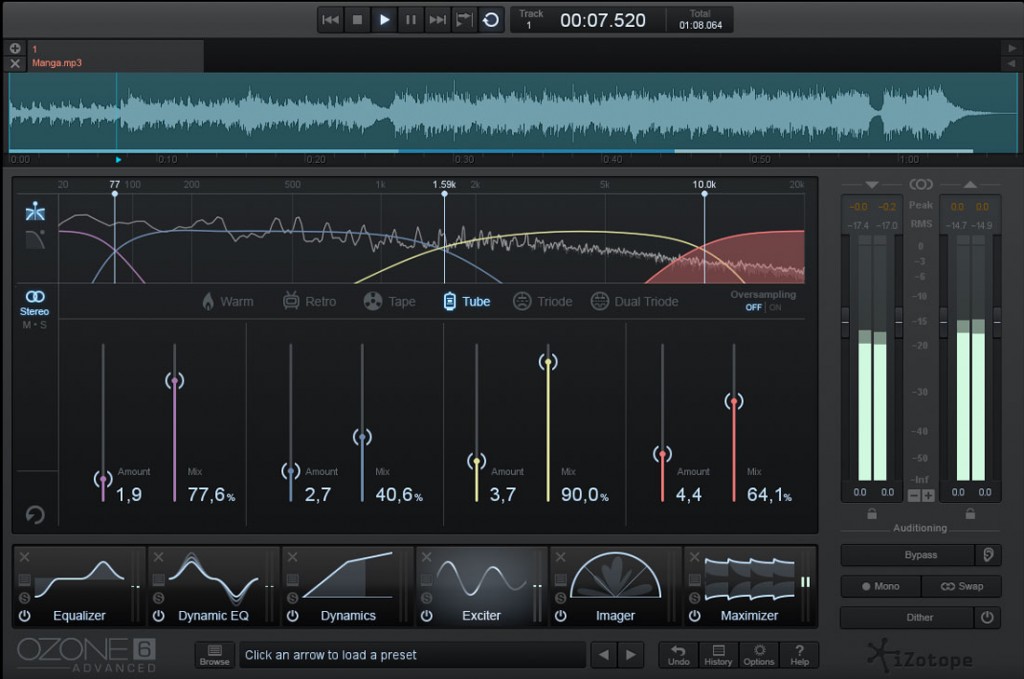 Maximizer offers simple but effective limiting options. You can choose three different intelligent release controls (IRC for short) or a modeled tube limiter with brickwall precision. Each IRC offers somewhat different sound output but after spending some time with it I have to say that the changes are very subtle (which is good) and after some time you hardly notice them. That of course is a sign that you should take a break. You also have the option to choose the character (Fast, Smooth, Transparent and Slow) of the attack and release of the maximizer.
Dynamics and Imager
Dynamics module is something you are used to if you ever used a multiband compressor. The multiband compressor of Ozone 6 works pretty much the same with few other options. Setting the limiting options or compressor options is a breeze with Ozone 6. I will talk more about Ozone graphic interface soon and you will see why.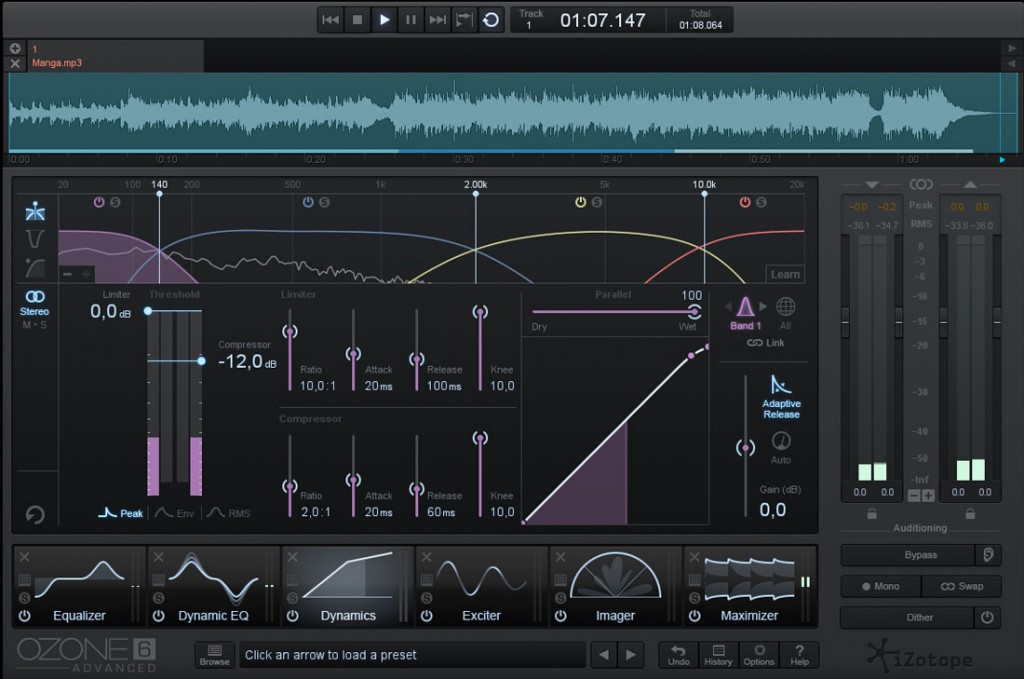 Imager does as the name suggest. It broadens the stereo field and it does it well. If you have ever used an 'imager' module before then you should feel right at home.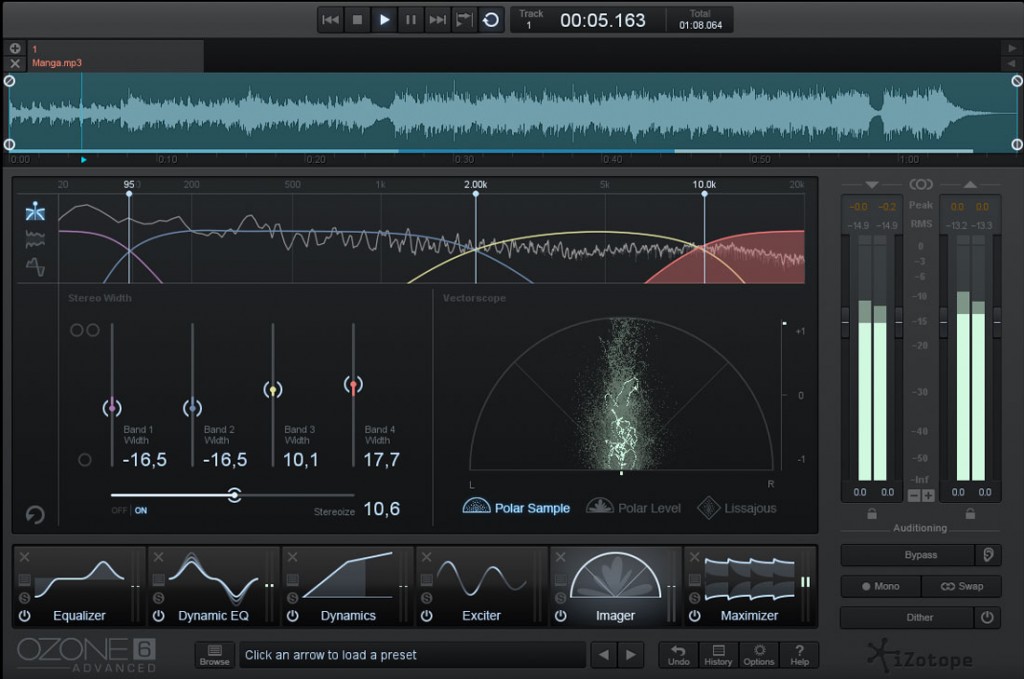 Graphic interface and ease of use
The design of the graphical interface of Ozone 6 is very clean. It is designed to make you want to feel that you have been here before and that even if there are many options to tweak, you shouldn't be afraid because it will guide you to the very end. In short I find it beautiful.
Each module is equipped with help signs that appear whenever you hover over an option and they explain each option nicely so you don't get lost. With each module you also have the option to switch to a desired view and undo everything.
At the very top you will find wave display which automatically highlights the different regions of the audio file below the view. A nice addition or reference if you need a visual representation of the sound.
In the middle you will find the module options which change depending on the chosen module. If none of the modules are selected then it will show all the available modules that you can choose.
Below the module window you have the signal chain to which you can load up to six modules. The signal chain can be tweaked via dragging the desired module to its position (left and right positioning). I really like that option rather than to have to click a bunch of times to get the signal chain that I want.
Further down you also have a preset manager where you can choose your or factory presets.
On the right side you have your metering options plus a bypass function and dither options. You can also switch to mono if needed and to swap the left and right channel.
The only thing I couldn't figure out nor do I know if it's possible is that the whole graphic interface is set to a fixed resolution which means I cannot use it in full screen. Editing options are also on the weak side as they offer simple fade option and looping.
Other than that the Ozone 6 looks phenomenal.
Value for the money
The standard edition of Ozone 6 will cost you around $249.00 US which is to be honest affordable but you don't get modules that are available in the advanced version. Speaking of the Ozone 6 Advanced, the cost of it is $999 US which of course isn't cheap but compared to other manufacturers it is competitive.
I cannot say which version is right for you but you can go to their website, download a demo version and see for yourself. Either way you will not be sorry to try it out.
Conclusion
Ozone 6 truly is a fantastic tool that looks great and feels right. It is easy to work with but it comes at a price if you want to use every module it has to offer.
If you find some spare time then go visit Ozone 6 website, download a demo and try it out then decide.
iZotope Ozone 6 Advanced review