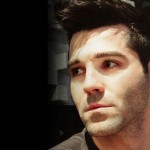 Find Ivan @
Soundcloud
Facebook
Twitter
Youtube
Ivan is one of the composers for the new upcoming album Cosmogeny.
Tell us a little about yourself and what you do for a living?
I am a freelance composer and producer working full time. I worked for pop and dance artists here in Spain for many years, also for radio stations, doing advertising and jingles, as a designer too…But now, although I`m still working on it, I am trying to focus more in the cinematic music scene, working for trailer music companies, as well as doing demos for sample libraries.
What is your niche or speciality, that makes you stand out from rest of the audio professionals?
Well, don't know really… I just try to do what I think works to my ears…But it is true that I am very obstinate with the sound palette and the production, sometimes too much even. My focus, is always to have a defined leitmotif that could be remembered, and check millimetrically the production and the mix, to achieve a sound as clear as possible with my resources…
Can you give us a brief summary of the equipment you use regularly?
I don't have a big studio, just a comfortable room to work in, but I have a 6-core PC platform, with 64Gb of RAM. And a MacBook Pro connected to an LCD to do the scoring. For the recordings I use a Neumann U87 and a Avedis MA-5 Pre and an Anamod 660 compressor, that emulates the Fairchild behaviour…MOTU 828 card, ADAM s2.5a as speakers, and all the rest is software…
What are your go-to plug-ins and software? (virtual instruments, audio processing etc.)
Wow, this could not end, haha…
I'm working with Cubase 7 and Vienna Ensemble Pro. Both are my real go-to…I love Cubase, because it's so easy to work with, so plastic, although I would like they implement some features that are necessary. Vienna is a fantastic plugin, that allows me, overall, to change between cues, and preserve the sounds loaded. To reload it on Cubase, it could take me ages… and is a comfortable feature.
For the plugins, I tend to use VSL Suite Plugins, as well as some stuff from Waves and UAD. Three plugins that I love and use a lot are Hybrid Verb from VSL, C4 from Waves and the FG-x from Slate Digital… Magnificent.
About libraries, I use a lot of libraries, but honestly I must say that I love the EWQL Hollywood Series, as well as VSL Woodwinds, and Spectrasonics stuff. I tend to use also too a lot from 8Dio, Eduardo Tarilonte, Project Sam, Sonokinetic, Soundiron, Spitfire…woah…It could be endless…:) But what I really love, is the massive amount of developers, that bring us the chance to have a fantastic sonic palette, and how the sampling technology, is growing more and more, allowing us to expand our music sonically.
When do you find you are most creative?
When I don't have pressure. When I feel that I don't have deadlines. Deadlines are necessary to delimitate dates, that is a fact, but working under pressure is not good for my creativity. I know that some people like it, but I need to have time to complete my procedure, to be creative, and have the best results, or at least what I need to listen in my music. Because once you release a "final product" it will last forever…Obviously, there could be updates, but the first impression is the most important thing. To me, time is the key to have a solid product and a good first reaction from people.
What is your usual process for creating audio content for games, films etc.?
Usually I record every idea in the phone. All of them. It doesn`t matter where I am…Then I go to the studio and fix them in Cubase, and sometimes I open the arrangement to listen to them. They are just piano drafts, but with a very pronounced leitmotif. Then I select one of them and I start to write arrangements and do the production process… If I am not sure about whether to take one of the songs for the work I am hired for, then I try to write a song from scratch, following the instructions of the client.
When I finish the MIDI programming, then I bounce all the tracks to stems, because I love to work with audio. To me this is even better than working with MIDI, because the precision is more accurate with audio, and the sound is better, due the summing process, when you do the mix with them.
Finally, depending on the result and the mix, I try to do the mastering process by myself or I send it to a professional engineer, that always brings the best results to the track.
Are there any particular secrets to your creativity?
Honestly? Rest! And then "she" comes alone :) haha…Movies, TV, music, read, internet…A simple image… All this feeds my creativity. But without the rest… it doesn't work, at least for me.
Do you have any audio creation techniques that resulted in something interesting?
As I said before, I think that mixing with stems and not in the MIDI session is our best ally when we don't have the mixing resources, summing gear… The sound is clearer, more precise, and it is a standard in the industry, but sincerely, I found that so much people don't work with stems… So this is a good starting point to improve the mix if the feeling is that it sounds a little bit muddy.
Any specific "lessons learned" on a project that you could share?
Have attorneys at your side. They can resolve many future problems. ;)
Any tips, hints or motivational speeches for the readers?
Fight for your dreams. Because dreams… are the gears of your life. There is a lot of chances in this world, in this industry, and for sure, everyone has its own space on it. So… If music is your dream, just fight for it…And be humble and honest with yourself and with the others.