In this review, we will be looking at the latest Pro Sound Effects release called Industrial Sounds with Soul. The library was recorded and designed by legendary film sound pioneers Ann Kroeber and Alan Splet and it is exclusively available only through Pro Sound Effects.com. Let's take a look.
Industrial sounds with Soul features 42 various factory sounds from machines to various clicks and ticks. The library is delivered at 48 kHz and 24 bit and priced at 89 US dollars*. It is not a big library by any means (638MB) but does feature some unique sounds. We will get to the that in a bit.
*Edit: I removed the part about the library being expensive because I got a note from Ann explaining the price these type of sounds go for. I did not have that information at the time of writing the review. Here is our discussion.
There are no special categories folder wise, but the naming convention is rather good so you know what to look for when searching for the sound.
The library consists of various industrial sounds which range from machine drones and hisses to rhythmic beats. You'll also find a blood pump and a chainsaw sounds. In terms of consistency, I have to say that the library is somewhat consistent, so you do get a nice variety of machine sounds but there are few sounds that really feel "out of place". Namely, the mentioned chainsaw sound effects which in my opinion don't below in a library like this. Having said that, there are sounds that I really had fun with.
Giant Mech Monster is freaking awesome. Also, the mechanical creature sound effect is fantastic and you can hear it the example below (second scene, where the strange thingy moves across the screen).
Sound
The quality of the sound effects is great. I did notice that some sounds have a bit of a distortion in the upper range of the frequency but I am guessing that is due the natural sound from the machines or perhaps the microphones couldn't handle the sound pressure. It is hard to tell but the sounds itself don't appear to be clipping.
The drone sounds are cool but the real gem are the ones that were either designed or the way they were recorded. I should mention that the longest duration of the drone appears to be just under 3 minutes but should be enough to create a loop if the scene would require a longer sound.
Metadata
Both BWAV metadata and file naming are good and well written. As always, I will provide images from Soundly, Reaper and Metadata Touch so you can decide for yourself. The full list of sounds can be found at Pro Sound Effects website.
Example
For this example, I created a simple animation to show the sound effects from the library. Now, I didn't use any effects on the sounds but I did some leveling and panning with a little automation and fading.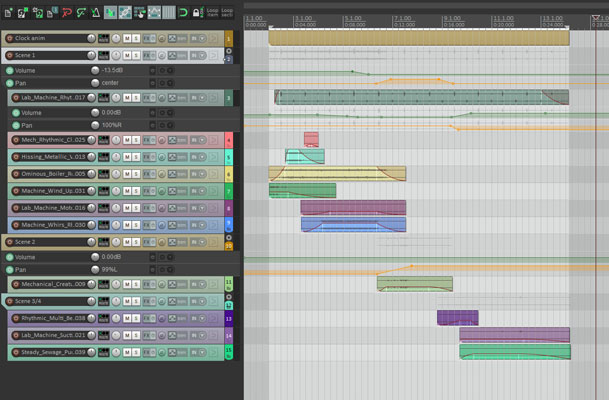 Conclusion
Industrial Sounds with Soul is a great library with some really fantastic sounds. The metadata is well written but most importantly, the sounds are really useful.
You can find information about our review ethics
here
.
Check out other Audio Spotlight
reviews
Industrial Sounds with Soul review
CONTENT
VARIETY OF SOUNDS
SOUND QUALITY
METADATA
VALUE FOR MONEY
Pros
Great quality
Very useful sounds
Metadata
Cons
Some sounds feel out of place