Shreddage Bass 2 is the new virtual electric bass sample library powered by Kontakt 5.3.1 or Kontakt Player 5.3.1 or above. Ever since Impact Soundworks (IS from here on forward) released Shreddage 1 electric guitar sample library, they have been in the front of the rock/metal sample library production. After Shreddage 1 they have also released Shreddage picked bass (Shreddage bass's 2 little brother) and also Shreddage 2 electric guitars. I have been an owner of Shreddage 1, 2 and Shreddage picked bass since their releases and have used them in numerous projects. Since I am a big metal fan and since I do not play guitar or electric bass, these sample libraries are really godsend for me. I was really eager to hear what Impact Soundworks has done with Shreddage bass 2, so lets take a look at what it can offer.
Content and sound
The content of Shreddage Bass 2 features over 11,000+ samples recorded through a Universal Audio Solo/610 analog tube preamp/DI and will take 5 GB of space on your heard drive.
IS recorded a custom 6-string electric Muckelroy bass played by bassist Tony Dickinson. They sampled each string individually across every fret with multiple dynamics and playing styles. The instrument has a range of 4, 5 octaves (from low G to high C#).
The articulations recorded include fingered playing style (up to 32x samples per note), sustains, staccatos, hammer-ons & pull-offs. Each note has up to 8 round robins, which is really great, since you will never get the "machine gun effect") no matter what articulations you are using.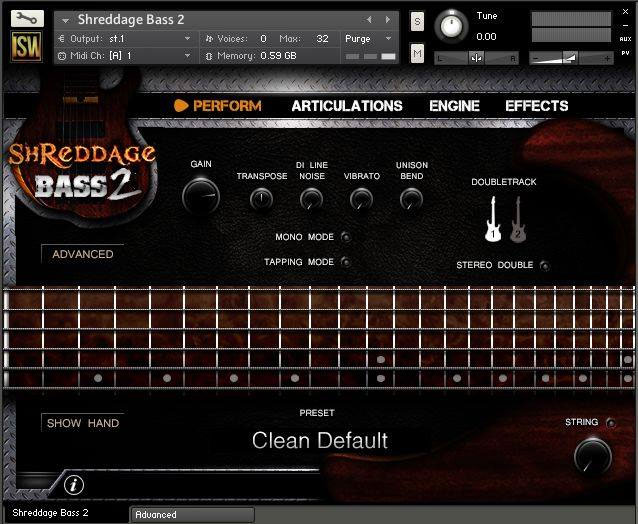 The default mapping of the articulations is extremely well made and smarty put together. Sustains, staccatos, hammer/pulloffs and portamentos are triggered by different velocities. When you get the hang of it, it is extremely easy to play realistic lines without ever hitting a keyswitch! The FX (hundreds of finger noise + pop samples) and harmonic sounds can be triggered by keyswitches. All articulations can of course be mapped to your preference in the Shreddage bass 2 kontakt engine.

The sound is extremely warm and clean with a very nice attacks. The release samples that IS added to every note really enhance the realism of the library. Of course the sound of Shreddage bass 2 is most suited for rock/metal productions, but I am sure it can even work with any style. I have been using it for a about 10 days now in many of my new tracks of various genres and it has worked in every single one of them. From now on it will be my go to electric bass library.

The sound of Shreddage bass 2 can be enhanced in the engine itself, which offers FX such as distortion, scream, amp/cabinet, eq and other FX. I was quite surprised, that the in-engine FX sound quite good. Adding FX in Kontakt itself is always welcome, since it is less CPU intensive, then adding FX in your DAW itself. Last but not least I have to mention, that Shreddage bass 2 works great with Shreddage 2 electric guitars. They blend together perfectly!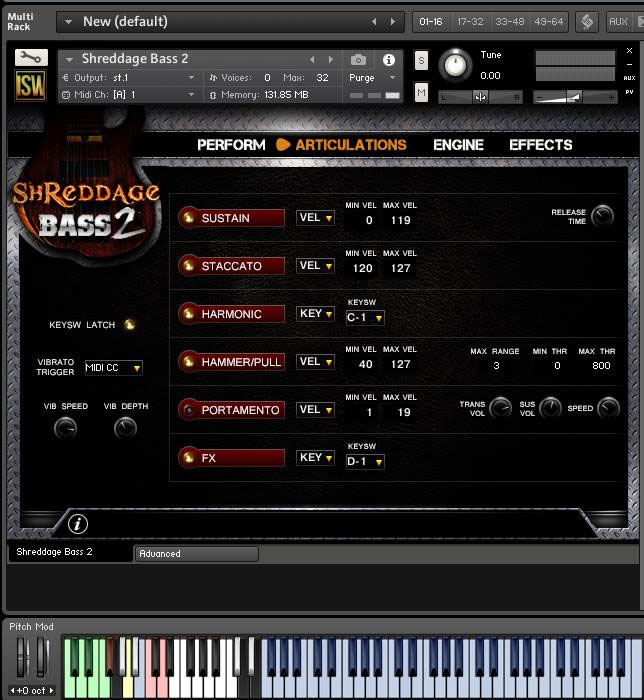 Graphic interface
The GUI is nice and clean and very straight forward. In the perform tab you will see a nice bass with strings, which will show you exactly what string on what fret is triggered for every sample. Here you can also adjust the gain, transposition, DI noise, vibrato and unison blend. You can also select a double track button, which will pan two shreddage 2 basses the hard left and hard right (huge sound!).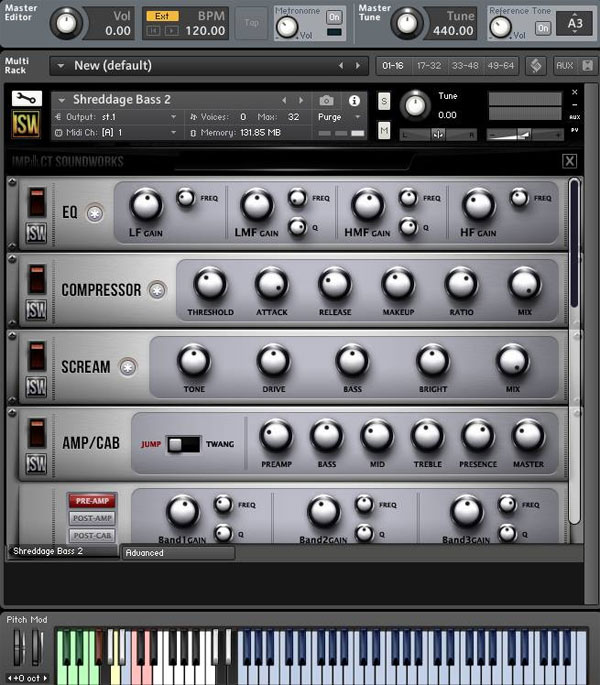 In the articulations tab you can custom map all the articulations to your preference. The engine tab is more for the users, which really like to delve deep into their sample libraries. Here you can find various cool features that can enhance the playability of the sample library, like the sustain pedal to legato feature or adjusting the pitch bend range. You also have the effects tab, which we have already covered previously. On the bottom of the engine you also have an advanced tab where you can fine tweak Shreddage bass to even further.
For more details I highly recommend, that you check out IS's walkthrough video
Price performance and conclusion
The price for Shreddage bass 2 is 119$ (aprox. 106 EUR or 84£) without added VAT. Impact Soundworks also offers a special discount for everyone, that has bought the previous version of Shreddage bass. I think the price is very reasonable for this instrument. Of course it is "just" a electric bass sample library, but every working composer needs a good ebass in their arsenal right? In my opinion Shreddage bass 2 is worth every penny. Whether you are a metalhead like myself or just need a good electric bass in your music every once in a while, Shreddage bass will surely not disappoint you!
Read our interview with
Impact Soundworks
. Don`t forget to rate the product yourself if you bought it in the "
Reader rating
" tab below!
Impact Soundworks Shreddage Bass 2 review
Content
Versatility
Performance
Sound Quality
Playability
Price performance
Pros
Great warm sound
Amazing playability
All basic electric bass playing styles included