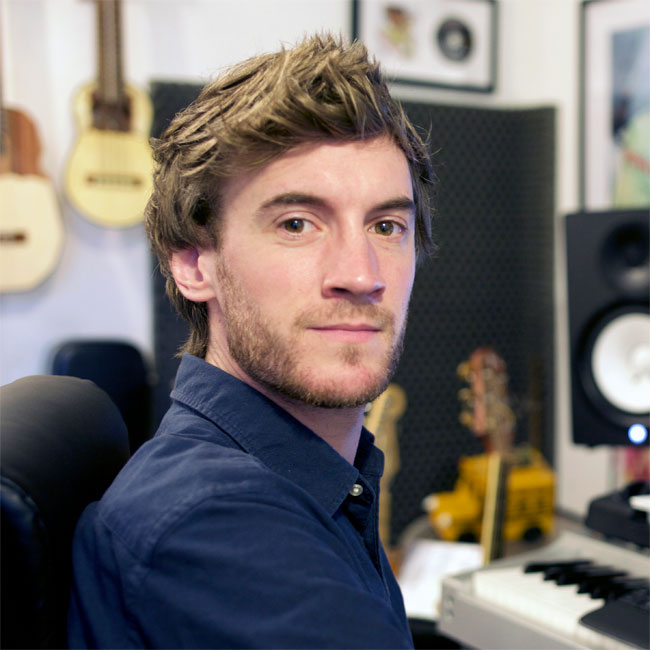 Find Ian @
Official website
Twitter
Youtube
Tell us a little about yourself and what you do for a living?
I began playing cello aged 5, piano at 10, and started writing music in my early teens. From a young age I had an urge to learn as many instruments as possible, teaching myself to play bass and guitar whilst writing and recording in rock and jazz bands. I studied Music Technology at the University of Kent in the UK.
Today, I'm a composer for film and television. Recent scoring credits include Usain Bolt's theatrical-release documentary "I Am Bolt" and British coming-of-age drama "Scott and Sid". I also had an incredible opportunity to assist composer Joe Kraemer on "Mission: Impossible Rogue Nation", in 2015. In early 2017 I will begin scoring BBC2 comedy series "Quacks".
What is your niche or speciality, that makes you stand out from rest of the audio professionals?
I've played cello longer than any other instrument. I take advantage of my experience playing cello by experimenting with unique techniques and recording it live in my work where possible; if not melodically, using the body of the cello as percussion, for example. I also collect rare and unique instruments from around the world, and try to incorporate these in my scores. I think my unique palette of instruments and experimental recording techniques add to a unique voice as a composer.
Can you give us a brief summary of the equipment you use regularly?
Mac Pro.
Neumann KH Monitors.
Alesis i/o 26 interface.
88-key Yamaha weighted keyboard.
What are your go-to plug-ins and software? (virtual instruments, audio processing etc.)
I use Logic X to write and record. Pro-Tools to mix. Sibelius to notate. I try to write initial sketches on manuscript paper away from the computer, however with usual tight deadlines I tend to begin on the piano straight into Logic. Samples I most frequently use are: Spitfire; especially for strings and Percussion. East-West; Brass, Strings and Winds. As well as 8dio and Kontakt libraries.
When do you find you are most creative?
I think I'm most creative in the morning. But the work I'm most proud of has come from very tight deadlines. The pressure of having to produce work under a deadline is exciting and usually results in my best work.
What is your usual process for creating audio content for games, films etc.?
If there's a rough cut of the film, I will begin with a spotting session with the director, editor and producer(s). We would discuss music entry/exit points and generally what music is required for each scene.
If I'm on board a project at an earlier stage, I usually begin by writing a theme or suite of music away from picture, after reading the script or watching some footage of the film. I like to have some themes and ideas in place before writing directly to picture, and perhaps to send to the editor while he cuts to use as temp music.
I will then begin scoring my way through the film. Once I've written some early sketches for every scene, I'll have a better idea of the musical arc required for the full film, so I can begin to improve and develop sections. I would send cues back and forth to the director as I score, to get feedback and adjust as necessary.
Are there any particular secrets to your creativity?
Planning. I thoroughly plan how much I need to write each day, how many cues I need to finish by when, and schedule in enough time for experimentation. It really helps to have a view of the road ahead and the destination.
Do you have any audio creation techniques that resulted in something interesting?
I guess my use of cello is most unique and interesting. I love recording and manipulating the sound of the cello; melodically and percussively. I had a lot of fun on a horror feature called "Reunion", scratching and banging on the cello and generally creating unique uncomfortable sounds.
Any specific "lessons learned" on a project that you could share?
Trying your best to not give away the rights to your music. Especially when you're on your own, without an experienced agent. I've had so many "lessons" when it comes to the contractual side on the business over the years. You don't have to worry so much about that side of the job once you have an agent, but in the early days you come across all sorts of horrors that you need to be prepared for.
Any tips, hints or motivational speeches for the readers?
Don't stress. Whether you write music for fun or want to have a career as a composer, write as much as you can and enjoy it. Don't waste your time writing in genres you hate. Don't work with people you don't like. Always go with your gut. You can't force a career as a film/tv composer, you have to start on the road and keep going until you're satisfied.