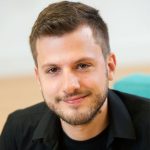 Find more about Orfeas Boteas @
Official website

Hi Orfeas, thank you for taking time to do this interview. Tell us a little bit about your background in sound?
Thank you! I have done a bit of everything related to sound including live sound, music recording, films, games, and high level audio programming. My passion for Music and Technology led me into doing a degree in Music Technology and Acoustics in Greece. After that I worked in post-production and location sound for films, TV shows and documentaries including music composition for commercials in Athens. Then I decided to move to Edinburgh, Scotland to do a Masters Degree in Sound Design. After that I started Krotos, the company behind Dehumaniser.
You are a lead guitarist in The Number 9s. Tell us a bit about the group?
It's good fun! I joined the band three years ago when they were looking for a guitarist. We play a lot of gigs in Edinburgh and we recently released an EP, which I mixed and mastered. You can have a listen here. I would describe the style as rock-punk with blues influences. It's great composing music with a group and playing gigs in addition to my day to day work.
When did you first come up with the Dehumaniser prototype?
I was studying for an MSc in Sound Design and Dehumaniser started as my final year project. I'd already done some work on a sound design podcast and an audio game where I experimented with using human and animal sounds to create monster and creepy sounds. While I found the procedure exciting, it was extremely time consuming. I had to use so many plugins, go through different animal sounds, layer them and shape them – all to create one snippet of output. So, I came up with the idea of making software that would incorporate all those steps into one place, work in real time, and still be completely customisable. I wanted something that would allow me to design any monster or creature vocal effect I had in mind quickly using my voice, and the result was Dehumaniser.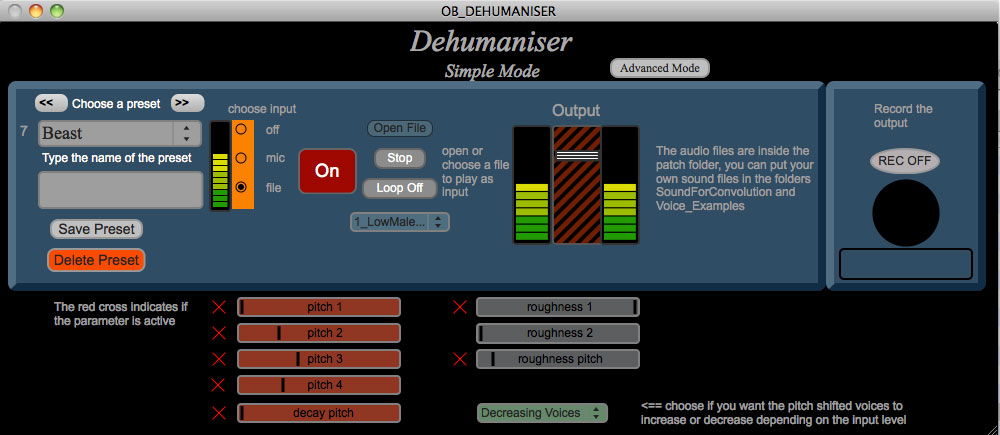 The first responses for the original Dehumaniser were great. I remember playing with it quite a bit. When did you start working on the Pro version?
Yeah! I remember posting a video demonstration back in 2012 on the Sound Designers group on Linkedin which Frederic Devanlay started. The response was great, people started asking for the software and I started giving it away for free. Then I started receiving really helpful feedback and thousands of downloads. At that point I decided to start working on the Pro version with the help of a friend and we released in November 2013. You can read more about the story here, as well as some of the first comments on the prototype.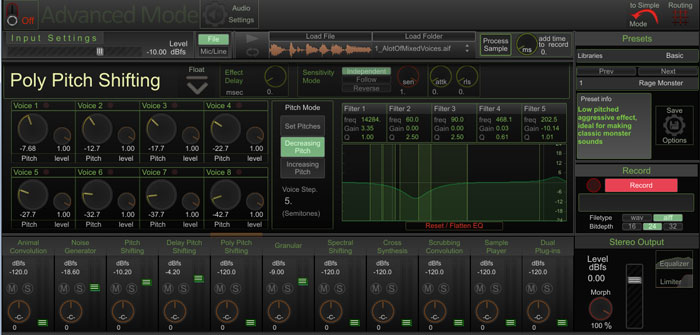 The news about D2 spread like wild fire once you announced it few months ago. At what point did you decide to make it a VST?
Since the first Dehumaniser prototype was released, a lot of users had been asking for a plugin version that can be used in a DAW to make their workflow easier. This was something I always wanted to do, but did not initially have the resources. As the standalone versions were made in Max/MSP, in order to go from that to a plugin version, we had to re-develop everything from scratch in C++, something that wasn't a trivial task! As soon as I had a team in place, our first priority was to make a plugin version. We're really excited about this new version. It will help Dehumaniser reach a much larger audience and inspire even more innovative sound design.
What was the biggest issue when working Dehumaniser II and how long did it take you and your team to develop Dehumaniser II?
The biggest issue was finding the right team to develop the software, including the DSP and UI, and optimize it so it can run in a DAW, all while improving the overall sound quality. It's a monster project and it took us 14 months to develop. The modular UI was designed by Jon McKellan, who used to be the Lead UI designer of Creative Assembly and Rockstar games. It was great, but challenging to implement. We liked the design so much that we postponed the release a few months in order to get it right.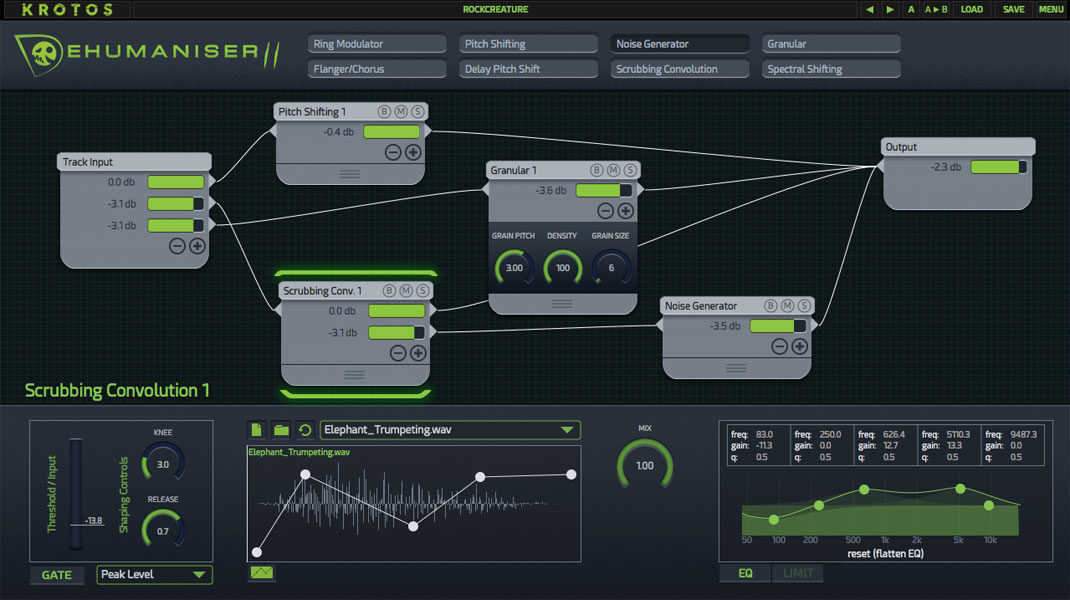 Could you tell us a bit about the new features in Dehumaniser II?
Dehumaniser II enables you to use the software right inside your DAW (VST/AAX/AU) using our new modular, node-based system. It allows you to create custom workflows very quickly. You can even use multiple instances of each module in whichever configuration you would like. You just drag down the modules from the menu and connect them using virtual cables.
You can also use the included library of over 100 wildlife sounds in your design that you can trigger based on pitch, volume and other characteristics of the incoming signal. This really helps change the way you can work with the software, and it really frees up your imagination. It feels more like working with a modular synth than a fixed string of processing modules.
It includes new effects like Flanger Chorus and Ring Modulators that allow you to create unique Alien and Robot sound effects. It also has envelope-follower based on pitch, noise content and amplitude per module, which means that different effects can be triggered depending on the input signal.
Dehumaniser II is a very powerful software that can be used for any creative sound design. For a video overview, check here and for full features check here.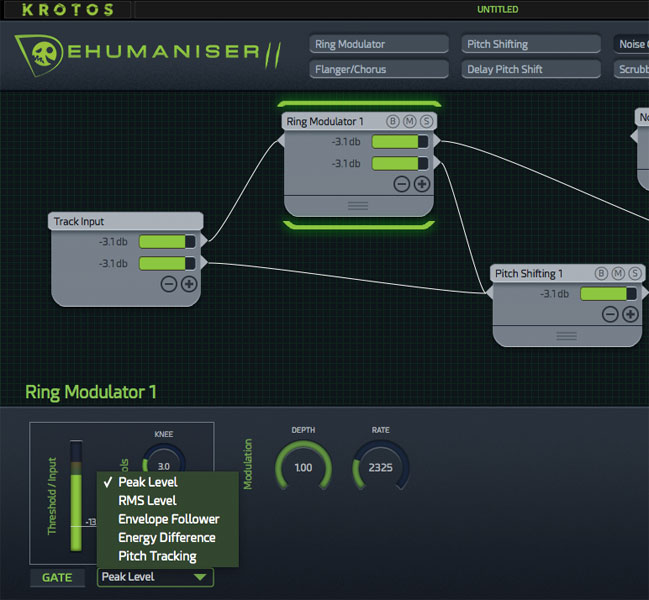 If someone wants to make their own software, where would they have to start? Are there any prototyping tools you could recommend?
I used Max/MSP for the prototype of Dehumaniser. It's great for testing ideas and for experimenting with different effects. You can also make commercial standalone software and there are a lot of tutorials that can help you start. Pure Data also is similar to Max/MSP but more basic. If you want to develop plugin software and more complex effects, then JUCE and C++ is the way to go.
What are your plans for the future of the Dehumaniser?
We are now working on a plugin version for audio middleware like WWise and FMOD and a simplified version of the DAW plugin. We are also improving Dehumaniser II and adding more features.
Can we expect any new products not related to Dehumaniser from you in the future?
Yes! We are working on some crazy stuff at the moment but they won't be released until next year. We will keep you posted! Keep your eyes and ears open.
Any hints, tips or motivational speeches for the readers?
Most people in the industry are very creative, friendly and the share their knowledge generously. One of the reasons Dehumaniser became successful was the constructive feedback from industry veterans on the prototype version. I want to say to people that start in this industry to keep trying, learning and experimenting with different aspects of the audio craft, surround yourself with people that are more experienced than you and ask for feedback in order to improve your work. It's a difficult industry to find a job in, but the good thing about audio is that there are so many different types of work that you can do, from live sound to post for music, films or games, podcasts, theaters, software etc. Also if you can't find a job you can always create one. Find a few friends that have different skills and start a company or a studio. Do something unique and be creative.
Check out our Dehumaniser Pro review
here