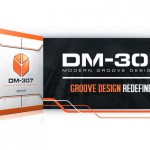 Heavyocity Media announces DM-307 Modern Groove Designer – a highly stylized collection of modular synth drums, live percussion and processed classic analog drum machines. Created by New York City's renowned sound design team, this new virtual instrument introduces innovative ways to quickly and easily create production-ready grooves and beats in a variety of contemporary musical styles; including electronic, hip hop, industrial, ethnic and cinematic.
As the successor to Heavyocity's award-winning Evolve, DAMAGE and AEON Collection virtual instruments, DM-307 was developed through inventive recording, sound design and synthesis techniques. DM-307 offers 3600+ samples weighing in at 7+ GB of source material.
Heavyocity's DM-307 contains over 200 playable presets of drums, FX and sound design elements. There are more than 1200 beat-sliced loops organized by style that can be mixed and matched seamlessly to create complex layered beats and percussion beds.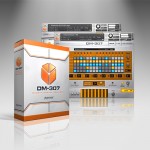 In addition to the kits and loops, DM-307 showcases 250+ signature multis, allowing users to tweak beats created by Heavyocity and some of today's top DJ/producers: Kaiserdisco, Martin Eyerer, Mendo, Pirupa and Uner; and notable cinematic composers: Joe Trapanese, Jason Graves and Kevin Riepl.
DM-307's extensive content is complemented by an intuitive user interface featuring the all-new GridTM sequencer, advanced Trigger FXTM and signature PunishTM knob. With DM-307's Loop Mutator™ technology users can sequence, re-compose and manipulate loops in new and exciting ways.
As a "powered-by-Kontakt" instrument, DM-307 offers all playback and sound shaping functionality through the free Kontakt 5 Player or full version
PRICING AND AVAILABILITY
DM-307 Modern Groove Designer will be available at www.heavyocity.com
Anticipated release: February 11, 2014
MSRP: $299 USD
Customers can sign up now for a limited-time VIP price of $279 at http://www.heavyocity.com/product/dm-307/
At product launch, this price will also be available to owners of the following Heavyocity and Native Instruments products: AEON Collection, Evolve, Evolve Mutations, Evolve Mutations 2, Evolve Mutations Bundle, Damage, and Komplete Ultimate 8 or 9.
ABOUT HEAVYOCITY MEDIA
Heavyocity Media is a New York City developer of leading virtual instruments for computer-based music production, composition and sound design. Heavyocity's award-winning products push the boundaries of creativity and provide new and unique tools for professional composers and producers.