Havoc review (Sample Logic)
Today we will be reviewing the new Sample Logic product called HAVOC. Is this 2.5 GB Kontakt instrument worthy of purchase or not? Let's have a look!
Content
HAVOC comes in a 2.5 GB downloadable Kontakt player library. It contains more than 800 instruments of various wood, metal, glass and other elements that you can find in the car garage. Yes you've read it correctly. This whole library was recorded (according to the developer) in a big car garage but being that this is Sample Logic you could never really tell since they morph sounds into something completely different in the end. And this is what I really like about their libraries. They are really creative when it comes to morphing sounds. So, what kind of instruments can you expect from this library?
Here is a list of various patches found in this library:
"Wood, plastic, metal, and glass are among the many organic materials used, twisted, and morphed into HAVOC. From saws and chains, to buckets and drills, anything and everything one would find inside a garage was recorded…"
INSTRUMENT CATEGORIES
• Arpeggiated (50)
• Bonus (54)
• Hit Ensembles (45)
• Impacts (200)
• Loops (325)
• Transitions (110)
MULTI CATEGORIES
• Construction Beds (18)
• Instrument Stacks (16)
• One Note Glory (45)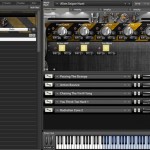 As mentioned there is really plenty of content to play with and like with other libraries Sample Logic produces it will give you plenty of options to make something fresh and new. The one thing which in the previous reviews weren't mentioned are the multis. These are really fun to play with. One note glory for instance has a set of 45 patches that are simply gorgeous. Construction beds and Instrument stacks are sort of the same with few additional parameters and another layer of sound.
Sound
The sound of HAVOC is delivered in 44.1 KHz and 24bit and it is perfect. Based on other libraries Sample Logic produced I wasn`t really expecting anything less from them. There really isn't much to say about the quality of samples. They are clean and well recorded.
Is Sample Logic's sound distinctive or better yet can you tell that it was made by Sample Logic? Well yes and no. They do have a really distinctive sound in terms of the patterns they make for instance drum patterns and synth lines and you could tell they are oriented toward composers for TV (not excluding everyone else) but with the great interface you can shape sound to your likings.
Graphic interface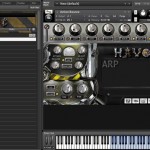 If you have read any of the previous reviews I wrote for Sample Logic products (Waterharp 2 and Thunder Springs) you can pretty much guess what I am going to say here.
The interface has everything you need to shape sound and patterns to your likings. And I mean everything. Like past products HAVOC has pretty much the same interface that includes every effect (plus custom ones) that Kontakt has to offer. One must understand that the custom effects are actually standard effects re-written in the KSP (kontakt scripting language) to give you some additional options (routing, arps and other features). All that is great and all but it does take a toll on your CPU. Of course if you are a full time composer or if you own a strong machine this will not be a problem for you but if you own a moderate machine or a low end CPU then this will most likely drag your CPU down.
All in all their interface really does provide a lot of functions and the ability to make something fresh out of existing samples is always welcome. What makes companies such as Sample Logic different is really the interface because it is easy to make a Kontakt instrument (load samples and play them), record samples and even morph them to the unrecognisable point but to give additional functions and a great set of effects, it is something completely different and Sample Logic really excels in this regard.
The interface includes:
"Multi-core Effect Sequencers" for real-time effect automation
"Triggers" – 48 unique effect chains
"Arpeggigater" – sequencer based gate effect "LFO" section to make things wobble
"Wave" – additive/subtractive synthesis engine "Pitch" sequencer for quick and easy pattern based transpositions on the fly
"Multi Script Macros" (knobs & buttons) for real-time sequencing of instrument parameter controls
Ease of use
HAVOC is easy to use if you own any other of the Sample Logic instruments. Again if you do not then at first it may be a bit frightening but I am sure you can master it in under a day or two.
Price/Value
HAVOC will set you back for around 299 bucks which isn't cheap but it does support the Kontakt player for everyone that doesn't own a full version of the Kontakt. The choice again will be up to you. If you are in need of some high quality, highly morphed sounds with the ability to morph them even further than HAVOC is probably for you.
Conclusion
HAVOC really is a great set of instruments along with additional multis and a great interface though not without its flaws, but these flaws are much like that soft itch that you sometimes have, it doesn't really bother you, but sometimes you really want to scratch it.