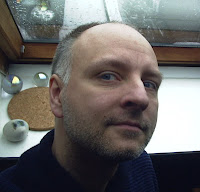 Find Hans-Jörg Scheffler @
Official website
SoundCloud
Vimeo
Myspace
Tell us a little about yourself and what you do for a living?
I'm married, no kids, two cats and one dog. I am a multiskiller and work as a sound designer (Apple, Spectrasonics, Roland, Native Instruments, Access, G-Force, U-He), musician / composer (several CD releases) and video producer (Boss, Access, several artists and projects).
What is your niche or speciality, that makes you stand out from rest of the audio professionals?
The combination of my sound design skills and composing chops gives my music a unique timbre.
Can you give us a brief summary of the equipment you use regularly?
I work almost completely in the box. Mac Pro 6 core/Genelec 8052/Kurzweil MIDIBoard, Kemper Profiling Amplifier, Virus TI, several guitars, zendrum, V-drums.
What are your go-to plug-ins and software? (virtual instruments, audio processing etc.)
Everything from Spectrasonics, Kontakt, DIVA , Logic, Final Cut Pro X.
When do you find you are most creative?
When I am lost in the zone without any deadlines.
What is your usual process for creating audio content for games, films etc.?
Since I do both visuals and music, I often find one element is inspiring the other (if I am really lucky). Sometimes I start from a visual idea, sometimes it's a chord or rhythm that gets me started.
Are there any particular secrets to your creativity?
Don't try too hard. If I can't get anything done in music I switch over to video, or take the dog for a walk.
Do you have any audio creation techniques that resulted in something interesting?
Here is one: Take a sample of vinyl noise and run it through some resonant delays to tune it to a chord, sample the result and create a cadence.
Any specific "lessons learned" on a project that you could share?
Always get the money thing out of the way before you start a project and respect the deadline.
Any tips, hints or motivational speeches for the readers?
Listen with open ears, learn as much as you can and always love what you do.