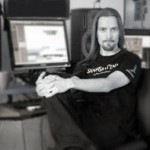 Find Hannu Honkonen @
Official website
SoundCloud
Facebook
Tell us a little about yourself and what you do for a living?
I'm Hannu Honkonen, a professional composer and sound designer working in music and audio production company called Noisework Productions located in Helsinki, Finland. In my early years back in 80's I started by playing bass guitar but quickly learned electric and acoustic guitar playing as well. Soon came the drums and keyboard which was more like exploring my limits. It became clear to me that I was not that much in for playing in bands, but in making music with the tools I tend to gather around me. Soon when entering the 90's I had managed to make myself a very basic home studio setup with some vintage synths and tape recorders. It was fun to break in the business in the end of the era in which the music making was about to incarnate.In mid 90's my studio got its first serious update: A PC computer with Fast tracker and Mod tracker in it. It was Pentium 200Mhz (mmx) with 32 mb or RAM and Audiowerk 8 sound card if my mind serves me right. Soon came Emagic's Logic Audio and Cubase VST. They all run side by side. But since Cubase and Logic were more advanced, trackers stepped aside. I've always enjoyed tooling around with cutting edge hardware and software. I can safely say that I'm now A modern day composer. I know some old school stuff, but in the modern world of music and audio making I know much more. I love to combine everything from gear to music styles. I think that's one of my trademarks.
What is your niche or speciality, that makes you stand out from rest of the audio professionals?
One of my "specialty" is perfectionism. Maybe one might say I'm very fast in what I do. In these days, when you must stand out and survive, one of the most valuable features to have and also one of the keys to the success; would be indeed the ability to make quick turnarounds and deliver the music always in time.
Can you give us a brief summary of the equipment you use regularly?
I use Cubase 6 with composing, VEP distributed in 3 computers; Mac Pro, Macbook Pro and Custom made PC. I use some hardware compressors and EQ's from SSL but from the most part my studio has software emulations floating all over. One of my favourites is UAD-2.
What are your go-to plug-ins and software? (virtual instruments, audio processing etc.)
UAD-2. I love LA2A and LN1176. Waves API EQ's are lovely as well. In mastering I use Elysia Alpha compressor. With composing, I use LASS, hand picked VSL brass sections and woods. I also use libraries from EWQL, 8DIO, Soundiron, Cinesamples and Project SAM regularly as well. Heavyocity Damage, Evolve, NI Maschine and Addictive Drums are in good use as well.
When do you find you are most creative?
At night, or right after working on a project with composing involved. :D
hat is your usual process for creating audio content for games, films etc.?
In audio creation process I always search for alternate ways to bring the audio alive. There's so many ways to do sound design. It's more about discovering the possibilities to make audio than using the sounds at hand. There's no rules here. I'm keeping my creativeness up by making all sorts of things with mics and audio editors in regular basis.
Are there any particular secrets to your creativity?
I tend to brake my habits to get my gears going. I often find myself doing music in different ways; sometimes I'm just playing something with keyboard when it hits me: do the drums first! Or the opposite; find myself toying around with the wicked drum kit, and suddenly the inspiration strikes me with the piano. I think the inspiration in me comes from many sides, I just have to be ready and when I'm open for ideas, the video or the script at hand will do the rest.
Do you have any audio creation techniques that resulted in something interesting?
Just open mind and handful of wicked toys. One good thing to do with sequencer is to layer sounds together.
Any specific "lessons learned" on a project that you could share?
None at this time. Or maybe all of them. It's like never ending learning process for me really.
Any tips, hints or motivational speeches for the readers?
Keep on banging, never stop. When your head goes through, keep on banging and remember to enjoy the ride.