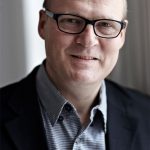 Find more about Frans Bak @
Official website

Brief list of credits
Doctor Foster, Men and Chicken, Albert
Tell us a little about yourself and what you do for a living?
I am a music composer. I started my music career as a jazz artist and I worked as a bandleader for television and live shows, but my work for film and TV is now my primary occupation.
What is your niche or speciality, that makes you stand out from rest of the audio professionals?
I made the music for the Danish TV-series "Forbrydelsen" and somehow my music got very popular – like it captured the "Nordic Noir" feeling – that because the catalyst for my work on the hit US remake "The Killing" – and a lot of other shows after that. I guess people think I came up with something new in that field.
Can you give us a brief summary of the equipment you use regularly?
I work on Pro Tools and have a lot of plugins – I also record with solo musicians in my own studio, and record with symphony orchestras.
What are your go-to plug-ins and software? (virtual instruments, audio processing etc.)
I use Protools, and I often try to start on a plugin I rarely use – to get inspired. If I am in a hurry, Omnisphere is my friend :)
When do you find you are most creative?
I think I'm the most creative when I wake up in the morning. I often get my best ideas when I'm in the shower.
What is your usual process for creating audio content for games, films etc.?
It seems to me like every process is different. At the moment I have projects in different parts of the world so it feels like I'm constantly moving countries. I enjoy it because each country is so different and rich in culture, which I try to absorb. But above all the goal is finding the precise way to tell the story. For me the process always starts with understanding the general idea of the project.
Are there any particular secrets to your creativity?
Not really, I'm just really open and welcome feedback and hearing to different ideas. I realize that there are some genres I know better than others. For example I am not the best mixer, nor do I have detailed knowledge about certain styles of music – e.g. Hip Hop – but I am inherently good at seeing the overall picture, and not afraid to ask for help.
Do you have any audio creation techniques that resulted in something interesting?
I always try to begin each project in a different way, make new rules for myself – maybe even create an obstruction. Than can be inspiring. You don't need to tell anyone about it and you can loose it once you get going.
Any specific "lessons learned" on a project that you could share?
In my experience I've learned it is crucially important to pay attention to details; don't try to rush though things. Make sure you so your homework and thoroughly understand the vision of the project.
Any tips, hints or motivational speeches for the readers?
The focus should always on telling the story – not flashing your ego – if the music tells too much you may draw the attention away from the movie, and if that happens then you have failed.