Today we are checking out the new Epic Sound Lab instrument called The Forge. Is it something you should buy or you should pass? Let us have a look.
Content
The Forge comes as a download only product and it is available for the full version of Kontakt. You will need approximately 4 GB of free space on your hard drive in order to "install" it.
There are some interesting sounds inside the Forge and you immediately know that its market is for those who work in the trailer music business. It is not wrong in that regard. There are also plenty of categories to choose from ranging from bass sounds to melodic instruments to various sound effects and impacts. In addition you are also presented with some wave forms that you can manipulate further to your liking.
One thing that had me cringe was that some samples were not properly saved and therefore resulted in me browsing through files and searching for the missing samples. Since it is Epic Sound Labs first instrument I wasn't prepare for that. Having said that, the update I hear was already sent out to users and the instrument itself was patched so if you purchased it recently then you shouldn't have encountered this issue.
Overall there is plenty of content to choose from and play with. Another nice feature is that it also comes with "blank" patches that let you set up your own samples inside the instrument. Note that you will still have to manually place samples inside the mapping area.
Other than a few badly saved patches, the content of the whole instrument can compete with similar libraries. But what about the sound?
Sound
The sound of The Forge is great but in my opinion it is not ground breaking. Many of the sounds are synthesized and some recorded which is perfectly fine. Can you make them on your own? Well yes, if you know how.
Now let's have a look at a gem that binds this whole instrument together.
Graphic interface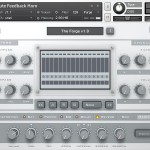 I have to say that I was very impressed by the look of The Forge. The minimal, clean design is easy on the eyes and very readable plus there are all the features you would have hoped for. No unnecessary features here. The Forge looks very similar to Nexus. Arpeggio in the middle, effects below and ADSR and filter on the side.
By far the most useful feature is the Arpeggio with gate sequencer. Works like a charm and you should have no problem using it right from the get go. Three buttons below the main arpeggio window determine which (arpeggio or gate) will you be using. Choose and click; it couldn't be simpler than this.
The rest of the effects are pretty standard and I won't go into much detail. You toggle through them by clicking on any of the effects. A small toggle button to the left of the name of the effect toggles them on or off. Once the effect is active you will find all of the needed controls to tweak the sound.
Ease of use
As I have mentioned before, the Forge is extremely easy to use and you should have no problem loading it and playing with it right away.
Things can get a bit complicated once working with your own samples but again it is not something you should have problems with.
Price/Value
The asking price for the Forge is 149 EUROS or 189 US dollars which in my opinion isn't cheap but for the content you are getting it is a somewhat standard price compared to the other developers. You will also need a full version of Kontakt in order to run it properly. Kontakt player is not supported.
Conclusion
The Forge is a great product, rich in content with great user interface but the sound may be a bit on the weaker side. Still great, just not something that will tickle my funny bone.
On the other hand if you are in search of a hybrid product than you might want to look at the Forge as it has most elements you will need in order to make some nice hybrid trailer music.
Read our interview with founder of Epic Sound Lab here
.
Don`t forget to rate the product yourself if you bought it in the "Reader rating" tab below!
You can also consider the following sample libraries
Aeon Collection (Heavyocity)
Project Alpha or Project Bravo (Hybrid Two)
Orchestral Tools (Project SAM)
Hybrid scoring tools (8DIO)
Cyclone (Sample Logic)

The Forge review
Content
Sound quality
Graphic interface
Value for money