Pro-R is Fab-Filter's highly anticipated, very first reverb plugin. Designed as a user-friendly and musical reverb processor, Pro-R features an easy-to-use, but highly customizable interface and comes with a broad range of room models and spacial features.
Let's dive right in and see if Pro-R is really something new or just another reverb plugin!
OVERVIEW
Fab-Filter's Pro-R is an algorithmic reverb processor with a stepless room size control that enables you to seamlessly reproduce anything from small ambiences to huge cathedral spaces. Featuring only seven main controls and two independent frequency curves for EQing and Decay, Pro-R offers users a non-technical and very musical approach to reverb processing.
Apart from being able to shape your reverb's sound by using the internal EQ, one industry-first feature of Pro-R includes a so-called Decay Rate EQ. With it, you can freely adjust your reverb's decay time over the frequency spectrum, allowing you to shorten or elongate certain frequency portions of the sound.
Another cool new feature is Fab-Filter's tempo-sync'd Pre-Delay. For the first time (at least to my knowledge), you're able to time a reverb's pre-delay to note values that correspond to your host-tempo, effectively enabling you to let the reverb breathe to the rhythm of your song.
Pro-R is available as a VST, AU, AAX and RTAS plugin, both in 64bit and 32bit. It comes with interactive, on-interface help hints, allowing you to get your head around the plugin while working with it.
DOWNLOAD & INSTALLATION
The download and installation process of FabFilter's Pro-R is very straightforward. After your purchase, you'll receive a license code and a link to the plugin download. When loading up Pro-R for the first time in your DAW, you will be asked to enter your personal information as well as the code you obtained. Confirming the dialogue activates the plugin.
INTERFACE
Pro-R's retina-ready interface is beautifully designed and stays optically in line with most other interfaces from Fab-Filter products. You can recognize certain elements from other plugins, such as FabFilter's Pro-Q equalizer. It all makes a very sleek and organized look. Despite the allegedly small number of controls, there's a lot going on under the hood of Pro-R, so let's have a little tour around the plugin's interface.
Starting from the top left, we have a Brightness control, which does exactly what it's named after: it brightens up or tones down the color of the reverb. Right beside it, you'll find a so-called Character control. Using the rotary knob lets you seamlessly dial between a clean reverb and a chorused, modulating sound.
The Distance control is quite an interesting feature. It pushes your signal further to the back of your virtual room, effectively softening up your source's transients and attacks.
Being enthroned on the top-middle of the interface, we have the stepless space control, featuring six different room models. To find the right room model for you, you can either directly click on one of the yellow icons around the control, or continuously dial between small spaces on the left side and large spaces on the right. In addition to the six "original" room model settings, this provides you with plenty of hybrid room model options. In contrast to many other reverb processors, you can dial in different room settings while your track is playing without getting any processing artifacts or clicks.
Interconnected with the space control is the global Decay Rate knob. Showing percentage values from 50% to 200%, the decay control either shortens your reverb's decay time when turning it below 100% or elongates it when going beyond 100%. In correlation with the space control, this allows you to create reverbs featuring decay times up to 20 seconds.
The next two controls on the right are quite self-explaining. Stereo Width lets you dial in between a mono signal at the far left up to a widened stereo sound at 120%.
As the last control situated on the far right of the GUI, we have the Mix Control, enabling you to seamlessly control the amount of reverb added to the original signal. At 0%, you will hear no reverb at all while at 100%, your signal will be completely wet. Clicking the little lock icon below the mix control locks the current mix setting and keeps it when dialing through presets. This is a remarkable feature since it lets you compare different settings and presets really well without having to adjust the dry/wet control all the time.
Shaping the sound and decay
One of the unique features of Pro-R is the Decay Rate EQ, represented by a blueish graph and curve. It lets you choose how long you want the reverb to decay depending on the frequencies. So if you, for example, tone down the high frequencies of your decay using a high shelf EQ and at the same time boost – say – the low-mid frequency portion, your reverb's decay will sound like the following: high frequencies will die out more quickly than the rest of the spectrum, while low-mid frequencies at around 200-400 Hz will decay for a longer time.
This method enables you to perfectly shape your reverb according to your needs, accentuating or de-accentuating certain features of your source. A real-life example for this would be a snare drum which you'd like to make fatter and more powerful using reverb. In this case, you'd maybe tone down the high frequencies a bit like mentioned before and boost the low to low-mid range a bit, effectively pushing the thuddy portion of a snare sound. The low punch of the snare will now ring out for a longer time, which enforces the fatness of the drum's sound.
Below the blue Decay Rate feature, you'll find a Post-EQ which allows you to shape the final sound of the reverb. By clicking on the yellow graph, you can activate up to six EQ bands to which you can individually assign different characteristics like a bell curve, shelving or cut filter. Each node's or frequency's bandwidth can be dialed in by using it's Q-factor and every parameter can be fine-tuned by holding down the shift button while dragging a control.

In fact, the Post-EQ is a stripped down version of FabFilter's highly acclaimed Pro-Q, which is in fact one of my absolute favorite EQs for several years now.
Behind the frequency curves of Pro-R's Decay Rate and Post EQ, you'll see a spectrum analyzer. Turned on by default, it either shows you an overview of the current frequency spectrum, highlighting the difference between your original input and the processed sound or additionally displaying the reverb's decay. You can choose between the different visualizations or turn off the analyzer altogether by clicking on the respective field in bottom row of the GUI.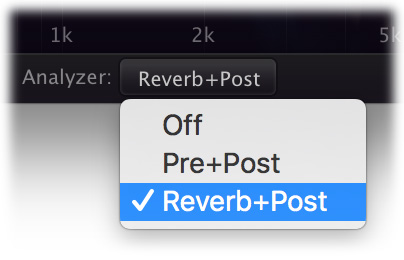 Tempo-sync'd Pre-Delay
Pro-R features a unique approach to controlling the pre-delay of your reverb. In short, the amount of pre-delay defines the gap between the original sound and the start of the reverb. This control is normally used to add separation between the dry and wet signal, making it sound more transparent and clear.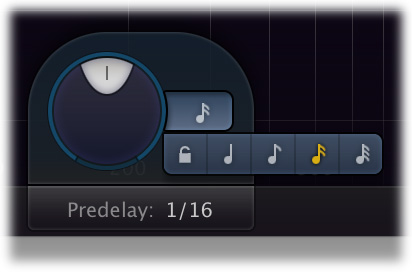 Now, with Pro-R, Fab-Filter introduces a tempo-sync'd Pre Delay, that can sync to your host tempo. This leaves all the guesswork that you may know to from other reverb plugins concerning the right pre-delay setting behind. Providing various different note values to choose from, you can add a certain layer of distance to your sound that breathes nicely with the pulse of your track.
SOUND
Of course, the sound of a reverb processor mostly comes from what you make of it, but it also depends on how easy you can achieve a certain ambience you got in mind. No matter the size and model of the included rooms, I found that whatever you throw at the plugin ends up with a sense of space to it that sounds very lush, pristine and natural.
Of course, you could also go for more experimental effects, using huge decay times and the character control, too. The results of those settings reminded me a bit of characteristic spacial processors like Eventide's Blackhole or Valhalla's Shimmer plugin.
One thing that also caught my attention was the fact that no signal I used the reverb plugin on ended up with a harsh or nasal reverb quality, an issue I encountered quite often before. If you, however, should come up with a reverb sound you're not happy with, you can use the included EQ to shape it to your liking.
Also, the Decay Rate EQ gives you plenty of fine-tuning options for your reverb and really enables you to carve out the portions of a signal you want to be featured.
Depending on your settings, Pro-R can either be a neutral, all-round reverb you can send every track of your mix to or be used to create specialized spaces for single elements.
Pro-R comes with a huge amount of great sounding presets, sorted by decay length. In there, I think you'll find the right setting for most signals you may come up with. Make sure, to also try out some of the more unusual settings, though! Sometimes, a preset whose name doesn't even remotely sound like the signal you want to use it on, might be just the right one for the situation.
CONCLUSION
Fab-Filter's Pro-Q really doesn't feel like yet another reverb plugin. Its unique features and pristine sound make it a plugin of its own and deliver control options I haven't found yet on other reverbs.
Only using the seven main controls already allows you to create such versatile spaces that I think there will always be a fitting solution for any signal you throw at it.
Adding the Decay Rate and Post EQ to the equation makes Pro-R a hot candidate to become my next go-to reverb.
Pro-R, I dare to say, is literally foolproof. No matter what signals you throw at it, the plugin tends to embed them all in a nice and lush ambience. Using FabFilter's musical and no-nonsense controls enables you to shape the reverb sound up to a minutely detailed level. Pro-R's space control really allows you to dial in a wealth of different spaces, either using Pro-R as an authentic space emulation or more like an effects processor.
If you're still not sure if Fab-Filter's Pro-R might fit the bill for you, you can download a free 30-day trial of the plugin and test it on your own.
Fab-Filter is available for $169.00 ($ 179.00) and can be downloaded from Fab-Filter's online shop.
VIDEO OVERVIEW
FabFilter – Pro-R Review
Content
Versatility
Performance
Sound Quality
Ease Of Use
Price Performance