Eduardo Tarilonte is a well-known sample developer, that has been a big name in the industry since the early 2000s. He mainly focuses on creating very playable ethnic instrument and voice sample libraries. Some of his most successful libraries are Forest Kingdom, Desert Winds, Mystica and Cantus.
Era I was one of the first medieval/renaissance instrument sample libraries on the market. Era II and Era II limited edition soon followed with even more instruments to choose from. Since both Era I and II focused on instrument's, Era II Vocal Codex fills in the gap for medieval/renaissance male and female vocals in the Era collection. But don't let yourself be fooled, since the four vocalists found in this library can be used in various genres of music.
Content and Sound
Vocal Codex contains over 14,000 samples with a total amount of 8.5 gigabytes of data. The detailed recordings comprise two male (Bard and Medieval Tenor) and two female solo voices (Celtica and Heroica). The library works inside Best Service's sampler Engine, which you get for free with the purchase. Although some don't like libraries, that are not made for Kontakt, I have to say I have never had big issues with Engine and the only time I had an issue, the Best Service support helped me solve it in a matter of hours.
• "Celtia is the charming, soft and almost heavenly voice of Celica Soldream with her enchanting, celtic feel." She has a very soft and angelic voice, which I think is great for impressionistic or adventure type of music.
• "Heroica presets a different powerful and earthy side of Celica Soldream – a voice that is perfectly suited for epic and emotional music." Heroica is my favorite out mf the library. She is the type of voice you hear in the music of Thomas Bergersen (Sun album) for example. With the right lines and vowel crafting, you will be able to fool almost everyone, that you have recorded a live vocalist.
• "Bard is the equally fascinating and delicate voice of Iván López of Evo, an ideal offer for gentle and ancient music." Bard is up top with Heroica for me. His soft tone is not the type of tone you would usually associate with a typical male vocal. His tone truly does enchant the listener and creates a ancient feel.
• "Medieval Tenor, the voice of Víctor Sordo, sounds exquisite and elegant likewise and is therefore predestined for solo- and sacred-ritual passages". The Medieval Tenor also brings forth a historic tone but with a completely different timbre of sound than Bard. You could easily pull of renaissance or early baroque type lines with Bard (like melodies in music by Monteverdi for example.
Each soloist is capable of "singing" 5 vowels (A, E, I, O, U), which are by default triggered by CC1. Each soloist also has a phrase patch with lively and very interesting melodies and phrases. Finding the right phrase for what you want may be a hassle though… Each vocalist works and plays in the exactly same way, so once you get the hang of playing with one of them, you will basically master them all. Since all of the four vocalists have a very different color of their voice, their vowels consequentially sound different as well. So for example I really like how Heroica sings the E vowel, but I do not really like the E in Celtica. At the end of the day it really boils down to your taste, preference and the type of music you are writing. All main patches also come with key switches, that trigger different words. These words are of course different for every vocalist. They do extremely well with adding an additional level of realism to your vocal lines, but of course, like with every library, to get the best result you will need to put in some time, effort and love to get the best and most lively results
In addition Vocal Codex comes with 30 beautiful atmospheres made by Eduardo Tarilonte himself and pads, that work great as background for vocal chants for example.
Graphic Interface
Graphic Interfaces of libraries of Eduardo Tarilonte are always very inspiring and enchanting. I really like the fact, that the user is immediately visually confronted by the type of library he is dealing with. The visuals really portray the sound well. I have to give props to Koke Nunez who has created the GUI for Vocal Codex. Users of other libraries released by Eduardo Tarilonte will already be familiar with it. The interface is as straightforward as it can get. On the upper half of the GUI you will find faders for volume, pan, expression and reverb and on the bottom half you will see your selected vowel and word speed – slow/fast (the time it takes for one word to be spoken).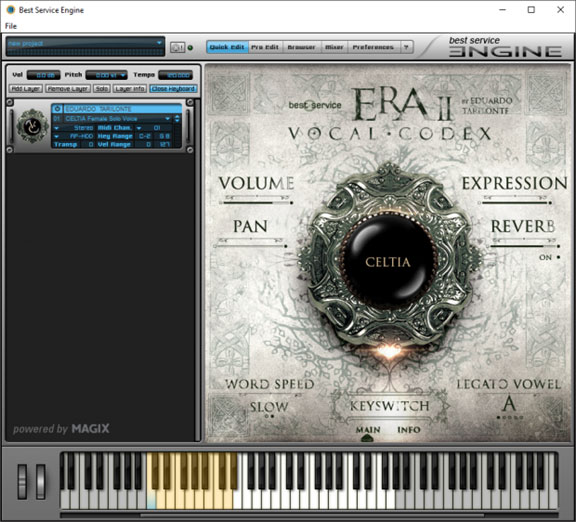 Price performance and conclusion
Era II Vocal Codex retails for 159 €. I think this is a very reasonable price for the library. Whether you are already and owner for the other Era libraries or not, you will surely find a spot for Vocal Codex in you library arsenal. I would especially recommend Vocal Codex to everyone in the field of film music, game music, trailer music and epic/cinematic music in general. If you are searching for a sample library, that can deliver stunning vocal performances at a good price, I can say for sure, that you will not be disappointed with this purchase. Even, if you are planning to record your vocals live at the end, Vocal Codex will work great as a demoing/mockup vocal tool.
As an owner of many Eduardo Tarilonte sample libraries, I must say I am a fan of his craftsmanship. His libraries are truly one of a kind and you can hear, that they are made with passion, love and a great attention to detail.
Test Track
Check out our interview with Eduardo Tarilonte
here
.
Eduardo Tarilonte's Era II Vocal Codex review
Content
Versatility
Performance
Sound Quality
Playability
Price performance
Pros
Great sounding vocals
Every vocalist has a very unique sounding voice
Easy to achieve a lively sound
Cons
Some vowels sound better then others
Some vowels trigger strange artificial legato portamentos