Eduardo Tarilonte`s Shevannai review
Shevannai is one of those libraries that wants to be heard and played with. It is perhaps one of the best solo vocal libraries out there.
We were fortunate enough to test drive Shevannai – a new solo voice sample library by Eduardo Tarilonte and Best Service. You can probably find plenty of vocal libraries on the market right now, some good some probably not so much. The question is, will Shevannai fall under good or under not so good category. Let us have a closer look.
Content
Shevannai is packed in cca. 2,5 GB (uncompressed) solo vocal library sung by Lara Ausensi. You might recognize her voice from Eduardo Tarilonte`s Forest Kingdom library (ethereal female voice). The whole bundle consist of three parts:
1. The Voice which is divided into three additional parts: Legato, Staccato, inhales and releases.
2. Phrases which are divided into additional four segments such as melodic phrases, short whispers, spoken phrases and whispered phrases.
3. Soundscapes which consists of 20 various tonal scapes.
The Voice: Legato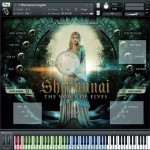 I might be out of the line here but I would definitely swear that this patch is worth paying for (full price). It is a bit tricky to learn how to work correctly with this patch but once you master it, it shines like stars in the sky.
Words (if we can call them that) are controlled via the yellow keys while you play the sample with the blue keys. There are also red keys which switch between five different legatos like ah, eh, i, o, u. Since legato is somewhat tricky to play the default phrase will always play (while you are holding the key) until you switch the word (yellow keys) which can sometimes be a bit of a pain in the butt.
Shevannai works really well with other libraries too, giving a nice amount of flare or better yet soul to the whole track. I think that this library, or should I say this voice, wants to be heard. Mixing Shevannai with some low end sine wave with a couple of few additions will give amazing results. It is definitely a great addition to the composer's arsenal. Although Shevannai would probably best suit film composers, it handles itself well in other genres.
The Voice: Staccatos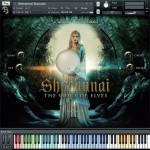 The staccatos are great, ranging from various phrases and lengths – some even sound like marcatos (actually crecendos) which are quiet nice but over time they might sound a bit synth like. Please note that this is the result of Kontakt time stretch machine and if you don't overdue with stretching the staccatos/marcatos will sound great in almost any genre.
The Voice: Inhales and releases
There is not much to say here. Basically with this patch you will get a few various effects that you can use to enhance the mood of the song.
Phrases
I have no idea what it is with this language (or whatever it is) that is so intriguing. I mean, no matter how you place it will sound good and this is due to the fact that singer gave a unbelievable performance. As said before the "Phrase" section is divided into 4 sub groups each different from another – whispers being the strange ones.
Again you will control each segment of phrases via key switches which comes handy once you remember the placement of a certain phrase. The amount of phrases is pretty much similar (content wise) to 8dio`s solo vocal libraries – and those are very much phrase based.
Soundscapes
There are 20 soundscapes each comprised of four layers. One problem I find with the soundscapes is that once you load them they sound very loud specially when playing chords. Thanks to the graphic interface this is an easy fix. Nevertheless it can become quite irritating over time.
Sound
By now you (if you haven't fallen asleep already) should probably sense that I am very impressed with the sound of Shevannai and you would be correct. I am. Shevannai is delivered in 44 KHz 24 bit mono files (4000+ samples) which is somewhat a standard (many use 48 KHz 24 bit nowdays).
The real value with Shevannai is in the performance by Lara Ausensi. I believe that due to her performance this library has a "soul". You can feel and hear that Shevannai was made with passion.
Graphic interface
The graphic interface is clean and simple which is exactly what I like in good GUIs. You have a nice amount of controls such vibrato, attack, release, reverb and few other controls that can shape the sound to your likings.
With the legato patches you also get two additional controls: Solo mode and Auto vowel – both do exactly what they say. Solo mode turn on true legato and auto vowel is sort of a release where it places the last syllable (controlled via keyswitch) after you have released the key. You can choose from six different release keys (inhale, N, Q, SH, SS and SSS). The latter is to mimic the real performance I guess but in all honesty not something I would cry about if it wasn`t there.
Ease of use
Shevannai is fairly easy to use but you will need some time or practice to master it. The documentation is well written and the help info is available in Kontakt.
Price/Value
At 149 EUROS I would say that Shevannai justifies its price. It is perhaps one of the best sounding solo vocal sample libraries out there. In addition you will get separate phrase and soundcape patches. Oh and did I mention that Shevannai works with Kontakt player? If not well here it is.
You won`t need a full version Kontakt in order to play Shevannai.
About Lara Ausensi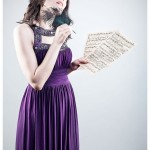 Lara began to sing at a very early age and plays pi ano for more than 18 years. Her first attempt was i n a professional choir 'El Orfeón Valdeorrés' at the age of 11 and from the age of 15 to 20, was the lea d singer and keyboardist of 'Noitébregos', a Galician celtic group. More abour Lara can be found here.