I don't think that Eduardo Tarilonte needs any introduction in our community after all these years. The man is simply putting out amazing products out there, and I think there are very few composers out there who are missing some of his products in their templates. Having said that, Tarilonte is here once again to present us with his newest product in vocal library for Kontakt in the form of Kwaya – African Voices.
So, what is Kwaya? It's a rather unique sample library specifically focused on the sound of Africa. Creating a unique library is something that Tarilonte has been doing by default, whether he likes it or not! We have all heard and tested a lot of different choir libraries, and each time we heard the notorious "unique and different" in the description, but trust me, this one really is! To be honest, as soon as I heard the demos, I imagined "The Lion King" soundtrack in my head. Enough with small talk now; let's dive into the features of this wonderful library!
STRUCTURE
The library is divided into three individual sections: FX folder, Main .nki instance and Soundscapes folder. FX is divided into 4 sub folders for men, women, shouts and breath vocal effects. Soundscapes folder has a dozen or more different sound designed pads and atmospheres, which are made from the vocal performances. The main instrument is what interests us here, so let's dig in.
GUI
The first thing that struck me was the quality and attention to details of the GUI. It is just gorgeous. The controls on the main page are rather easy to understand and tweak. You have two groups of female and four groups of male voices, and each one of those has a dedicated volume and pan knobs. In between the female voice groups there is a legato control button and knobs for expression, reverb and random offset of samples. In the lower menu of the main page is a phrase builder in the form of step sequencer for phrases.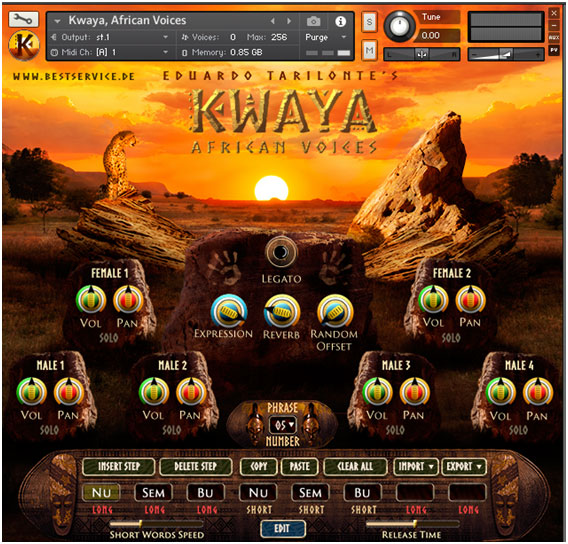 PHRASE ARRANGER
The phrase arranger works the same way as the other phrase arrangers in other choir libraries. You insert some vocals phrases into steps of the sequencer, and off you go. Easy, clean, simple. But what I like about this one especially are the controls of word speed and release times of the samples, not to mention that you have 50 phrases to chose from, so there's a lot of material to work with here. Having said that, you can really get lost in all of these words and tweaks, so you have to be careful what you do, otherwise you'll end up with messed up performance. As easy it is to use, it is also easy to "break", in the lack of a better expression.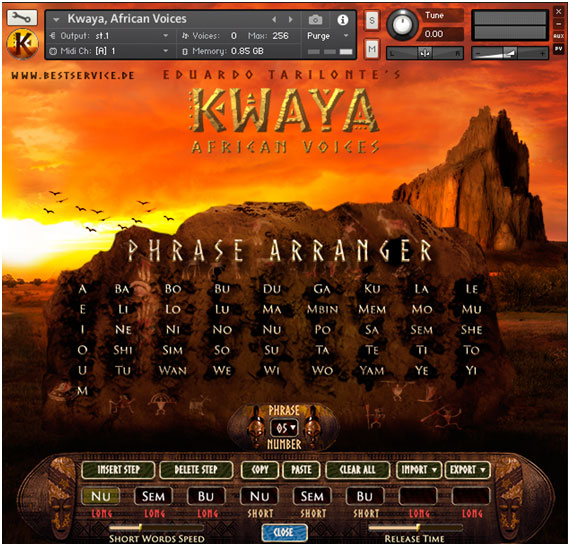 SOUND QUALITY
I think that I don't need to speak about the quality of Eduardo's sound libraries. They really do sound amazing straight out of the box. I didn't even have to mix it that much and additionally process these samples in my score for one action adventure I am working on. Just play it, and add the amount of reverb you want, and you're all set. It works very well with other libraries and it can sit very nice in the mix with 3rd party libraries. The only thing that I kind of don't like about it that much is the fact that I couldn't use this library for music genres other than ethnic African inspired music. It's not one of those multipurpose choir libraries that you can smack over orchestra and get instant epic sound. This one is more niche and specific for one purpose only.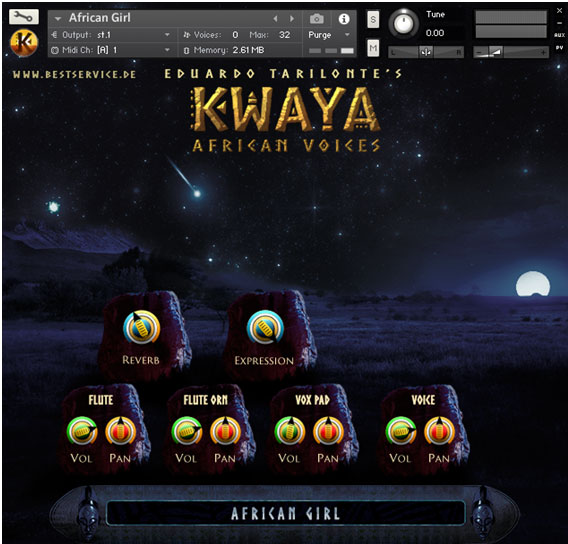 CONCLUSION
So, to resume: You get a collection of high quality unique African choir, which is easy to use and fun to play with. Fifty vocal phrases to custom tailor your performance, and plus you get a bunch of great vocal effects and sound designed pads and atmospheres, and all of that under a price of 259 EUR. It's a bargain really. I have been a fan of Tarilonte's work since his days at Bella D Media, and I am happy to say that I will stay a fan for many years to come. I am really hoping to see more of these amazing ethnic vocal libraries.
Check out our interview with
Eduardo Tarilonte
. Don't forget to rate the product if you have bought it.
Eduardo Tarilonte's Kwaya review
Content
Versatility
Performance
Sound Quality
Playability
Price performance
Pros
Very unique library
High quality sounds
Easy to use
Cons
Not very much usable in music genres other than native African music and soundtracks featuring such style of music.
Phrase builder can be a double edged sword if you're not careful with choosing phrases.