Creatures review (Boom library)
ROOOOOAAARRR
Today we will be looking into the Creatures bundle from Boom Library. Is this bundle something you were waiting for or something to pass? Let us have a look. You can also read the interview on how Creatures came to be.
CONTENT
The Creatures bundle consist of two sound packs and like with most Boom libraries you will have the option to purchase both separately. In almost 10GB of content you will find everything you need to create a perfect creature for your game or your movie.
The two sound packs differ on how you are going to use them. The construction kit will enable you to construct your own creature almost from scratch while the designed sound pack will have pre-designed samples ready to be used. Sound designers will definitely benefit from the Creatures construction kit as it will give them more options to create something unique. The designed sound pack is in my opinion marketed toward game developers and movie editors though sound designers could have uses for it too.
The Creatures designed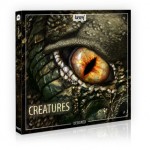 As mentioned the pre-designed pack has everything you need to start using the samples. This pack is a bit small in terms of GB or MB (800MB) but it still delivers a wide variety of samples to choose from. For instance you will have 16 different types of creatures at your disposal each having 5 different states (calm, die, attack, hurt and tense) and at least 4 variations. The only problem I see with these pre-designed samples is that the use is limited to those creatures, so if you are, let's say, developing a game and don't have one of the creatures that is in the designed sound pack, then you will have to somehow construct your own from samples provided (giving that you have bought only the designed pack). If you are looking for the pre-designed samples of various creatures this pack is probably for you. The price is right (99 €) and the quality doesn't disappoint.
The Creatures Construction kit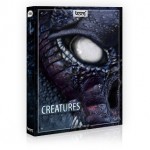 Since I like to twist and shape the sound to my likings I always prefer to buy samples or sample libraries that will enable to do just that. In that regard Creatures construction kit doesn't disappoint. If you decide to purchase the construction kit you will get 9 GB of samples reaching from huge to tiny, low to high and soft to hard. Please note that this is also a sort of a pre-designed library and if you are hoping to get load of animal (vocal acting mostly) sounds with this pack you would be wrong.
Why is that? Well, because to create a creature sound you would have to process the sounds anyway so Boom library decided to do this process for you. To further understand Creatures library let us have a look at what does the creature sound consists of.
The creature sound usually consists of many layers so, for instance, if you are creating a "roar" sound you would need a couple of layers (human or animal roar, breathing sound, rasp sound and some movement sound) to fully sell the sound effect to the audience. Of course you can do this on your own using your own samples and various processing techniques. Also note that in order to create good sound effect you would also need good sample quality (for pitching and stretching purposes).
Here is an example of using just pitch shift on a female scream from Creatures construction kit.
The Creatures construction kit eliminates some designed processes but does not fully create a creature for you and this is good because it will give a lot of sound designers enough room to play with. Inside the box (if we can call it that way) you will find plenty of screams, yells, roars, rasps, rattles, movements and other various sounds.
Metadata
All of the files have well-grounded Soundminer metadata for ease of use. Metadata is important in finding your sounds and Boom library made sure you will find your sounds quickly using Soundminer, BaseHead or other software. You will easily find sounds using main keywords like calm, die, hurt, roar, caw, scream etc. In the documentation file Boom library also gives you a hint of what is the best way to search for the sounds. Part of the documentation also includes the sound list so make sure to download that before purchasing to really make sure that these are the sounds you are looking for.
SOUND QUALITY
Boom library records everything in 192 KHz, and in 24 Bit and this library is no exception. I won't go into much detail of the quality as it is great. All files delivered in construction kit are recorded in mono which is great since you will process the sound anyway you want. Boom library nicely explains why mono is good. Here is the excerpt.
"If you really want to have cool and broad sound effects, you have to create them anyway. Best thing then is to build them out of the source material we are providing, offering enough variations on each sound to design with unique and dedicated mono sounds. We rather wanted to record more sounds and fill the library with variations than have stereo recordings filled with too much audio information you don't really need."
Value vs Price
You can purchase the full bundle at 299 € or buy individual sound pack. Creatures Designed will cost you around 99€ while the construction kit will cost you 179 €. The price seems fair for the amount of content you will receive but the question remains of whether to buy a bundle or an individual sound pack. I cannot make that decision in your place but I can say that if you need something quickly whether you are sound designer, game developer or movie editor then the pre-designed pack will be your best bet. On the other hand, if you want to pitch, stretch and twist sound to your liking than you should go with the construction kit. As an alternative you could also purchase the Dehumaniser (cca. 240 €) if you really want to go all out with the creature design. Personally I`d pick the construction kit anytime just because I like to shape my own sounds.
Conclusion
Creatures bundle (or individual sample pack) as a whole is a great library has a great sound and a great price. I would prefer if the library would include animal sounds but never the less it does provide you with a lot of content to play with.