The German Cinematique Instruments consists of two fine gentlemen who have again created something for us all to enjoy instead of working with their usual producing and composing at Dürbeck & Dohmen. The result is Ensemblia 1.5, which is a successor to Ensemblia 1 chamber orchestra. While the version 1.5 already includes a variety of different classical instruments in one package, they´ve also released two expansion packs simultaneously as well to go hand in hand with the main content. Those two- named Ensemble Metallique and Ensemble Stringed- consist of mallet instruments and some very interesting plucked instruments also used in the past times.
Ensemblia´s purpose is to create a "modern minimalistic ensemble sound inspired by composers such as Michael Nyman, Philip Glass and Steve Reich". While I had not heard earlier about Cinematique Instruments, I surely had heard about the above mentioned, so I was positively surprised having a sample package like this on my hands.
The installation was really a walk in the park. The whole package is only taking 2.5 GB of your precious hard drive space and needs full version of Kontakt 4 (and up) to work which I already had. No iLoks, challengeresponseannoyances or just otherwise hellish activation processes: just open the patch via Kontakt and start fiddling (uhm) around!
The Interface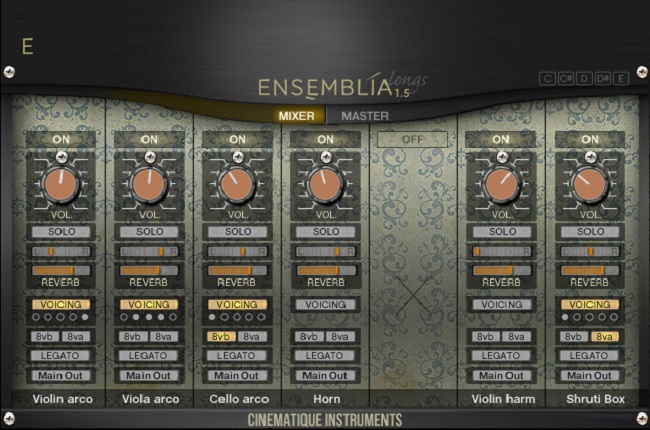 The interface has an in-built mixer (the main window) which consists of 7 different instruments with simple parameters to turn and tweak. I was a bit disappointed that the package only consisted of so few sounds until I accidentally clicked the instrument channel name later and was greeted with an option of six more hidden behind another menu. It is documented in the walkthrough video, but for the first time user it might be a bit confusing. You can only use one instrument once in the preset, so e.g. octave doubling the same instrument is not unfortunately possible.
Another annoyance in my opinion was that when choosing a "short" patch, there´s an automated arpeggiator/ sequencer on as default which you have to click off first. While I understand the idea of "philiglassisms" heavily utilizing sequenced loops, I´m pretty sure most of the people using the samples are more keen to actually do them manually in their preferred DAW instead of a built-in pattern sequencer. In case you want to utilize it though, there is an own tab for that as well when using that "short" patch.
The Master tab had a wide array of different preset combinations to choose from with options to humanize playing style (in short only), EQ and some basic effects. To my liking the interface isn´t exactly looking over pretty or polished, but it´s seemingly built for fast access which is a bonus for a busy composer.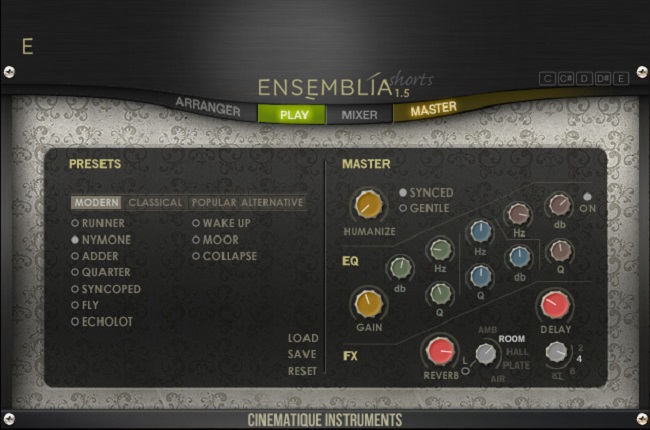 Ensemblia 1.5
There are two patches to load when you start your journey. "Longs" consists of a pre-loaded full chamber orchestra with subtle attacks and the possibility to control the volume via modwheel and "shorts" is not surprisingly a staccato patch with mostly the same instruments. Both are customizable with the various instruments provided and are fast modified into an ensemble you need. I found especially the "long" preset extremely suitable for sketching quick ideas and chord progressions. Many of instruments seem to be also purchasable separately from Cinematique Instruments webpage as well, which I personally found handy for those interested only of some of them.
A complete list of instruments – LONG
Violin Arco/ Ponticello/ Harmonics
Viola
Cello
Bass
Bowed Guitar Arco/ Tremolo
Psaltery
Horn
Bass Trombone
Tuba
Mag Organ (Magnus organ)
EK 470 (Toy organ)
Shruti Box
The stringed instruments sounded way better than the brass ones albeit from the Horn which had a decent legato sound. I wasn´t either particularly convinced about the keyboards either and found them a bit futile addition to the package. At my usage in composing minimalistic music, they suited best for a John Cage cover. And you can probably guess which one. Some of the patches were nice though, and I could easily imagine myself presenting ideas to a possible client with them.
A complete list of instruments – SHORT
Violin Spiccato/ Staccato/ Pizzicato
Viola Spiccato/ Staccato/ Pizzicato
Cello Spiccato/ Staccato/ Pizzicato
Bass Spiccato/ Staccato/ Pizzicato
Piano
Horn
Bass Trombone
Marimba
Alto Bells
Ukulele
Bowed Guitars
Saw (saw wave, not the musical tool)
Despite of some bugs and script warnings, I got the short patch working with the presets and some of the instruments individually. Like in the "long" patch, the strings were better than the brass, which unfortunately sounded way too synthetic here. I couldn´t test all of the instruments separately because of the mentioned bugs, but I nevertheless got an impression that it´s more suitable for sketching ideas and getting inspired of them instead of actually utilizing them that much as solo instruments.
Ensemblia Metallique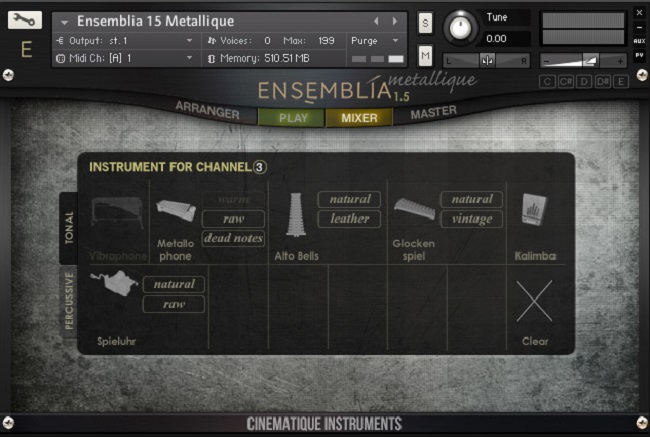 Did someone say Tom Waits? Well, actually no. While I was hoping for something sounding like The Earth Dying Screaming, I was greeted by much more pleasant soundscapes which were almost synth-like in their softness. In fact, many of the presets I could find were heavily reminding me of old Korg Wavestation in their synthness, which wasn´t a bad thing at all. The built-in pattern sequencer is usable here (and again switched on by default), as is the master channel with many different patches and some tweaks.
As an opposite for the original Ensemblia 1.5, this time I found the single instruments very useful and had really fun with the Salad Bowl, which sounded uncannily like a hang drum. Ensemblia Metallique is a nice addition for your melodic percussive palette and while it doesn´t bring the evil rawness in, it surely succeeds in the more pleasant-sounding territory. And yes, I had to play that old Intel Inside- ad music many times. Just because I could!
A complete list of instruments
Vibraphone
Metallophone Warm/ Raw Dead notes
Alto Bells Natural/ Leather
Glockenspiel
Kalimba
Spieluhr (Music box) Natural/ Raw
Wok (!!!! -H)
Salad Bowl
Singing Bowls Low/ Medium/ High
Tingsha
Metal Drawer
Ensemblia Stringed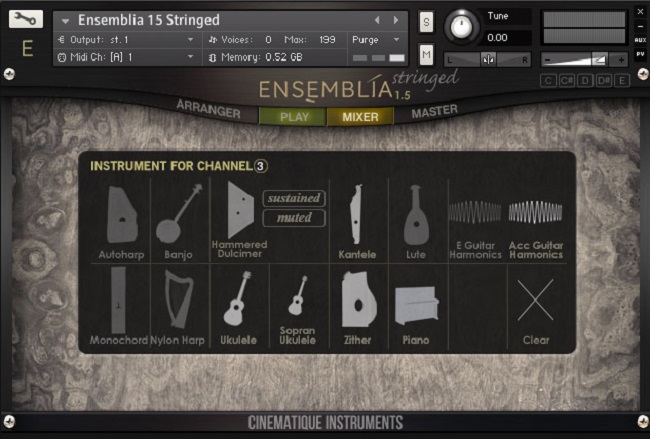 *turns the automated pattern- sequencer off*
*breaths less annoyed*
The stringed instruments patch follows the same visual and technical tradition as the metallic ones, but just with different instruments. The overall sound is much rawer and less synthetic than the metallic ones (especially in individual instruments), but still very good sounding. I especially enjoyed the Dulcimer, which was hands down my favourite instrument quality wise in the whole package. Some of the instruments were rather oddly created and I personally didn´t understand the banjo sound at all, having a stop sound built in every sample. The impression of the company adding something fast to the package to make it look bigger was again lurking in my brain, and some of the other sounds only strengthened this feeling, which wasn´t good. Being a Finn and all, I got to give positive feedback for the Kantele though, because it sounded exactly like it should. But just like the metallic instruments, half of the sounds were good and half were…uhm, half as good in my opinion.
A complete list of instruments
Autoharp
Banjo
Hammered Dulcimer Sustain/ Muted
Kantele
Lute
Guitar Harmonics Electric/ Acoustic
Monochord
Nylon Harp
Ukulele Tenor/ Soprano
Zither
Piano
Conclusion
While some of the individual instruments are good, it feels that Cinematique Instruments have had a great idea to combine everything they have done into several bigger packages but got bored in the process, quickly slapping something together at the end. I would had loved to hear a more finished product with more detailed approach instead of this which I feel to be too rushed. With a price tag of €325/ $ 360 for this bundle of three packages (orchestra/ metallique/ stringed) it feels quite pricey at this point. However, I´m looking forward to see what tricks Cinematique Instruments has for the future, because just pushing a bit more of practice into their theory, they could easily grow into a much bigger company with their arsenal of ideas.