From monster pianos with so much depth and richness to subtle pads with subtle, evolving sounds, drenched in atmosphere, lets have a look at what Sample Logic's Cinematic Keys has to offer.
Sound
 I'm a big fan of the piano as an
instrument, the way the hammers hit more than one string to create subtle nuances thanks to the way they're tuned as well as the depth of the sound you get thanks to the body of the piano. Often I feel piano libraries forget this aspect when then make their virtual instruments and they're much too perfect and in tune. On the other hand, this is something Sample Logic got very right with this library, the richness that a real piano has, the imperfections in tuning that give a real piano so much bite and depth are present in this and it's a joy to use. I couldn't help myself but play for a while the first time I opened it up. The same can be said about the rest of the library, it really is packed to the brim with wonderful, rich sounds.
Content
With that in mind, let's get straight down to the nitty gritty then, let's have a look at what makes up this Kontakt 5 instrument (you can use Kontakt 5 Player too).
Multis
I think the multis are a central part of this library so I'll look at them first (they also suggest doing this in the quick start guide). The multis are really well organised, separated into three groups, "Construction Beds", "Instrument Stacks" and "One Note Glory". The first will lay down a backing for you to build the rest of a song over. The second allows you to play the keyboard how you normally would with a piano VST or a synth pad depending on the patch whereas the second really needs you to only play one note, or notes an octave apart for the most pleasing affect (otherwise they tend to clash). Most of the multis also seem to be put together with a lot of thought, from gorgeous piano-like mutlis with oceans of depth and layers, to atmospheric ones that just ooze "creepy", "happy" or many other feelings, all over the place.
Instruments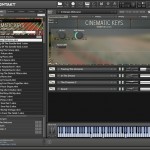 There are a ton of patches in this library (850+ if you include the multis) so there's plenty to play with. They're divided into 3 categories, "Atmospheres", "Instrumentals" and "Percussives". The titles are quite self-explanatory but I'll go into them a little anyway.
The atmospheres are further broken down into "Ambience" and "Stingers" and tend to set a tone, for example they'll have movement in them with runs toward the high notes that make the patch sound creepy, or they'll allow you to create tension, build toward a transition etc. The instrumentals section covers; "Arpeggiated", which makes use of this VST's arpeggiator and effects automation, Harpsichord, Organs, Pianos Acoustic, Pianos Effectual, Synth, Toys, and Wurlitzer.
The Percussive section has Hit Ensembles, Impacts, Kits, Loops, Sequenced and Transitions. Lots of the patches sound really good and offer a lot of customisation/tweaking for days.
It really is the perfect library if you enjoy making unique sounds or breaking the mould. It took me hours to go through a good portion of the instrument patches and I still haven't got to the bottom of the possibilities they offer.
Graphic interface
A modular interface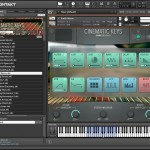 The interface for this library is simply brilliant. Not only is it easy on the eye thanks to its soft palette but also well organised and annotated. For starters, almost anything you would need is right there – you can either adjust with a slider from the outside or, if you want more detailed control, click on the module and it opens up to reveal more in-depth controls. Also another advantage of this for those who enjoy tweaking their sounds – it makes everything you need readily accessible and easy to set up with a midi keyboard thanks to Kontak's drag and drop MIDI Control interface. I was tweaking patches as I was playing within seconds, linking up sliders to knobs on my keyboard very easily.
The arsenal (or "what do I have at my disposal to wreak havoc on the patches?"):
"Filter", "LoFi", "Delay" and "EQ" all do what you'd expect them to do so I don't need to go into much detail with them.
"Distortion"
I found that the distortion definitely was the right kind for these instruments, giving many of the patches a whole new lease on life. Also, doesn't everything sound better with distortion?
"Wave"
This plays a simple, pitched square tone with every key press. I wonder what you could do with this…
"Reverb"
Obviously a reverb, but it has quite a lot of impulse responses and knobs to tweak.
"Dyn" (dynamics)
A useful dose of compression helped me get better control of the more dynamic sounding patches when I needed to.
"ARG" ("Arpegigator")
Cinematic Keys has two arpeggiators, one is a step animator (the same as the one from Arpology so check out our review of that for more details: https://theaudiospotlight.com/arpology-indepth-review/ ) and the other is an effect animator. This was a nice thing to have and is demonstrated by some of the multis. For example the very first one has 3 patches playing "normal" piano keys but there is a 4th layer which is run by a step animator and just adds extra intrigue to the whole thing. It's quite subtle too. With the effect animator, well… you can automate the effects (Sample Logic's video might come in handy to help you with this: https://www.youtube.com/watch?v=QTjsMWJdt30&list=PL94IWIwRZTdjNDvWMCV2AODi3xEtFc5YX#t=206 )
Overall a very complete arpeggiator. Plus the name sounds like a drunk pirate so how can I complain?
Ease of Use
Thanks to the quick start guide telling me to start with the Multi patches and the GUI being so intuitive and well laid out, I had a relatively easy time getting to know this library. Honestly there isn't much hidden away in this VST, anything you could need seems to be accessible and ready to tweak. Sample Logic definitely scored top marks from me on this.
Price/Value
You can grab Cinematic Keys for $350 at the time of this review (that's around £215 or 270€). I can understand the price for this library – they recorded a huge number of samples and destroyed quite a few instruments. It definitely has some unique features and some great sounds to boot.
Some thoughts
The following points are just my opinion but I think they're justified points to make (and not all are negative, don't worry).
One thing I would like to bring up is about the "Atmosphere" patches. After trying them out and then looking into many patches from the back end of Kontakt 5, I concluded that each key on the keyboard plays at a different tempo because the instruments/sounds are pitch shifted but not tempo synched.
I can see both sides of the argument – perhaps they wanted it this way since they are indeed in the "atmosphere" section, but I can't see myself using this any time soon just because I'd have to be lucky find a note that fit my song and also played at the correct tempo. This means you can't play more than one at a time, either. They really do sound great so it's a shame.
Another consideration would have been to add more sample layers to the main pianos since they seem to go from soft to hard samples quite suddenly around the middle velocity range. The switch is quite jarring. This means I'd be less likely to use this library to replace my other pianos. This is a shame because I love how the pianos sound (as I said earlier). Although, having said that, I don't think their goal was to replace piano libraries but, instead, to bring something new to the table.
Something positive and interesting I noticed was that many of the patches seem to have hidden suggestions in them from the person who made them. For example, in most patches, the distortion module is turned off but the slider is a third or half way up. Or, perhaps, the module is turned on but the slider is set to 0. I believe this is on purpose, the first to say, "We think this is the right amount of this effect" and the second to say, "We want you to play around with the distortion in this patch". I just thought this was a nice touch. Otherwise they would all have been set to 0 and turned off, right?
Conclusion
At $350, 270€ or £215 I think Cinematic Keys has a lot to offer. It won't necessarily replace other things I already use (I wish it could! I love that piano tone) but it's definitely a very strong addition to my tools and I can see myself using it a lot in the future. You can see the amount of love that went into this library, from the wonderful GUI to the sounds it produces. There were a few things that I would have maybe done a little differently but overall Sample Logic have come up with something pretty damn cool.
Final Verdict
Do you want something versatile that covers many possible needs in one go? If so, look no further, Cinematic Keys will do a lot of things you thought it could do and probably a lot of things you thought it could never do, too.
Check out our interview with Sample Logic here. Don`t forget to rate the product yourself if you bought it in the "Reader rating" tab below!
You can also check out the following developers who released a piano library
East and West
Native Instrument
Imperfect Samples
Antisample
Soundiron
Pianoteq
+ many more.

Cinematic Keys by Sample Logic – In-depth Review
Do you want something versatile that covers many possible needs in one go? If so, look no further, Cinematic Keys will do a lot of things you thought it could do and probably a lot of things you thought it could never do, too.
Content
Sound
Graphic Interface
Value for money