Cinematic Guitars Infinity is a huge (26 GB big) 4 products in one (Cinematic Guitars 1, Cinematic Guitars 2, Cinematic Guitars 3, Infinity) sample library for Kontakt. When you download the product, you are immediately overwhelmed by the amount of content in this behemoth of an instrument. As said on the Sample Logic's website, Cinematic guitars Infinity (CGI from here on) come with 4750 instruments and multis, that can be combined into 2400trillion(!!!!) combinations. I wanted to write a short demo using this library but in the end, I spent 3 hours just playing around all the presets and I have still not played through all of them. One could write a whole thesis paper about CGI, but I will try to keep this review short. Here are my first impressions.
Content and sound
As mentioned, Cinematic Guitars Infinity is big, really really big. Do not get deceived by the name of the product. Although Sample Logic recorded guitars and plucked string instruments , the manipulation of the recorded material produces sounds, that are far from the raw material. CGI is grouped into 4 main sections which all have their own subsections, which makes navigation quite easy:
– Atmospheres; Bizarre, Dark n Scary, Electronic – Effectual, Mixed Emotions, Mysterious, Stingers, World Organic.
– Instruments; Arpeggiated, Guitars, Pads, Synths.
– Loops; Action packed, Electronic –Effectual, Hat – Lite, Melodic, Pop Hop, World Organic.
– Percussives; Arpeggiated, Impacts –Deep, Impacts – Electronic, Impacts – Industrial, Impacts – World, Transitions
Not only will the content in CGI 1,2&3 keep you occupied for hours, CGI can combine up to 8 sound sources from each of the CG libraries. You can also morph seamlessly between 4 layers in the GUI.
Sample Logic explains it like this on their webiste:
"INFINITY provides revolutionary tools to simultaneously morph up to 8 unique "sound sources" running through 4 "soundcores". At the heart of this is Sample Logic's newest invention, the "3D Mixer", which allows for seamless morphing between the 4 soundcores intuitively. Incorporating Sample Logic's most impressive innovations to date, the Step Animator and the Morph Animator, INFINITY'S new user interface is Sample Logic's most progressive design yet. Combining animation with psychoacoustic sampling and hybrid synthesis, INFINITY will bring unprecedented power to your production toolbox…"
It is extremely hard to describe the sound of this library, since the vastness of the sounds it can produce is so immense. From nice & rich atmospheres, to dirty metal guitar sounds. The amount of possibilities of sounds and usage of this instrument can maybe only compare to Spectrasonic's Omnisphere.
Graphic interface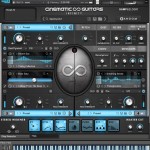 The graphic interface can be quite scary at first glace and one needs some time to get to understand it, yet we can see Sample Logic put a lot of time and effort into making the interface as intuitive as possible. Not to mention, the graphic interface is very pleasant on the eye and has some very unique animations.
You almost feel like you are in front of a space ship controller (never hurts to have some extra inspiration). As mentioned earlier, the basic concept of CGI, is having up to 8 sound sources, that you can morph between or play simultaneously. Since things can get pretty complicated pretty quickly, I suggest any new user to go the Sample Logic website and take their virtual guide through the interface http://www.samplelogic.com/products/cinematic-guitars-infinity#tour
Price performance
The price for the full CGI package is 599$ (aprox. 544 EUR), but if you are an owner of CGI 1,2 or 3 you can get it at discounted prices. For the amount of content this library offers, this is a bargain.
Conclusion
Cinematic Guitars Infinity is truly something unique on the sample library market. I can imagine someone owning only this library and creating film scores, that could compete with soundtracks by Trent Reznor. From organic sounding guitars, to rockfish electric guitar riffs, to deep and hard hits, to angelic atmospheres…..not many sample libraries can pride themselves with this kind of sound-span. If you are the type of composer who just likes to open some presets and get started CGI is for you. But If you are the type of composer who likes to tweek his/her sounds, CGI will also give you the ability to make sounds, that will be unique to you and will make you stand out in the crowd.
Screenshots
Read our interview with
Sample Logic
. Don`t forget to rate the product yourself if you bought it in the "
Reader rating
" tab below!
Cinematic Guitars Infinity review
Content
Versatility
Performance
Sound Quality
Playability
Price performance
Pros
Vast, immense, huge amount of content, presets, etc.
"Infinite" possibilities of sounds, instruments, atmospheres, ect.
Can be used in any style of music.
Cons
Takes time to fully understand and get a hang of.
The amount of content can be frightening at first. If not careful, you can find yourself "searching for the right sound" for hours.
Some atmosphere presets come only in major or minor chords, thus creating harmonies with them is pretty much impossible.