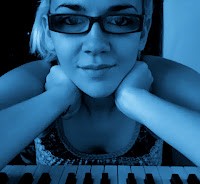 Find Charlotte Partt @
Official website
SoundCloud
Tell us a little about yourself and what you do for a living?
Hello my name is Charlotte, I'm a 22yr old British film and TV composer. I write music for US television, and scores for short films (should be working on my first feature score later this year).
What is your niche or speciality, that makes you stand out from rest of the audio professionals?
I try to create and listen to as many styles as possible, but if I had to pigeon hole myself I'd say the more emotional piano orientated score is where I feel most comfortable. As for what makes me stand out from the rest of the crowd, bare faced cheek, and what some have described as 'crazy focus'!
Can you give us a brief summary of the equipment you use regularly?
I use Logic Pro 8, running on a 2008 MacBook, with an m-audio keystation 88, and a pair of little genelec speakers. A very modest set-up, my MacBook is a very hardworking old boy.
What are your go-to plug-ins and software? (virtual instruments, audio processing etc.)
I really like the more unusual sounding libraries that come from the likes of Soniccouture and Sonokinetic. But I have to say 'LA Scoring Strings' is probably my most frequently used library in itself. I'm addicted to the harmonic's patches. I also really like the piano libraries that 'Imperfect Samples' offer, specially their Fazioli.
When do you find you are most creative?
It varies, I'm definitely not a morning person! I tend to be most productive after lunchtime, through till 1am.
What is your usual process for creating audio content for games, films etc.?
I'll always watch the film a few times and actively not think of music or spotting scenes. This enables me to get a feel for the narrative, what's being conveyed by the dialogue, other extraneous sounds. I'll then map out ideas using the piano. For me personally I feel it forms a strong backbone for the score, and also enables me to build up other instrumentation around these ideas.
Are there any particular secrets to your creativity?
Copious amounts of tea, coca-cola, and the odd bacon sandwich….
Do you have any audio creation techniques that resulted in something interesting?
I think if you throw yourself into the music creation without using templates, or sometimes being clueless to the sound you're trying to get, you can create some interesting stuff…. It can either go really well, or you can end up creating utter toot! I think there's a lot to be said for not knowing strictly what you're doing!
Any specific "lessons learned" on a project that you could share?
Without sounding overtly deep or existential, I'd say the main lesson I've learnt is that I'm always going to be learning! With every new project I work on I come away with more experience, and lessons learnt, so much so I can't really pinpoint one specific experience as such.
Any tips, hints or motivational speeches for the readers?
I think the best advice I could give would be to be nice, and don't be a shark. Also be honest, people can tell when you're bulls*****g and you're just building yourself up for a fall if you go down that route. Not technically motivational, bit still very important nonetheless I think.