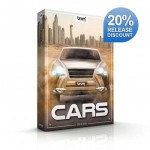 Good news for the audio world – especially for those of you in need of powerful engines. We're launching the second release of our popular CARS series: the mighty "SUVs & VANS" are rolling in!
Buckle up and hold on tight for a huge collection of big wheelers including Hummer H3, Hyundai H1, Landrover Defender, Mercedes-Benz Sprinter, Mitsubishi Outlander, VW Caddy – and there's more on the list.
We expanded our motor pool and recorded new material on our well-tried super-quiet test track in South Africa. Our sound designers covered the entire range of possible car sounds and as was already the case with our "EVERYDAY CARS" library, the "SUVs & VANS" also come with high-quality multi-channel recordings of engine sounds, drive-bys, handling sounds, ignitions, honks, engines, doors, trunks etc.
With more than 23GB and 1.800+ SFX we're happy to present you a fully-loaded and irresistible second CARS library. The "Big Wheelers" ship in 96kHz / 24-bit High Definition Audio and come for a regular price of EUR 249,00. You might want to benefit from our special release discount, so make sure to order your copy until November 12th and only pay EUR 199,00.
Our promise: great and pristine SFX with a great collection of detailed files and metadata. Take a listen and convince yourself: