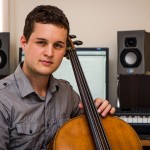 Find Blake @
Official website
Soundcloud
Youtube
Facebook
Tell us a little about yourself and what you do for a living?
My name is Blake Robinson and I'm a composer from Australia. Some may know me as "Blakus" – which I use for my music in an attempt to avoid confusion with the amazing Blake Robinson from the U.K! Pretty uncanny that there's two of us really! I have played the piano and cello my entire life, and picked up guitar and drums when I wanted to rock out as a teenager.
Currently I am working on a film, some trailer tracks, remote cello sessions, and a bunch of orchestrating/arranging for album work. I'm also in the process of collaborating and creating some exciting V.I.'s that will be coming in the future! Amongst all of this though, I currently work full time as a teacher – so I don't get time to stop very often!
What is your niche or speciality that makes you stand out from rest of the audio professionals?
I haven't really given much thought to what I do to stand out from the rest to be honest! There are so many inspirational professionals out there, so I just concentrate on doing what I love the most; strong melodies, emotional moving climaxes, and attempting to master the art and beautiful complexity of the orchestra. I've been lucky enough to play in orchestras for most of my life and I feel this gives me an advantage when trying (battling) to recreate the sound of an orchestra using samples.
Can you give us a brief summary of the equipment you use regularly?
I'm a PC guy who loves to fiddle with the guts of my computer. I used to run a slave computer setup but am now able to run everything inside a single machine thanks to better RAM/CPU capabilities and SSDs. For recording acoustic instruments I use two modded Rode K2 LDC mics through a Focusrite ISA Two preamp. Oh and I can't forget my keyboard – Kurzweil PC3K7, love this thing!
What are your go-to plug-ins and software? (virtual instruments, audio processing etc.)
I sequence in Cubase 7 and use VE Pro to host all of my instruments. Being able to switch projects without waiting for instruments to load is pretty huge for me! All of my libraries except maybe 2 or 3 are in Kontakt, I am only recently starting to appreciate how powerful Kontakt can also be in quickly creating/editing your own unique instruments too.
I could go on forever here, but my current favourite orchestral libraries are LA Scoring Strings, Berlin Woodwinds, and SampleModeling Brass. I am also absolutely in love with B2 Reverb from 2CAudio at the moment as well!
When do you find you are most creative?
I am most creative when I have energy. I try very hard to write at the end of a long day and it just never works. Also, somewhat stereotypically, I find that I tend to be more creative in the later hours of the evening. Maybe it's because everyone else starts to shut down, leaving all the creative energy (and peace) to me!
What is your usual process for creating audio content for games, films etc.?
Like many others I like to know as much as I can about the project as I can before I start planning. But as far beginning the music creation, I start with the instrumentation/orchestration. Everything seems to fall in place more quickly once I've decided which sections of the orchestra will play, or what type of solo instrument will be used and where. I've tried to do it the other way around, but it nearly always frustrated me. I treat composition and orchestration as processes that are linked, writing a melody but not knowing which instrument will be playing it doesn't work for me.
Are there any particular secrets to your creativity?
I wish I knew! Every time I sit at my desk and open up a blank Cubase template I stare at it, fiddle with some stuff on my keyboard, and wonder how the hell I'm going to actually write a piece! But somehow, it always happens – I've learned to just "do it", don't think about it, just start writing things that I like. Everything that I've taken the time to study; orchestration, composition, harmony, structure – it all seems to naturally fall into place if I just actually do it! "Thinking" too much prevents me from being creative.
Do you have any audio creation techniques that resulted in something interesting?
Well, there was this one time (at band camp) that I decided to go and sample some simple cello in an attempt to create my own Kontakt instrument. It took about 15 minutes to quickly record and with the help of the V.I. Control community, it ended up turning into a fairly useable solo cello instrument for all – pocketBlakus. It's like having a mini me in your pocket! Ha!
Any specific "lessons learned" on a project that you could share?
Referring back to the question above, I've learned that it's far easier to create your own unique, perfectly usable instruments (inside Kontakt) than most people think. There's something special about having your own sounds that nobody else has. Even if it's just a cheap toy flute, or some random percussive noises! I originally recorded my simple cello sustains so that I could quickly sketch out my ideas in my DAW before recording the cello live. But what I now want to do is find every random instrument and every musician in my area and sample them! I don't believe that unique sounds are VITAL, but I really want to encourage others to give it a go! Forget the fancy interfaces and complex scripting, it really doesn't take long!
Any tips, hints or motivational speeches for the readers?
The biggest thing for me is making sure I'm doing what I love to do. If you love it, you already have the motivation to; study it, practise it, and become better at it. But more importantly, you'll find great satisfaction and enjoyment!