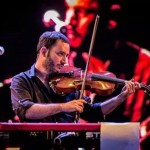 Find Benjamin Shwartz @
Official website
Twitter

Brief list of credits
Nosotros los Nobles, KM31 Without Return, Club de Cuervos
Tell us a little about yourself and what you do for a living? Why you chose this profession?
I'm a musician born in Mexico City. I mainly play viola and piano, but also compose music for film and television shows. I just recently finished KM31, Without Return, the sequel to the original horror film by Director Rigoberto Castañeda out later this month.
I also I have a band called Klezmerson that combines rock, jazz with traditional Mexican and Jewish music influences. With that band I've recorded 5 albums and currently I'm working in the 6th. With Klezmerson I've toured Europe, United States, Canada and Latin America,
I own a studio in Mexico called "La Caja Acustica," where I produce and mix other bands as well. I don't think I chose that profession it's just what I've been doing since I can remember.
What is your niche or speciality, that makes you stand out from rest of the audio professionals?
I think that my specialty is experimental music combining different styles such as traditional Mexican rhythm (Son) with Klezmer (traditional Jewish music), from a contemporary point of view. I'm always searching for new sounds and new approaches.
I am always very comfortable working with orchestras; as a matter of fact I played in one for many years. When it comes to film scoring I try to always use these elements in a non-traditional way.
Can you give us a brief summary of the equipment you use regularly?
I have Neve, Chandler, Amek, Tonelux, AEA, Phoenix Audio preamps, I use a Inward Connections summing mixer, Urei and Retro Compressors, Newmann , Blue, Royer mics, UA Apollo 16 interfase, Yamaha grand piano, Hammond Organ with the Leslie speaker and many other ethnic instruments that I like to process to get unusual sounds.
What are your go-to plug-ins and software? (virtual instruments, audio processing etc.)
I mainly use ProTools 11, Universal Audio Plugins, Native Instruments, Kontakt, I recently purchased the composer cloud from East West, which I find it very useful. I have a big collection of virtual instruments; I especially using Symphobia and Berlin strings for films.
When do you find you are most creative?
I work better with deadlines; the best ideas come in very unusual moments!
What is your usual process for creating audio content for TV, films etc.?
First I talk to the director and listen to his idea, then I do a research of the genre. I always try to get away of the obvious options, and If its possible I like to propose something different from what everyone expects, I like it when that works out.
Can you tell us about your latest project?
I'm currently working on the horror film I spoke of earlier and also recorded with the Macedonia Film Orchestra; it was an amazing experience to work with this big and reputable ensemble. I'm also preparing another album for John Zorn called "Book of Beriah" I'm really excited about this project.
Are there any particular secrets to your creativity?
I always try to balance the composition with the practice of my instrument; when I feel the music is not flowing, I always practice more and find it very refreshing.
Do you have any audio creation techniques that resulted in something interesting?
I like to experiment with the guitar pedals and effects in acoustic instruments, once I put a LFO filter from NI guitar Rig in a Saxophone and the result was amazing!
Any specific "lessons learned" on a project that you could share?
I learned a lot in working on my 5fth album, it was the first time I worked with Zorn, the music was very different from what I was used to do. I think the most valuable lesson was that there are no limits to music; one just has to be willing and able to keep an open mind.
Any tips, hints or motivational speeches for the readers?
Always trust your ears and your instincts, that's the way to really move ahead.