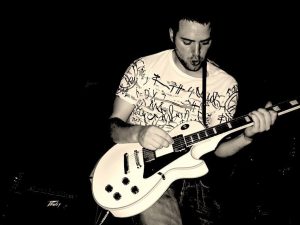 Find more about James Edward Barker @
Twitter
IMDB
Brief list of credits
Lean on Pete, Heist, Dead on Arrival, more at IMDB
Hi James and thank you for taking time and doing this interview. Let's start by introducing yourself and telling us a little bit about your background in music?
I am a British film Composer and I started out teaching myself guitar when I was 9. I then started messing around with 4 tracks and was very lucky to be given my first few guitar pedals at the age of 13. I spent years in my room, writing songs, making sounds, solo'ing over the top of everything from Guns N Roses to BB King. I'm influenced by a range of styles outside the film score realm… and I love exploring and inventing weird and wonderful noises… and I can't consume enough music and sound.
How did you get involved with the latest A24's Lean on Pete film?
I've known Andrew and Tristan for years. I was lucky to have worked with them both in 2007 on a film for Warp called Crack Willow. Andrew was the editor and he then went on to direct a short called Five Miles Out which he asked me to score. During the time they were editing Lean On Pete, Tristan and I spoke and I sent some demos in for Andrew to hear. He thought a lot of the pieces had the right tone for the film, so that was a great starting point for us both to work from.
How did you prepare for the project and what would you say was the most difficult part of making the score?
I listened to a few scores that Andrew had sent me for reference and then I just watched the film a number of times. The way I work is that everything I write comes from the picture, it's rare for me to write something away from the screen and then adapt it or edit it later on, so I sit there and watch the film until something comes. It can sometimes take longer than I hope… but after a brief panic, and a few tears, it comes… and then before I know it, I've finished it!
The most difficult part was explaining to Andrew the sounds I wanted to workshop in a live envi-ronment and some techniques I wanted to test out. Especially the techniques we used on the trems, which were quite experimental – something my co-Producer, Charlie Andrew (Brit Award Winning Music Producer for Alt-J), and I spent a few days improvising with our live musicians. But in the grander scheme of what have been challenges on other scores, this really wasn't high up there at all, especially as Andrew is so easy to work with and had invested that trust in me to go and do this in the way I had tried to explain and accomplish the score… which, let's face it, is kind of every composer's dream.
Let's talk more about the making of the score. What was your approach to character themes on Lean on Pete?
The characters don't really have any themes as such. Everything is very atmospheric and driv-en by a mixture of the emotion on screen and the geographical settings; so the only thematic decisions were which instruments to use with which environments and or characters. Like the colder shimmering trems for the sprawling grey urban environments or the warmer bowed vibraphones and soft guitar pedals for the scenes with the racehorse, Lean On Pete.
This year, Lean on Pete received a Truly Moving Picture Award in a Heartland Film festival and last year, you also won the best original score. Before that, Lean on Pete received other numerous rewards on other film festivals. How does it feel that you have contributed to the success of the film?
I can't begin to say how proud I am of both the movie and how grateful I am for the experi-ence of working with the whole team.. obviously with Andrew and Tristan, but beyond that as well – the whole team at The Bureau, BFI (Lizzie Francke), and Joakim and Connie. It was so easy to gain inspiration from the amazing cinematography from Magnus and all the incredible cast. I'm keeping everything crossed for the US release and all the subsequent territories!
What would you say is the most important thing when working directors and producers?
Trust and communication. I think there has to be an understanding that as a composer you are literally creating something from thin air, and you need the time and budget to do so… sometimes, people have temped their film up with Hans Zimmer but then say there's no budget… so you have to be realistic. But with all the above there needs to be patience as well, everyone has their different process and it's about managing that. I've worked with a gamut of producers and directors and Tristan is one of the best, he is so calm and approachable. And with Andrew, he always gave clear concise notes, which goes such a long way in communication when a Director knows what he or she wants and provides clear direction.
This one is for the gearheads. What tools and technology are you currently using and why?
So I'm on Pro Tools, Reason and Audiomulch. I'm normally creating my own sounds and then using Reason to trigger them off, I love the reverb in there and the pitch shift in the Redrum se-quencer. For Audiomulch, I use this for my gritty percussion and loops, and then Pro Tools is my tracking system and where my main session is. When you're creating all your stuff from audio samples and sounds you've made, there is a lot of tracking up and processing. On Lean On Pete alone, which is a relatively minimal score, there were sometimes up to 100 tracks. Apart from that, I love my pedals, I just ticked off a couple more from the bucket list including some old Vestax distortions, a Zvex Fuzz Probe, a Frostwave Ring Modulator… and I just bought something really weird and fun, called a Gizmotron! It fits onto your guitar and it basically gives you endless sustain.. so it's a mechanical bowing device for electric or bass guitar.
What are you working on right now and can you tell us more about that project?
I just finished scoring Final Score (starring Pierce Brosnan and Dave Bautista) for Director Scott Mann and I scored that with Tim Despic. It's a huge action score and the film is about a hostage situation in a football stadium. The production value was amazing because they literally got to blow up parts of West Ham football stadium! I have a very cool project that I just signed on to, but I can't mention that one yet, but it's going to be a very moody atmospheric score.
If you had any advice for composers starting off in the business what would it be?
I recently saw the Oscars and Richard Jenkins was being interviewed for Shape Of Water, and they asked him for one bit of advice – he said (and i'm expanding on this slightly!) that what you don't realize when you're starting out, but you will realize later on, is that there is enough room for everyone and so just find your niche. I thought it was very sound advice.
More composer interviews here.