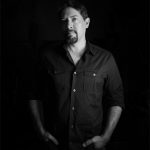 Find more about Cris Velasco @
Official website
Facebook
Twitter
Soundcloud
Dimension 404
Brief list of credits
The Invisible Hours, Dimension 404, Freakish, Resident Evil 7
About Cris Velasco
Cris Velasco is a multiple award-winning composer of epic orchestral, dark experimental and modern hybrid music scores for video games, film and television. After graduating from UCLA with a degree in Music Composition, Velasco pursued his passion to write music for visual media; his first major release was composing for Sony's blockbuster God of War.
A prolific and versatile composer, Velasco has become one of the most sought-after composers in interactive entertainment, scoring many major titles including Company of Heroes 2, Mass Effect 3, Borderlands 2, ZombiU, Warhammer 40,000: Space Marine, God of War 3, Tron: Evolution, Borderlands, God of War 2, Darksiders, Clive Barker's Jericho, and many more.
Velasco also composes for independent films, trailers, and commercials for high-profile clients such as Coca-Cola, Disney, Lexus and Mercedes. His music has been licensed for numerous movies, documentaries and television shows. In addition, Velasco arranged, orchestrated, and conducted multiple arrangements of the Monday Night Football theme currently airing on ESPN.
Cris Velasco's orchestral music is performed in concerts worldwide and has received numerous accolades including "Best Original Score" from the Academy of Interactive Arts and Sciences, "Best Original Music" nomination from the British Academy of Film and Television Arts, NBC News' "Best Video Game Music of 2012", GameTrailers' "Best Soundtrack of the Year" and IGN's "People's Choice Award – Best Overall Music".
You scored a lot of my favorite games. Let's talk about how you got involved with the God of War and Mass Effect series?
Getting to work on huge franchises like these is not only about having the credits and chops to pull it off – it's about the relationships you've formed with the decision makers and how they trust you to be responsible for the music on their baby.
On God of War, I became friends with Victor Rodriguez, who was in the music department at Sony then. After knowing him for a while, he came to me with an untitled game they were doing that he thought was a good fit for me. He pitched it as a mythology-based adventure game that needed an epic, orchestral score. I wrote a spec track, and they thought it was a good match. I then joined the music team for what would be God of War.
On Mass Effect 2, I got a call from Simon Pressey. I had worked with him before when he was at Ubisoft. We got to know each other very well over the years at events like E3 and the Game Developers Conference. When Bioware decided to make a composer change for Mass Effect 2, Simon called me to see if I'd be interested. And of course I was!
The common thread here is that I knew these people before I was ever considered for a project. Relationships are everything in this business. Be a good person, work hard, and put yourself in situations where you can meet the decision makers. Nourish that relationship and good things will come of it.
How do you prepare for projects of this scope?
I'm not sure what you can do to prepare for a project of this size. I just try to get as much info about the game as possible, have lengthy talks with the audio director about musical direction, and then I just start writing. Usually, I try to tackle the main theme first so we have some core material to exploit in the rest of the music. The writing and revising process on the theme is also a great way to form that working relationship with the developer. It makes the rest of the score go smoother.
You are also known for working with celebrated author, filmmaker and painter Clive Barker. Could you share a story on how your collaboration with Clive began?
It started out with me going to his book signings. I did this for many years. Each time, I'd talk to him about how I'd love to work with him. Finally, an opportunity arose that Clive felt would be a good fit for us. He called me about a new video game project he was involved with called Demonik. That project was unfortunately cancelled not long after I signed on. I hadn't even written a note of the score yet. But it created a deeper friendship between Clive and I. A few years later, he began working on Jericho and again asked me to score it. That was one of my favorite projects and I'll never forget my time collaborating with Clive on that one!
Let's talk about your latest project Dimension 404. What can we expect musically from the latest HULU series?
Each episode of Dimension 404 is very different from one another. As an anthology show, there are no recurring characters or plot lines. The tone of each episode is also quite different. We go from horror, to 80's synth, to romantic comedy, to orchestral adventure, etc. It was a wonderful opportunity to work in such a range of styles, all for one project.
There are many characters in the series. Did you write a theme for each of the characters?
As an anthology show, there are many characters, however there are a couple of episodes where characters got their own themes. In "Polybius", the monster in the arcade got a theme. In "Chronos", the main good and bad guys got their own themes. These were actually my two favorite episodes to score as well.
Could you share more information on what was the scoring process of Dimension 404 like?
Each couple of weeks, I'd meet with the show runner and director so we could watch an entire episode and do a spotting session together. I'd have my assistant take notes of the whole meeting so I could focus in on the creative details. We'd then create a spreadsheet that shows exactly how much music was needed and what scenes were being scored. I'd then just sit down and start writing. The show is about an hour long, so each episode had a lot of music. When the music for an entire episode was done, I'd send it all off and wait for notes. There would be some back and forth, and then I'd do any revisions. Once the music was all approved, we'd jump right into the next one!
What would you say was the most exciting part of scoring Dimension 404?
To be scoring a TV show that was so fun and well done was probably the most exciting part. I really loved working on this show. Also, the fact that I had to do a completely different style of music for each episode was pretty fun too!
If you could name one favorite moment in your career what would it be?
Honestly there are too many amazing things that have taken place for me to choose just one as a favorite. Here are a few moments that stand out though: working with my creative hero, Clive Barker; the first time I recorded at Skywalker Sound's Scoring Stage; having the opportunity to travel all over the world for various projects; just working on so many huge, iconic franchises; having the opportunity to marry my wife in Spain, on top of a Castle, as a surprise ending to a concert that featured my music!
This one is for the gearheads. What tools and technology are you currently using and why?
I have a decent sized template running in VEPro. This is a combination of Kontakt, Zebra, Diva, Omnisphere, and a few others. I do all of my writing in the latest version of Cubase. My studio is fairly simple. I've replaced most of my hardware with software. I'm using ATC SMA25's as studio monitors. They're running through an Apollo interface. I also have just about every commercial sample library running on 4 or 5 SSD drives, plus my own proprietary libraries I've recorded and produced over the years.
If you had any advice for composers starting off in the business what would it be?
My biggest piece of advice is the one I've been hammering home this whole time – forge and maintain great relationships. Not just with the people that can currently help you, but with everyone you come across. Don't expect results right away. These are seeds you're planting. The actual harvest could be years away. I got my first TV show because of a guy I met over 10 years ago. At the time, he was just starting out in the television industry. Many years later, when he was in a position to recommend me, he was able to help me take my career in a whole new path.
What are you working on right now and can you tell us more about that project?
I'm now finished with The Long Dark: Wintermute and Season 2 of Freakish (Hulu). Currently, I'm still writing for Dauntless and another unannounced game project!
More composer interviews here.