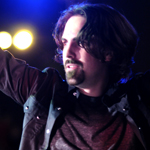 Find Bear @
Official website
Bear @ Twitter
Bear @ Facebook
Tell us a little about yourself and what you do for a living?
My name is Bear McCreary. I compose music for television, films, videogames and webseries. I am classically trained, having studied composition at the University of Southern California's Thornton School of Music. I've played piano and keyboards almost my entire life, and I picked up accordion about ten years ago and got surprisingly good at it. When I have the time, I love taking the scores I've written and performing them live with the musicians who recorded it.
What is your niche or speciality, that makes you stand out from rest of the audio professionals?
Honestly, my age is probably the first thing people notice when they work with me. My first scoring job, out of college, was SyFy's breakout-hit "Battlestar Galactica." I started that job when I was 24. That kicked down many doors and launched my career immediately. Starting out with such an iconic series, I started getting offers for similar genre projects. So, I worked for ten years primarily in the science fiction, horror and action genres with projects such as AMC's "The Walking Dead," "Terminator: The Sarah Connor Chronicles" and Starz / BBC's upcoming historical fantasy "Da Vinci's Demons." But, I've adored working in these genres, because the producers are often looking for big melodies, strong emotions, thematic developmental music and interesting instrumentation. These all make my job exciting.
Can you give us a brief summary of the equipment you use regularly?
I sequence on a Power Mac, and have seven PCs dedicated to housing samples. My engineering team has a whole bunch of gear they use when we start the recording process, but on a day-to-day basis, I get by almost exclusively with these computers.
What are your go-to plug-ins and software? (virtual instruments, audio processing etc.)
I sequence in Digital Performer, running version 5. It's a bit of a dinosaur, but neither 6 nor 7 can handle the insane number of MIDI tracks in my template. I notate in Sibelius. The virtual instruments I use most often are NI's Massive and u-he's Zebra. The vast majority of the sounds I work with are custom-recorded and edited samples that are housed in NI's Kontakt.
When do you find you are most creative?
This can be hard to predict. The toughest thing about being a composer is probably that you have to write whether you're inspired or not. I find that I'm most creative when I've really thought a lot about the project I'm writing for, and I understand everything about it. When I'm just getting started, it can be a very laborious process. But, once I've internalized the characters, and the thematic material I'll be working with, I find the process becomes a lot more fun. It's that first step that can be a drag. I once spent five straight days hammering out a theme that was only eleven notes long. That was a miserable experience. Once that was done, however, I slammed out a seventy-minute score in ten days.
What is your usual process for creating audio content for games, films etc.?
Going back to my last answer, I try to internalize the source material as much as possible. The characters, the story, the setting, the tone… these all influence the music in a profound way. The more I can think about it, play around with ideas, the quicker the process will eventually get. For me, it's all about the themes and the instrumentation. Once, I've picked the ensemble and decided what specialty instruments I'll be employing (if any), and once I've written the main melodic and accompanimental figures, the creative process quickly accelerates.
Are there any particular secrets to your creativity?
There's no secret. It's just continued practice. Writing music is all I've wanted to do for virtually my entire life. It doesn't feel like work, it feels like play. The secret is just to love what you do and take every step possible to arrange your life so you can spend as much time doing what you love.
Do you have any audio creation techniques that resulted in something interesting?
There have been plenty of happy accidents. That's part of the fun of the creative process. You can be pursuing an idea and, one mistake later, you've found a whole new creative realm. The Main Title Theme to "The Walking Dead" was like that for me. I was going to write something completely different. I was saving the title for later in the process, and I began composing a brief action cue for the end of the pilot. I put my hands on the keyboard and immediately played that G minor ostinato that all fans of the show now recognize. I knew right away I'd stumbled on something exciting and immediately dropped what I was doing to write the Main Title. And then I had it.
Any specific "lessons learned" on a project that you could share?
For me, I spent so long focusing solely on creative issues, that I probably neglected the social aspects of this job. Working as a composer is about more than writing music. It's about interacting with people at every level of a production, making them feel at ease.
Any tips, hints or motivational speeches for the readers?
Just do what you love. The rest will happen.