Audiowiesel Hammered Acoustic Guitar (HAG) review

Hammered acoustic guitar is a unique library and will bring you many hours of fun while playing with it. Its strong sound quality will bring a whole new vibe to your tracks.


In this review we will be talking about the Hammer Acoustic Guitar Bundle by Audiowiesel. It is the companies first library and we are quite impressed with the results.
Content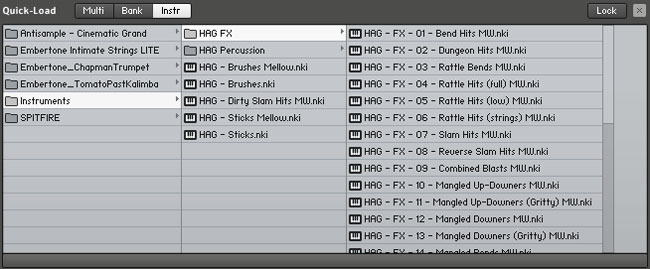 HAG Bundle comes as a download only release and it is split into two main parts, HAG Core and HAG FX and Percussion both of which can be purchased separately. It is not a big library (cca. 3 GB) but that is really not a problem because you will get a great sound out of it. There are approximately 10 round robins per patch in HAG Core and a good number of sound effects on top of that. You must note that HAG works only with the latest full Kontakt version and it will not work with free version Kontakt Player.
The whole HAG is based on the Ibanez AE acoustic guitar playing with sticks, brushes and all sorts of other things to get this unique sound. It is hard to find a similar library to compare HAG to since it really is a sort of niche product. Sure there are many guitar libraries out there and to pick the right one (right one for you) may be somewhat of a hassle. HAG on the other hand is suitable for everyone that requires, well… A hammered guitar sound! Now, don't let the title fool you because HAG can be used for all sorts of sounds in any genre. For example, I used it for a hip hop track and it worked really well with other libraries. In another example I made a ton of sound effects from it which some I have also donated back to the developers for a free share.
Sound




Like with many new sample libraries there is always a fear that some libraries might not sound as you have hoped for but I am happy to say that the sound quality of HAG is great. The HAG is recorded at 44,1 KHz 24 bit and each patch (in HAG core) has 10 round robins and 7 velocity layers which is plenty for one to get the diverse sound. The high notes are bright and the low notes are clean (no extra mud sections there) but the overall sound is always full and, best of all, very organic. HAG core is slightly detuned (as one would expect) which gives a special flare to your track and if your heart desires, you can also use one of the features of HAG and perfectly tune it. The attention to detail in sound really shows how well this library was put together.
Graphic interface




Although a HAG is a great sound sounding library it is not without its flaws and, in my opinion, the biggest is its UI, not even for its functions but more or less because of its colour. Now, I know this is a personal taste and opinion but I feel like that the developer tried to somewhat copy the colours of the actual guitar onto the UI of Kontakt. This however is not a deal breaker and it shouldn`t be, but I feel like that each UI has to be accessible, clean, simple and be a feast for the eyes to boost your creativity even further.

There are some nice features that HAG has. For example the Magic Slider which adds additional sound layer that enhances overtones and presence. Then there is a Modern Button which tunes each note perfectly and then there are some morphing sliders that will mix with between a clean and dirty sound. Of course there are cutoff and resonance filters and a very useful gate button which is triggered via midi controller.

Overall the GUI has great functions but is mildly overshadowed by poor choice of colour.
Ease of use
There will be a small learning curve when you first buy HAG because at first listen it may sound a bit frightening (especially if you are not a guitar player) as to where to use it, but trust me when I say that once you fully unlock its possibilities you will get some amazing results with it. If you are a guitar player you will know exactly how to use HAG right from the get go.
Price/Value
The complete HAG Bundle will cost you only 109 € or $139 which I feel is the right amount for the content you will get. But there is also a possibility to buy each section separately and that will set you back 59 Euros or 79 dollars whether its HAG Core or HAG FX and percussion.
Demos using HAG