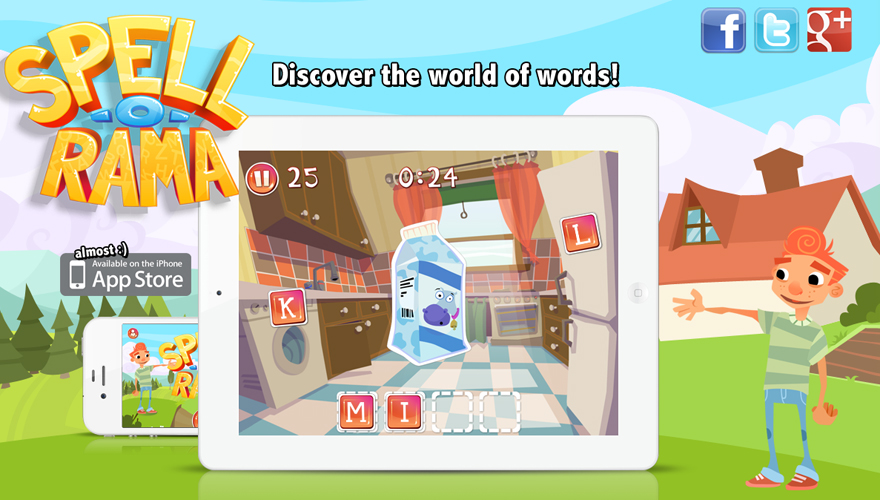 Head on over to Audiodraft to participate in this cool competition. A little more details below and here.
Spell-O-Rama is an educational kids' game for iPad/iPhone that teaches spelling and vocabulary within a compelling storyline. The object of the game is to arrange letters into words represented by accompanied images. The player has approximately one minute to collect as many points as he or she can by dragging the letters into their correct positions. Points are given for each solved word, letter combos, gestures and collected bonuses. The game story moves through a number of exciting levels and game worlds. Spell-O-Rama is meant for ages 5 and up.
THEME SONG
Length:: ~30-60 seconds (can also be longer if necessary).
Loopable: Yes, in the manner that a theme song would generally be.
Description: The theme song should reflect adventure, playfulness and a little bit of wackyness. It should not be too sappy (or too childish) as is often the case in children's applications. The theme song appears during the main menu as well as other scenes outside the actual game. The track should be loopable, though the loop transition does not need to be particularly well-hidden. After all, we are looking for a memorable tune, not background noise. Composers should keep in mind that there will be voice acting on top of the theme song in some instances, so the music should not be too over-powering.
IN-GAME MUSIC
Length: ~30-60 seconds (can also be longer if necessary).
Loopable: Yes, so that the transition is hidden.
Description: The in-game music should be a bit calmer and less intrusive than the theme song as it serves as background music during the gameplay. The music should also maintain the mood of the playful and adventurous theme song (if this is possible in a contest such as this. As with the theme song the music should be loopable. The in-game music is designed to run infinitely without the listener noticing, so the loop transition should be hidden. In the ideal case the player's experience is heightened and enriched by the involvement of the in-game music, but not at all distracted by it.
NOTE: This is an opportunity for composers to attempt to produce both the theme song and the in-game music in tandem. It would be best served if we end up with tracks that support and complement each other. So if you are a prolific composer, take a shot at it. Please mention in the entry title clearly if it's meant to be the theme song or in-game music (e.g. with the prefix "Theme – " or "In-game – ").
Check the official website for visual inspiration:
For reference videos head over here.