Every once in a while comes a piece of software or hardware that surprises you when you least expect it and makes you scream like that boy in the Nintendo 64 Christmas video. I had a similar experience with Beatstep Pro, the latest creation from Arturia. Let's look at it closer.
Brief overview
Beatstep pro is a dual monophonic sequencer and a drum machine MIDI controller. I would say, judging by its size that the main target group is live performance musicians but it is extremely handy as a studio tool also.
The device is split up into three main categories. The knobs and sequencers are featured on the left, the project/program selection in the middle and additional functions on the right. Let's look at the sequencers more closely.
As mentioned the sequencers are monophonic with 16 velocity sensitive pads with aftertouch, 16 sequence buttons that trigger on and off and 16 knobs which correspond to (depending on the device you are controlling) each of the sequencer steps. Each knob is independent from each other which control the 3 parameters, Gate, Pitch and Velocity. The great thing about the knobs is that they are touch sensitive so you don't have to rotate the knob in order to see the value. Just touch it and it will show on your display. Another cool addition to the sequencer is that you can choose a scale in which you would like to run a sequence or create your own scale with the midi manager Arturia provides.
Drum machine shares the same features with a difference that you can use polyphony or so it seems. By default it is set to a standard midi mapping so if you own, let's say a Spark from Arturia, you will have to change the mapping to "Spark" with the provided midi manager. One thing to note is that the drum machine is set to use the midi channel 10 if you wish to use it with the Spark VST.
By default the 16 step sequence is set but you can change that up to 64 steps using arrow buttons. Pressing arrow buttons will neatly display your location in the step sequencer.
Each sequencer also has 16 slots to save your patterns and you can save up to 16 projects. Difference between patterns and projects is that pattern is connected to the given sequencer and project saves everything (sequencers, drum machine and parameters that you have selected).
The right side of the panel is reserved for a display, sync options (internal, USB, MIDI and clock), swing, randomness, probability and roller/looper strip which is also touch sensitive.
The Swing, Randomness and Probability are fantastic features in Beatstep Pro as they can act per track or can affect all three sequencers at the same time. Swing and randomness are pretty self explanatory and probability is what you have already guessed. It sets the probability of how often will the randomness occur. You can get really interesting results playing with these three parameters.
Beatstep Pro is really packed with features and I am sure I have probably missed some to make this article more enjoyable to read.
The Look& Feel
One thing that really stands out is its design. In my view it looks beautiful. It doesn't feel cluttered although it has many knobs and buttons. It is not filled with flashing colors which is definitely what I prefer. When you turn it on all the lights indicate that everything is working properly or not if the device is faulty.
It doesn't feel cheap by any standard but quite contrary. It feels sturdy. It can be a bit small for someone's taste but personally I find it just the right size.
The knobs might feel a bit on the cheap side but I haven't had any issues like with the Keylab keyboard where the knob came right off.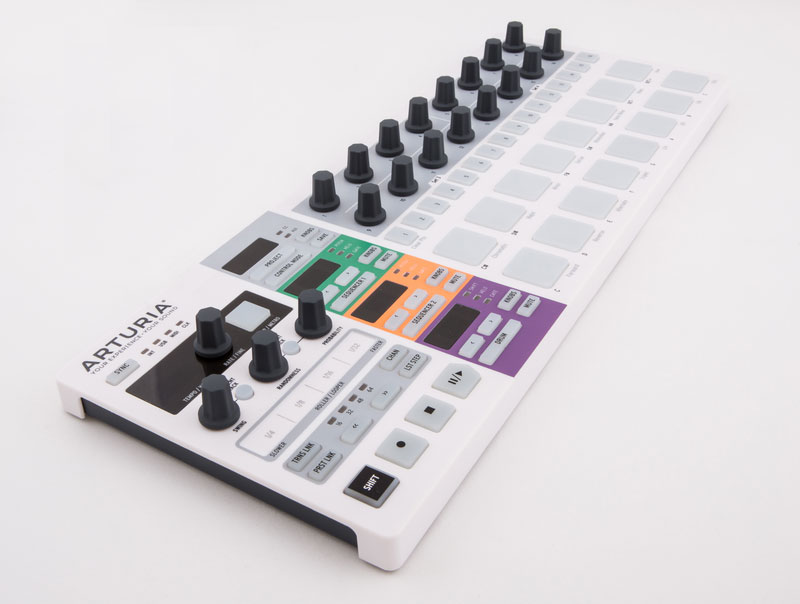 Connectivity
At the back you have your connections where you can connect to a computer using USB, a 5-pin DIN connection for older devices and CV (1 volt per octave CV, 10 volt gates) connection for both sequencers and a drum machine (Gate, Pitch and Velocity + 8 drum gate outputs). If you don't own any hardware synths, you don't have to worry as it works perfectly with general MIDI. I have mainly tested it using my DAW and plugins and to date I haven't had any issues.
For me the best thing was when I opened the box and connected it to the computer the Beatstep Pro worked flawlessly without any "special" customization or installing any additional software which is perfect. Sure in the beginning there were some issues with syncing but Arturia quickly updated (and have been updating ever since) it and all worked fine.
Even the additional content in the box was minimal (two midi connectors and an adapter for avoiding ground looping if you happen to need one) which indicates that Arturia felt really comfortable giving you the product.

Conclusion
Beatstep Pro is full of surprises and it is also a very inspirational device. The asking price is 249 EUR which compared to other midi devices is not that bad. It features tons of functions for that price.
It is rare that I get that much satisfaction from one device and Beatstep Pro certainly succeeds in giving hours of fun and joy. I wish that I could say that the Beatstep Pro is a "Must have" but I cannot because I know it is not everybody's cup of tea. What I can suggest is that you try it at your local music store if you have that option and decide for yourself.
Arturia Beatstep Pro review
Pros
Connectivity
Sequencers and Drum machine
Versatility
Cons
Buttons can feel a bit cheap