As I sat there, watching the latest Game of Thrones series, I kept wondering how I should tackle the review of the Sample Logic`s latest product, Arpology. It has been out on the market for at least week now and I have heard wonderful things about it. Sadly my computer decided to part ways with me and I've had to wait a while to get to it. A week later with a new computer and I am ready to review this latest creation!
Sample Logic calls it the most groundbreaking achievement to date – Arpology. Let's take a peek.
(Please note that I will be reviewing the latest version of Arpology (update version 1.1.).
Content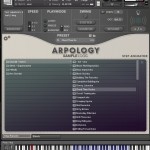 Arpology comes as a downloadable Kontakt player sample library, weighing in at approximately 5.5 GB with over 500 instrument and multi patches. Like with most, bigger sample libraries, Arpology can be downloaded via Continuata which is a great as with a good connection you will have it in no time. It took me around an hour to download it.
As the name implies, Arpology is an arpegiated sample library and I must say it plays really well. Sample Logic had quite aggressive marketing to let us know about their new product so I was a bit sceptical about it at first but, after having spent time with it, I have to say they aren't wrong. I will go into details about it in the GUI part of this review.
Arpology also comes with the TouchOSC support for Apple products. The developer claims that it also supports Android but it hasn˙t been tested yet. If you happen to test it with Android please let us know and we will update the review.
Sound
In my opinion there is little to be said about the Sample logic sound. It is distinct, usually oriented but not limited to more of an aggressive sound and is delivered in 44 Khz and 24 bit. It is clean and you can tell it has been processed before. Sample Logic used a lot of their previously recorded sounds in Arpology. It has both a "full" sound with certain patches and sometimes it can be very subtle too, depending on your needs.
Graphic interface
Now we come to the heart of the Arpology. Unlike their previous graphic interfaces of which I had quite a lot to say about (understand that as "rant about") I can happily say that Sample logic did a very good job with this one. The main window/tab is stripped to be sort of minimalistic but with everything you will need in order to construct your own arpeggio. Please note that you are not limited to using only patches with Arpology; the way it is designed enables you to quickly make a new patch and save it with all of the information that you have previously set. Since we started with the patches and saving let us have a look at this function first.
Presets:
In addition to saved patches which contain the actual voice or the instrument, you can also browse different midi patterns via a hardcoded browser. There are several categories spanning from melodic, chordal, non-chordal and glitchy type patterns. Any loaded sound can be used with any of the mentioned midi patterns. If you happen to construct your own you can save it and load it anytime you want via Save and Load function. The design of the browser is simple and it works well.
The Head section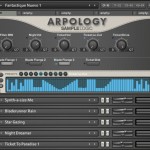 In the main part of Arpology you will find the central engine functions such as Random, Speed, Play mode, Swing and Steps. All of the functions are clearly visible enabling you to make changes on the fly. I am very happy with the Random function as it provides a way of experimenting and sometimes leads to some happy accidents. The speed function provides you with three types of speed including half speed, normal speed and double speed (pretty self-explanatory). You can also chose to play the samples forwards or backwards which is pretty neat!
Also in the head section you will find the Stutter and Quantise buttons which do as the name suggest. The stutter will affect the whole instrument and so will the quantise function.
Steps can be set up to 128 steps via mouse click though I`d rather prefer a drop down menu as the step button is quite a small one. Below the step function you can also set the pitch and next to step function you will find a big "R" letter which means that steps can be randomized. The randomisation can be switched on and off at anytime.
If it happens that you made a mistake you can always press the Restart button which will revert the instrument to its default state.
The secondary head section
These functions aren`t quite obvious as the graphics can be easily mistaken for the actual picture graphic embedded into the background. It is located directly below the "Random" button and it activates "random transpose", retrigger steps, auto quantise, mod wheel function (which inverts the mod wheel) and sync mode (live or DAW).
The Arpeggiator
The arpeggiator consists of eight parts namely step type, velocity, length, arp type, transpose, duration, stutter rate and pan. With the latest update the arpeggiator can be also switched off in order to play samples as they are and midi drag and drop function has been added which translates midi data into the notes that you can drag into your DAW of choice and use with any other instrument if you wish so.
The eight part sections have a couple of functions in common. All of the sections include the "R" button for randomisation and turning it off and on enables the randomisation of a certain section. These are not linked so you will not have to worry about making mistakes there. The main problem with randomisation is that it is irreversible so using it can sometimes be a bit of a gamble. Like I have mentioned before it does manage to give you some happy accidents but it can also be frustrating.
In addition to the "R" button you also have the option to manually set the velocity and other parameters in a table view and to assign the certain section to a mod wheel (letters "mw" will remind you of that). It is similar to all other GUIs that Sample logic has released. To activate it you can just press the "pencil" button pointing to the left. Again it is quite blended with the background but you should be able to see it right away. All sections also feature a group mode in which you can group or link all the sliders together. By default it is turned off and you can move each slider individually.
* Since this is a pretty long review, some parts of the review can be revealed by clicking the button below.
Click here to reveal the content
Now let us deal with the individual sections.
Step type
Arpology has five step play modes which consists of "note" (plays the whole note), stutter (plays stutter mode), stutter alternating (which alternates the setting that you set in the stutter section), glide (blends the notes and you can get some pretty cool arpeggios with it) and of course a free mode. Each step can have its own play mode giving you all the freedom in order to create a great arpeggio.
Velocity
As the name suggests you can set up the velocity for each of the steps individually or set all of the sliders at once via link/group mode. There are two play modes (in and out) available in the velocity section, each representing how you press notes on your keyboard. The switch lets you toggle the two modes. The "out" mode will play at constant velocity that you have previously set and the "in" mode will play the notes as you press them on your keyboard.
The other cool feature is the velocity to volume knob which is actually what I like to call a sensitivity knob. What it does it sets the sensitivity of each step so if the knob is turned all the way to the right you probably won't hear the low velocity keys and same goes if its turned all the way to the left – the note velocity will be amplified. Some presets are also included that you can choose from in the drop down menu such as fixed velocity, 50% velocity and so on and so forth. You cannot save these but in the end it won't matter as you can save all of the information via the save button as previously mentioned.
Length
In this lane you can set up the length of each step ranging from x2 (times two) to 1/96. Each step can be set individually or by choosing one of the presets.
Arp type
You can set how the arpeggiator will play each or all steps at a time. Six options (up, down, as played etc.) are available to choose from the menu.
Transpose
As the name suggests you can set up the transpose function here ranging from -36 to +36. You will probably spend a lot of time tweaking these settings. If you don't feel like setting this up you can always use a preset or a randomisation button and, if it so happens that you make a mistake, you can always press the reset button and start over.
Duration, stutter rate and pan
These functions are pretty straight forward. Set the duration of each step (or a group) to your liking and set the way stutter will perform. In addition you can also set the pan of each step. Duration and pan lane are represented via knobs while stutter rate uses a drop down menu giving you several options.
How does Arpology perform?
I am happy to say that Arpology has a relatively small footprint and I had no problem loading instrument samples on my old computer (AMD X2, 8GB RAM) but there was no way I could load any of the multis without having issues. So bare that in mind if you are using an older computer. Modern computers shouldn't have that issue and loading instruments and multis surely feels like a breeze.
A few words on multis
One Hit Glory
One hit glory multis are very carefully combined together and are making sure Arpology is presented in the best way possible, it certainly succeeds in this regard. You practically have a full underscore once you press a key on your keyboard. If this is what you are looking for then you will not be disappointed with the One Hit Glory multis.
Instrument stacks
Frankly, I can`t see the obvious difference between "instrument stacks" and "one hit glory" as it feels and plays the same. Sample logic could easily make one category and it would be alright. The control section in the head of the instrument provides you with several pre-determined functions that you can tweak while playing the instrument by assigning the midi CC to your keyboard.
The second tab
I will not go into much detail here as the second tab (which you find at the bottom of the instrument) includes all of the effects you are used to in other Sample logic products. Trigger FX, Waves and all of the effects are there and editing the desired effect feels like cutting butter with a warm knife. It is pretty straight forward and you will not have any issues in that regard.
I am really happy that Sample logic decided to change the design of Arpology and break away from their previous design as I found it quite annoying when things flash, blink or do other stuff I hate in GUIs. The whole GUI feels minimalist although it is far from it. As I have stated before, Sample logic surely knows their way around Kontakt scripting and they certainly succeeded in that regard with Arpology.
Ease of use
Arpology is pretty straight forward and you will most likely spend a lot of time tweaking sliders, knobs and other buttons in no time. It is easy to navigate through and it is easy to come up with a new sound.
Price/Value
This arpeggiator is not cheap. It will cost you around 400 bucks ($399,99 to be exact) to which we could argue if it`s too cheap, too expensive or just the right price. The choice is up to you.
If you happen to know your way around synths and are looking for fresh sounds you might be limited by the way Kontakt works (it is not a synth) so you should check other options such as Zebra or similar synthesizers.
If you don't see yourself as the aforementioned synth expert then you should definitely check out Arpology as it will bring some fresh, exciting sounds to your studio
Conclusion
Arpology is not aimed at hard core synth programmers, it is aimed at composers who lack the time to program synths (or who don't know how). Of course Arpology is a Kontakt based synth/sampler so you technically don`t program much in terms of pure synthesis but it surely brings a lot of fresh sounds and it is easy to navigate through its graphic interface. So, for those who are interested in Arpology I have very little to say on the negative side besides wishing that Kontakt (not related to Arpology) would also, at a certain point, be able to actually perform synthesis.
Arpology is therefore a must have for composers who don`t have time to program their own synths and for those wishing for a fresh set of sounds and possibilities in their studio.
Arpology indepth review
Content
Sound
GRAPHIC INTERFACE
VALUE FOR MONEY