Eduardo Tarilonte is no newcomer to the world of sample library developement. He is the creator of several award-winning libraries such as Forest Kingdom, Desert Winds, Epic World, Shevanni, Era and Vocal Codex. I believe his sample libraries are true works of art. I highly recommend reading our interview we had with Eduardo where he takes us through his work process.
Ancient Era – Persia focuses on Persian/Arabic instruments, some of which have been sampled for the first time ever! The sample library works with Best Service's Engine, which comes free with the library. Let's see if Best Service and Eduardo Tarilonte can impress me yet again.
Content and Sound
Eduardo has sampled multiple percussive, woodwind and stringed intruments. The selection of instruments is pretty massive and I am sure, that most of you have never heard of most of the instruments in this library (including me!). Full list of instruments.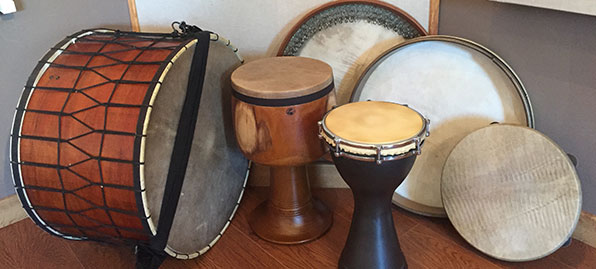 The instruments of this 17 gigabytes spanning library consist of extensive multisamples (24 bit, 44.1kHz) with several dynamic layers, multiple articulations, round-robins as well as real legato- and glissando-samples.
Ancient ERA Persia was recorded at Eldana Studios in Dueñas, Spain by Jorge Calderón and Eduardo Tarilonte. All instruments have been played by real virtuosos, what can be of course felt and heard while playing through the patches.
The instruments were recorded close without significant room ambience, giving the user full control of the following sound-design and effect selection. This is why the sounds of Ancient ERA Persia may easily be combined with other libraries.
In addition to the »real« instruments, the Persia also offers mulitple percussive loops in various time signatures and tempos, various recorded phrases for melodic instruments and a bunch of beautiful pads and atmospheres designed by Eduardo Tarilonte himself. While the recored loops are a good addition to the library, It is quite annoying, that they cannot be temposynced to work in any tempo… On the other hand, the prerecorded strumming loops available in Baglamas sync to any tempo.
I am not exaggerating if I say, that you will be blown away by the quality of sound of the library. In the test track, that I have composed, is completly naked (no added FX or mixing/mastering). All instrument used in the test track come from Persia. I did not use any prerecored loops in this track. It was composed in roughly one hour.
Instruments used:
– All percussions available
– Baglama Big
– Baglama Small
– Santur
– Turkish Ney
– Kaval
– Duduk
– Zourna
– Deserts of Darkness
– Ruins of the Damned
I am really impressed by the playability of the melodic instruments of the library. You can get very expressive lines without touching a single knob or keyswitch. With a bit of added articulations, such as trills, glissandos and various embelishments, one can get extremly lively melodic lines. The keyswitches do take a bit of time to get used to though, since every instruments has its own unique keyswitches.
An honorable mention must also go out to the percussions of the library. Dare I say, that only the percussions are a good reason to purchase this library! Again, they are extremly playable and sound as good as the real things!
Playing through the patches of Persia feels like you are the player of the instrument you have selected. I also almost felt like I had to practice the patch for a while to really get a hang of it, since each instrument has its own individual playing style. A good technique is to go to Youtube and search the various insturments included in this library. Listen to the real playlers play their insturment and figure out how they work and try to recreate their playling style in your DAW with Persia.
A very nice addition to the library is also the abillity to switch between different tunings. You can select from various arabic, hystoric and world tunings. Playing the instruments in different tuning systems gives the instruments of Persia an even more »real« sound.
Graphic Interface
Graphic Interfaces of libraries of Eduardo Tarilonte are always very inspiring and enchanting. I really like the fact, that the user is immediately visually confronted by the type of library he is dealing with. The visuals really portray the sound well. I have to give props to Ryo Ishido who has created the GUI for Vocal Codex. Users of other libraries released by Eduardo Tarilonte will already be familiar with it.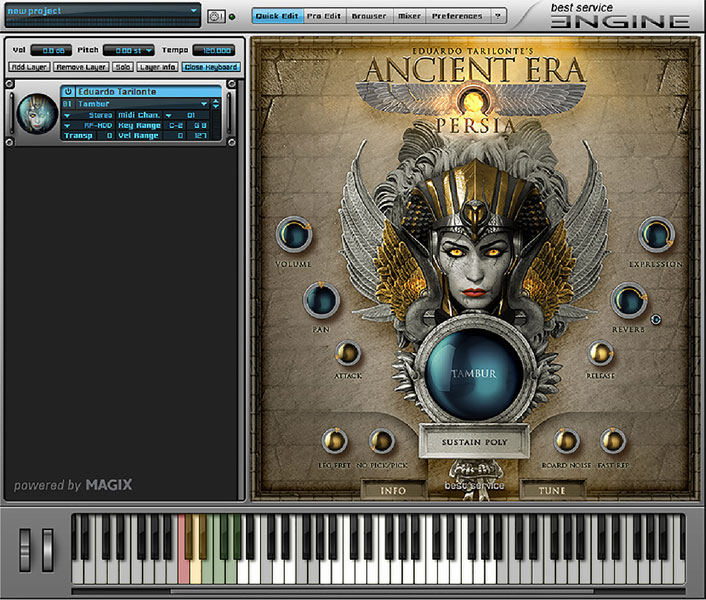 The interface is as straightforward as it can get. On the upper half of the GUI you will find faders for volume, pan, expression and reverb and on the bottom half you will be able to select a different tuning for the instrument. I really like the fact, that ff you click the »info« tab you will get a description (type of instrument, origin, ect.) and picture of the selected insturment.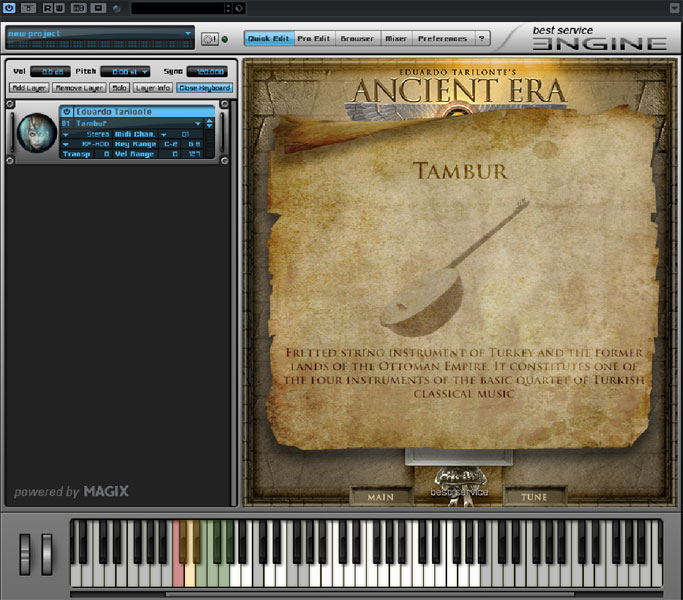 Price performance and conclusion
Ancient Era – Persia will set you back for 259EUR and I think it is worth every penny. This is truly a one of a kind sample library that has no competition on the market. As I have said at the beginning of this review, Eduardo Tarilonte's libraries are true gems and work of art and Ancient Era – Persia is no exception!
You can find information about our review ethics
here
.
Check out other Audio Spotlight
reviews
Eduardo Tarilonte's Ancient Era Persia review
Content
Versatility
Performance
Sound Quality
Playability
Price performance
Pros
Extremely playable
Great Sound
Completely unique sample library
Cons
Percussion loops do not tempo sync