Find more about Ana Monte @ Official website
Facebook
DELTA Soundworks Facebook
DELTA Soundworks
Photo by: Kristin Schmitt

Brief list of credits
Morris from America (boom operator), Where to, Miss? (sound design), Picturing War (sound mixer and sound designer), Sneeze Freeze (sound design), Insel 36 (sound design)
Hi Ana, thank you for taking time and doing this interview. Let's start by introducing yourself and telling us how you started working as a sound designer?
Hi Zdravko! It's my pleasure to take part in this interview. Thanks for asking me! :)
I'm Ana, a freelance sound designer from Brazil, living in Germany. I first got involved with audio while studying at California State University – Chico, where I studied audio engineering. My studies were focused on music production and while I was studying, I took a course called "Audio for Video" and simply fell in love. Later, I moved to Germany and knew that I wanted to pursue this full time. This is when I discovered the Film Academy Baden-Württemberg, one of the very few film schools in the world that offer Film Sound and Sound design as a main field of study.
Let's talk about your impressive portfolio. How did you get involved with the Picturing War documentary and what were your main responsibilities?
Picturing War was a diploma film from the Film Academy by director Konstantin Flemig. The director pitched his project and it sounded exciting and challenging, both personally and professionally. I immediately said yes! For this documentary I was in charge of both production and post-production audio.
What would you say to be the number one tip/rule to field recording in war zones?
Be safe! For our team, security was our main priority. Our director was very supportive and reminded us, we weren't forced to do anything we didn't feel safe about. I advise not taking on a project where you feel you can't trust your team or that your life is being put in danger unnecessarily.
As far as equipment goes, choose a setup that is compact, light and maybe even expendable. In conflict zones, you might find yourself in difficult situations, shooting in forbidden areas and in difficult terrains. Make sure you have a backup plan in case some warlord decides to keep your expensive recorder as a souvenir.
You have also done the sound design for the documentary Where to, miss. How did you approach the sound design for the documentary?
"Where to, Miss?" was a challenging project when it comes to sound. The movie was shot in India in 3 different blocks with each block having a different sound mixer. There were in total over 80 hours of raw material in hindi which first had to be translated into german for the editing to be possible. After the editing was done (3 years later), the main priority was cleaning the dialog which was extremely challenging, considering how acoustically chaotic and loud India is. Once the dialog editing was done, I was finally able to sit down and have some fun with the sound design, creating of a lush soundscape. My wish was to transport the audience to India and help create this feeling of restlessness that one feels in such an overwhelming environment. The background sounds were created with a basic stereo "sound bed" of sounds recorded on location, along with additional individual elements (dogs barking, rickshaws passing, car honking) to create an extremely lush soundscape.
In a Hedgehog's Visit animation, you created a wonderful soundscape. What do you think was the most difficult part creating sounds for the animation?
In this animation film, the main challenge was creating a sound design that was realistic and not cartoony. The animation style is very dark and creates a real and humanistic interaction between the characters. In addition, the director wanted subtle use of sound elements to manipulate emotions, such as the use of wind. We spent a lot of time mixing different types of winds and recording lovely foley sounds with foley artist Luis Schöffend. The foleys were extremely important in creating a more realistic and raw soundscape.
Since you have done a lot of documentaries, how different do you find your workflow to be compared to animation or short films or feature films?
Documentaries usually have a far smaller budget than other productions. This unfortunately affects sound directly since this is the first department where people choose to save money on. This, to me, is extremely ironic because in other productions you can still afford (both financially and artistically) to get ADR done, but this is not the case for documentaries. As far as sound design goes, you are usually preoccupied with "solving problems" and are lucky if the sound is half way presentable in the end, leaving little time to actually work creatively. It is a big mistake to think that you cannot use sound design for the benefit of your documentary. It is our duty as sound professionals to eliminate the "fix it in the post" mentality from these productions and to find place for the sound design creative process.
Tell us a little bit about DELTA Soundworks? What inspired you to get into VR and spatial audio?
DELTA Soundworks is an audio post-production company focusing on Spatial Audio for Virtual Reality, 360° Films & Installations. This newly founded startup is a result of numerous brainstorming sessions with my audio engineer friend and business partner Daniel Deboy. The idea was to create a company that differentiated itself from the already existing audio market. With Daniel's knowledge of Ambisonics and music production; and my experience with sound design and contacts in the film industry, we decided to partner up and invest our energy in the highly exciting new field of audio for VR.
In what way do you think VR and spatial audio impact the future of field recording and sound design?
In VR, sound plays a big role in creating a more immersive experience. From a storytelling perspective, the viewer is usually sitting "in the story", so the sound needs to be more realistic than in traditional media formats. After years of watching and hearing movies, our ears have become accustomed to sterile sounds, since most cinematic sounds are rebuilt in the studio. Sounds that are more realistic and rough, are considered "wrong" to our ears. The trick for VR sound design, I think, is finding a balance between realistic and "cinematic sound".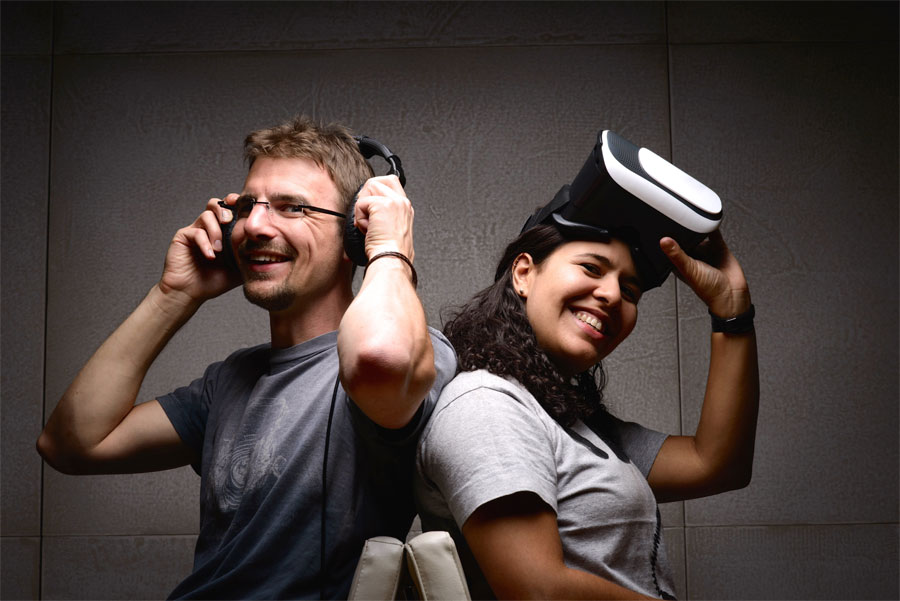 A challenging part of spatial audio for VR, is that the tools are being developed as we speak. Both hardware and software are in its infant phase. Finding a good workflow is the biggest challenge we currently face at DELTA Soundworks and there is nothing more frustrating than having technical difficulties get in the way of your creative process. This is, however, a phase that won't last for too long, as software developers are quickly developing tools to help out the creatives.
This one is for the gear heads. Would you mind, telling us a bit about your technical setup and the gear you're using?
For field recording I am using the Zoom F8 with the Sound Devices 302 mixer and a Sennheiser MKH 60 microphone. All of this is tucked inside a K-tek Stingray bag. Since I usually do documentaries, I find the setup to be compact and especially light weight, which is important when you are on your feet for long periods.
For post production I am using Protools 11 with the Focusrite Saffire Pro 40 as interface and Adams A7x monitors.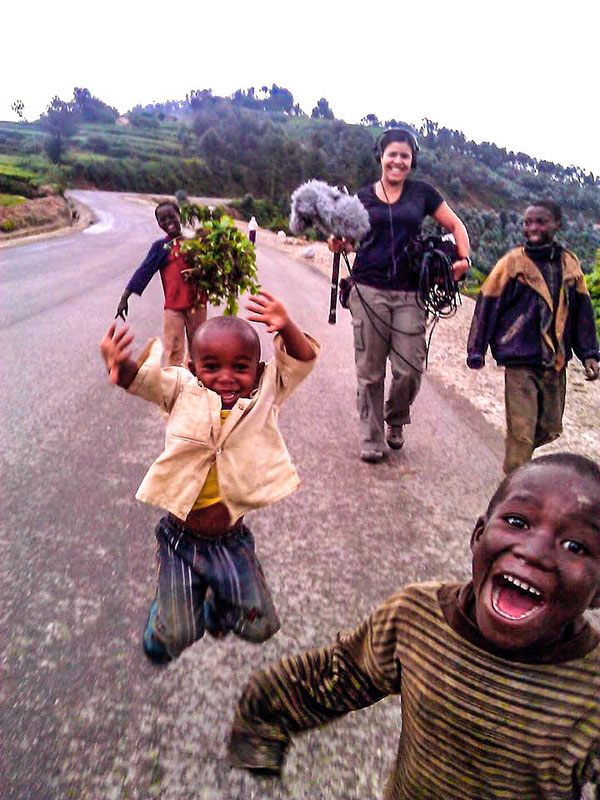 Do you have any tips for aspiring sound designers, on how to gain a foothold in the industry?
Research, read, connect with professionals in the area, join Facebook groups, network. There are so many tools out there. Try to pick up experience in a real world scenario. Maybe do an internship in a movie set or volunteer to help in a student production. Practice makes perfect!
Also: the equipment should not define you. People get scared when they start off and see "Oh no, I can't afford this recorder and that microphone". Professional equipment definitely helps you be a better professional, but if you don't know your craft to begin with, no equipment will save you.
Ana, thank you so much for taking the time and answering my questions! I wish you all the best for your future projects.
More sound designer interviews here.