We are looking at three great real life guitars turned into virtual instruments by Ample Sound. As Ample Sound specializes in rebuilding guitar feeling for your desktop, this should be ace.
As I said before my guitar playing with a real axe is close to none existing and normally when I am in need of some strings to be stroked I kindly ask my professional guitar player friends to handle it. But sometimes I wouldn't have the budget or the "you-get –some-really-good-credits-blah-blah-blah" to hire an external player so I would have to work around that problem. This is where a sampled guitar like this comes in really handy. Let's see what we got.
Content
AMR2 (4.69 GB) – this instrument is the virtual brother of a Musicman Stingray 5 Classic Bass (cost: approximately. 3000 EUR).
AME2 (3.5 GB) is sample from the ESP Eclipse 1 Guitar (cost: approximately. 2000 EUR)
For ABA (4.89 GB) a Guild B-54 CE Standard Acoustic Bass was recorded (cost: approximately. 2500 EUR)
All virtual instruments run on Mac & PC and feature all standard formats (AAX, AU, RTAS, VST..) as well as stand-alone. With a price for each plug-in of approximately 95 EUR, you get a lot of content. If you buy a bundle you will pay even less. My bundle of the following three instruments costs 225 USD at the Ample Shop. A nice extra if you want to do cover-versions is the integrated tab player, which allows playing tabs in sync.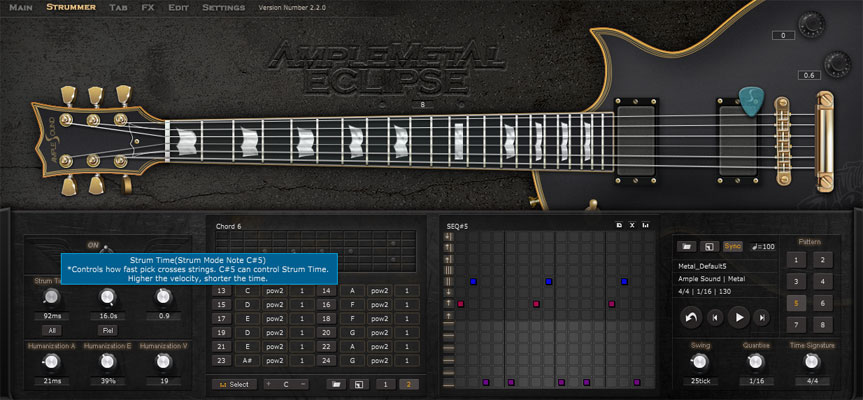 Graphic Interface
I really love the design. It is simple and stays as close as possible to the function of the real instrument. Yet it looks pricey and everything is at hand.
If you run any other Ample Guitars already you will recognize the Ample signature look right away. On the top end you see the guitar corpus. When playing you will see the corresponding string & fret marked. Also some settings can be adjusted here as they would be in real life as f.e. tuning the strings or adjust Master & Pan.
On the bottom end is a keyboard you will see the keys you play, but more important, there is a description to the function of each key. Marked by colors for easy distinction are groups like "articulations (keyswitch)" "notes" and "fx (keyswitch)" . When you rest the mouse over a key with a keyswitch function, it will display the function (as for example legato-slide, slap or something I like a lot with ABA, percussive sounds like "Hit Top" & "Hit Rim").
On top of the keyboard a selection of knobs and fader lets you adjust certain parameters. Like Mic & DI Level, Pan, Width, Accentuation Noise Frequency, Capo, etc…. (ABA), Pick Attack, Humanization, Fret Sound Release & Attack, etc… (AMR2) and Doubling Width (AME2).
Hidden in the top left corner are a couple of tabs you can switch to if you want to fine tune some parameters. All three intruments feature settings, edit and tab next to the main tab. AME2 has the important tabs strummer for working on chords and fx to select some of the build in fx.
In general I can conclude the very well thought through graphic interface helps maneuvering through the functions of the instrument.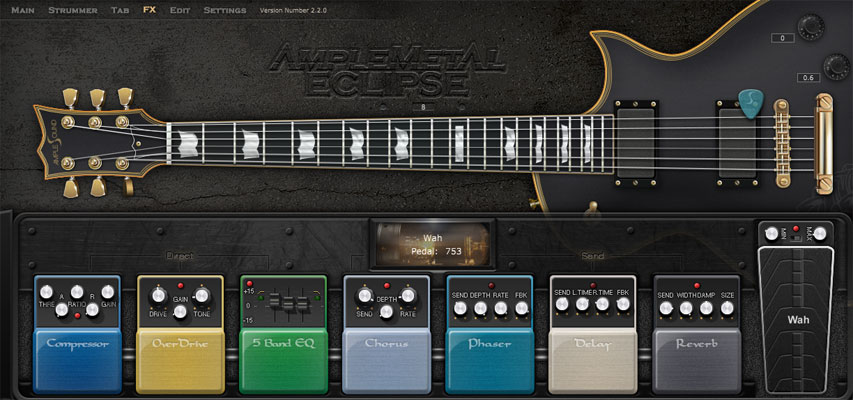 Sounds
The sound of all three instruments is awesome. The notes were recorded on every single fret and all notes were processed very well. When playing the same note several times, different samples are triggered and AME2 even has the feature to double the sound with different samples on L and R.
ABA is ready to go after I installed it. It got a really nice deep low end, that is very defined and with a lot of pressure. The different articulations (like sustain, slap…) blend very well and create a realistic sounding instrument. With two different mic positions and additional options to use or mix in the di signal it is possible to adjust the sound to my own preferences. Also there are a lot of great built in possibilities to add fret noise (attack & release).
The metal section, AMR2 and in special AME2 both have a great sound of its own, but need an additional amplifier & effects to be played through. Imagine an eGuitar played directly into your computer, that is what AME2 sounds without effects. I tested it with Guitar Rig 5, my weapon of choice, when it comes to guitars and this made it comparable for me to other instruments.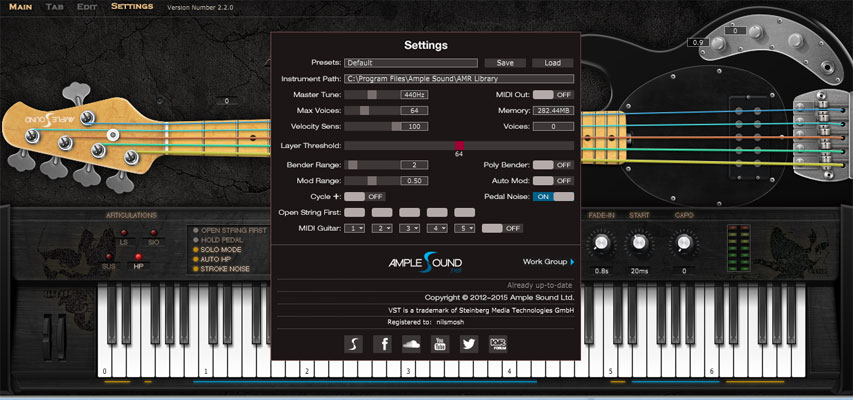 I was really curious what the chords sound like; because this might be the option I will use most. AME2 has a special mode, called strummer. I can pick the chords I want to play and choose from a lot of articulations (Muted, Sustain, Arpeggio Strings…). The chords do sound unbelievable realistic (the strings aren't plugged simultaneously, but like a real guitar would be plugged – the factor of the humanization can be adjusted after your needs). As a highlight, there are presets of riffs available for various styles of music (with the focus on metal), that really come in handy if you don't play an accurate metal riff yourself. You can also change them slightly or build some on your own. For me this sequencer really did the trick to make my production sound authentic.
Also the solo sounds do sound great, but here my programming wouldn't allow to trick anyone into believing it was recorded on a real guitar. But the fact, that the program itself tries to put the notes on the fret & strings the way a real guitar player would play them helped a lot getting close.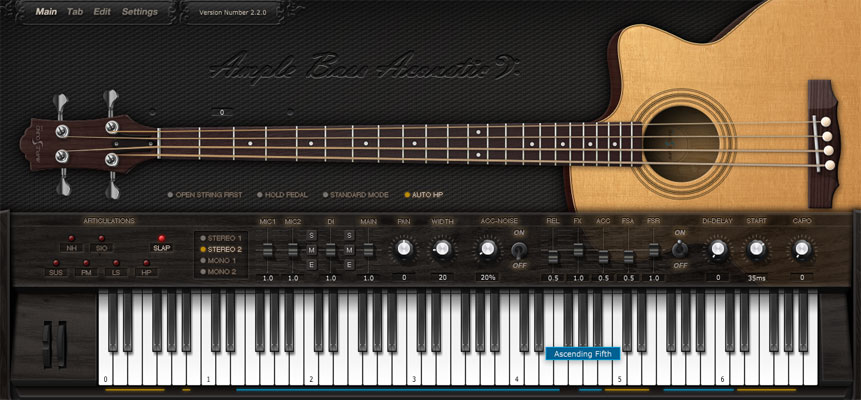 A little story to answer the big question if this machine replaces a real guitar:
When I first programmed some guitar and bass with this library on a song I had to sketch for a customer, I gave it to a guitar player beforehand and asked, what he thinks of the guitar. My friend asked me, why I would keep on playing guitar on my tracks because I'd suck at playing guitar and I could have asked him to record some. This sums up the thing about this plug-in very well. It can sound like a real guitar (my friend didn't realize it was a new plug-in, though he is professional), but it won't very well if you don't know how to use it (like me at that time (1 week ago)).
Usage
The complexity of all three instruments is very high, especially for AME2. While this is needed to keep up the desired sound, this makes it very hard to play these instruments at a live show; certainly not without practice. These instruments aim at the studio-producer in my opinion.
I think especially when you produce EDM, HipHop or Pop Music and want to add a Metal bass or lick now and then; this library is a very good choice.
The instruments will behave like a real instrument and only play one note on one string at a time, but if you need to play two notes on one string for your production you can switch into keyboard mode and the program will allow you to play two notes at the same time.
Also if you want to produce sketches for you bass player or guitarist of your Metal band (in case of AME2 & AMR2) or Folk or Songwriter band (in case of ABA), this instrument comes in handy.
Studying the sound of a real guitar player and trying to recreate these sounds will help a lot while familiarizing with these plug-ins.
There are some videos (amplesound.net/en/tutorial-r.asp) and two general manuals (bass & guitar) for all their instruments on the website, which will help you with most questions, also it is quite a search sometimes.
Conclusion
These instruments require a lot of programming. But they are worth the time. Once you figured out how to get the best results, the workflow will speed-up and you will love these sounds.
All three libraries are designed to end up in high-end music productions. I was running the vst version on a 64 bit PC in Cubase. With up to four instances of the Ample instruments as well as other instruments and fx, I didn't experience any problems or crashes so far. The loading time for the instruments sometimes is a bit long, but I guess that is fair.
As they state on their website this really is "the best virtual guitar" I came across. Correct me if I am wrong, but from scratches to palm mutes all real-life articulations are copied into the digital world very well. Of course these aren't all-round talents, but if you are looking for the sound of one of the instruments that were recorded, I can highly recommend these plug-ins. Check their website for lots of demo songs that show the possibilities and sound of the instruments very well.
Amplesound AMR2, ABA and AME2 bundle review
Content
Sound quality
Graphic interface
Value for money